Homemade Toffee is an easy candy recipe with just six ingredients and it only takes about 20 minutes to make. It's a layered candy with toffee, chocolate, and toasted nuts – a great holiday gift for family and friends. Or make this best toffee recipe for yourself to enjoy through the season!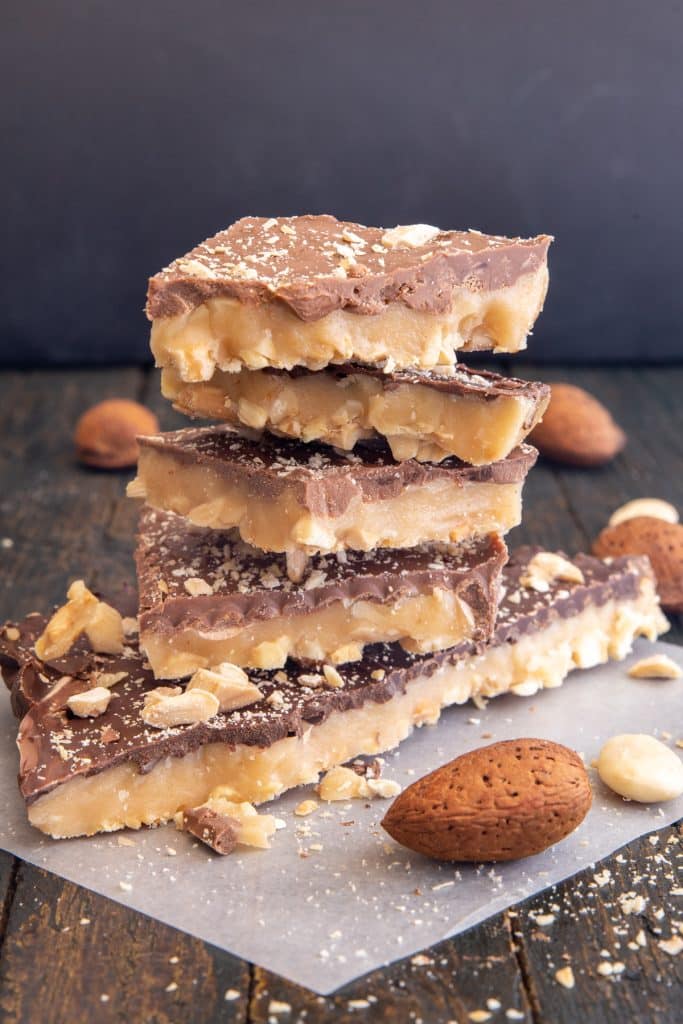 I see packages of toffee at the stores and am always amazed at the prices. They must charge extra for the packaging because toffee is really a simple candy! Instead of overpaying, you can make your own old-fashioned toffee from scratch, it really is so easy.
If you've never made homemade candy, toffee is a great one to try. My recipe is fool-proof and before you know it, you'll be breaking it up into pieces to share with family and friends.
Package it in pretty Christmas boxes or containers with a tag and you'll be so happy you skipped the store bought kind. Your family and friends will be too because homemade is always so much better.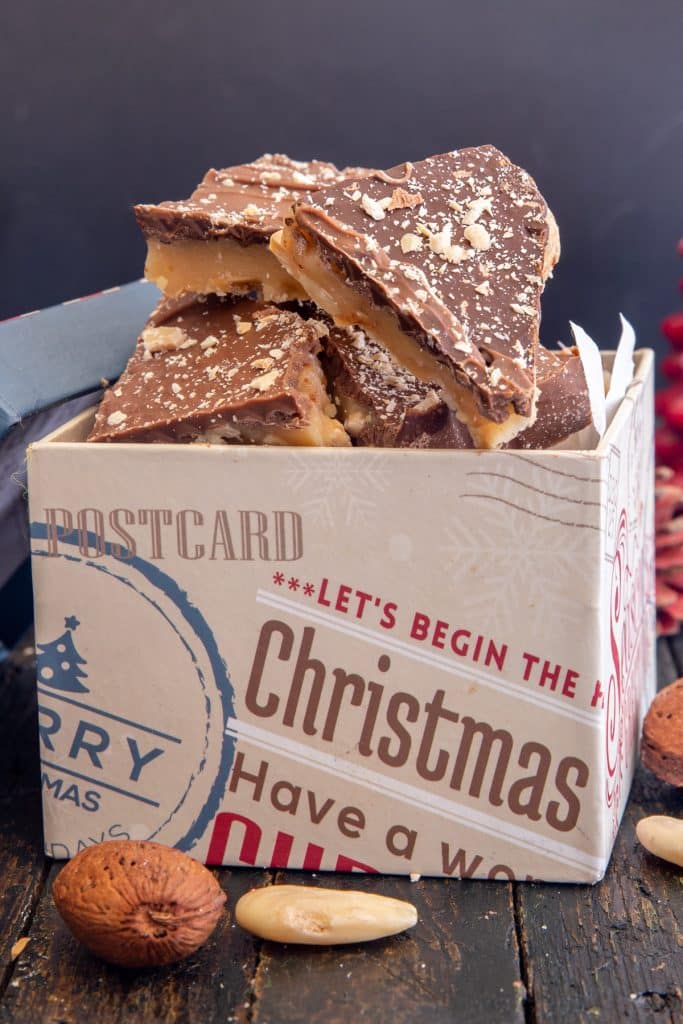 Ingredients
Butter
Caster sugar – This is a finely ground granulated sugar. If you can't find it, you can make your own. Just place granulated sugar in a food processor and blend it until it's finely ground.
Vanilla extract
Salt
Almonds – Buy whole raw skinned almonds. You will toast them before adding them to the recipe. Pecans are also good.
Chocolate chips – choose milk chocolate chips, dark, or semi-sweet chocolate, or a mix of your favorites.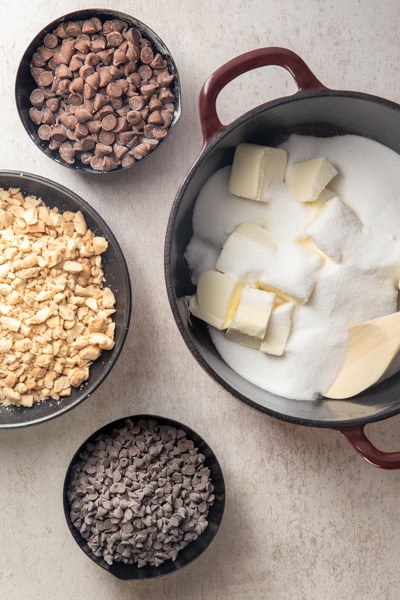 What is fine sugar?
Fine or Caster sugar is slightly finer and dissolves more easily than regular granulated sugar. You can substitute it at a 1 for 1 basis or you can make your own fine sugar just by blending granulated sugar until fine.
Kitchen Tools Needed
This post may contain affiliate links. Please read my disclosure policy.
For this recipe, you will need a few tools.
Instructions
First, you will toast the nuts. Toasting them enhances the flavors because the natural oils are released when they are warmed. It really does make a big difference!
Place the almonds on the sheet pan in an even layer and toast them at 350°F for about four to five minutes. Stir them around on the pan and toast them for three minutes more.
Transfer them to a bowl as soon as you take them out of the oven. If you leave them on the hot pan they could burn.
Let them cool for a few minutes and then coarsely chop them. You can also toast other nuts for this recipe – toasted chopped pecans or walnuts would work well, too.
Line the baking pan with parchment paper and then sprinkle half of the chopped nuts in the bottom of the pan.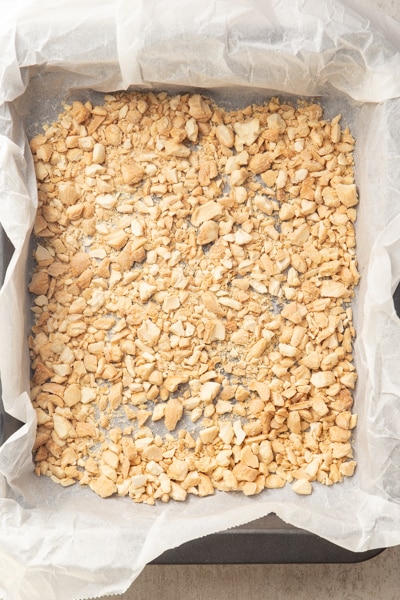 Once you've prepared the nuts, you can make the toffee. Have your candy thermometer ready and clipped onto the side of the pot.
Place the butter and sugar in the pot and warm them over medium heat. Once the butter starts to melt, stir and keep stirring until the color of the mixture turns dark amber. The toffee is ready when the temperature is 300°F to 305°F. At this point, take the pot off the heat and then stir in the vanilla.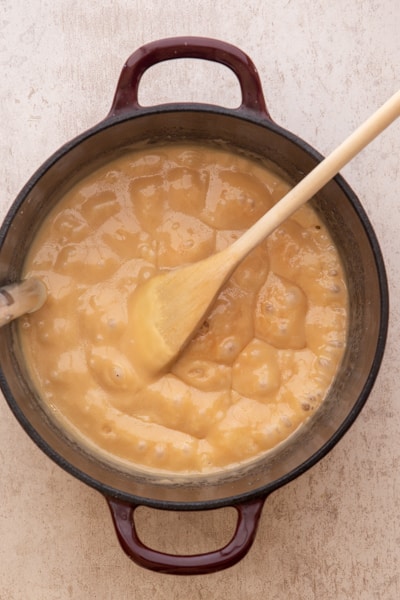 Pour the hot toffee over the nuts in the baking pan. Sprinkle the chocolate chips over the top and then cover the pan with foil. This will trap the heat so the chocolate melts.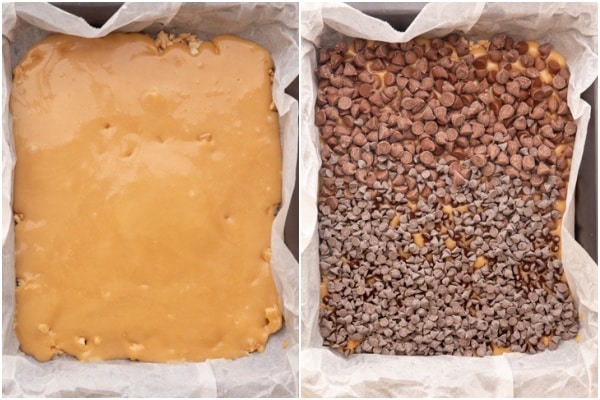 After about five to ten minutes, take the foil off and spread the chocolate with a spatula into an even layer.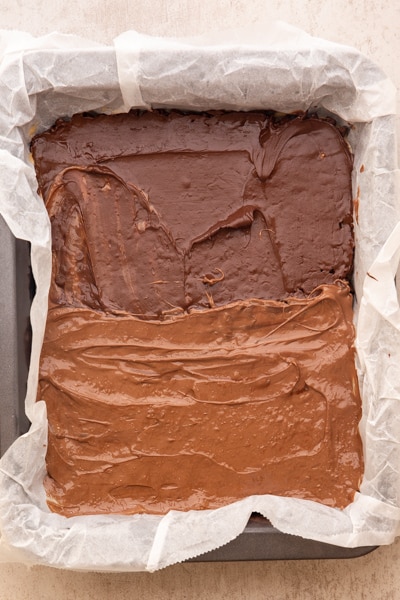 Sprinkle the rest of the chopped almonds over the top. Let the toffee set before breaking it apart into pieces and storing it.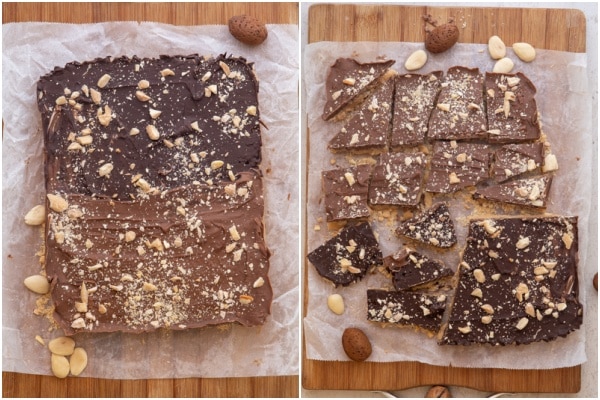 What is the difference between Toffee and Caramel?
Toffee and caramel are very close although caramel usually contains milk or cream, which makes it thicker and creamier. They are also heated to a different temperature when they are cooked.
How to Store Homemade Toffee
Place the cooled toffee in an airtight container. I like to store it in layers with parchment paper separating each layer. This will keep the candy pieces from sticking.
You can store it at room temperature for up to two weeks. If your kitchen is very warm or hot, you can also keep it in the refrigerator.
If you want to freeze it, store it in a freezer-safe container with parchment separating the layers. It will keep well for up to two months.
Recipe Tips
It's a good idea to have your ingredients measured and everything ready to go before you make the toffee. This recipe is quick and it can be easy to burn the nuts or overcook the toffee mixture if you're trying to multitask.
For a simple toffee, you can omit the nuts and the chocolate but it really is so much more special with them! I love chocolate and the nuts add a nice crunch.
I love to make batches of this homemade toffee during the Christmas season. It's easy and keeps well making it a great treat for sharing! I keep plenty for us to enjoy and gift the rest. I hope you try it – Enjoy!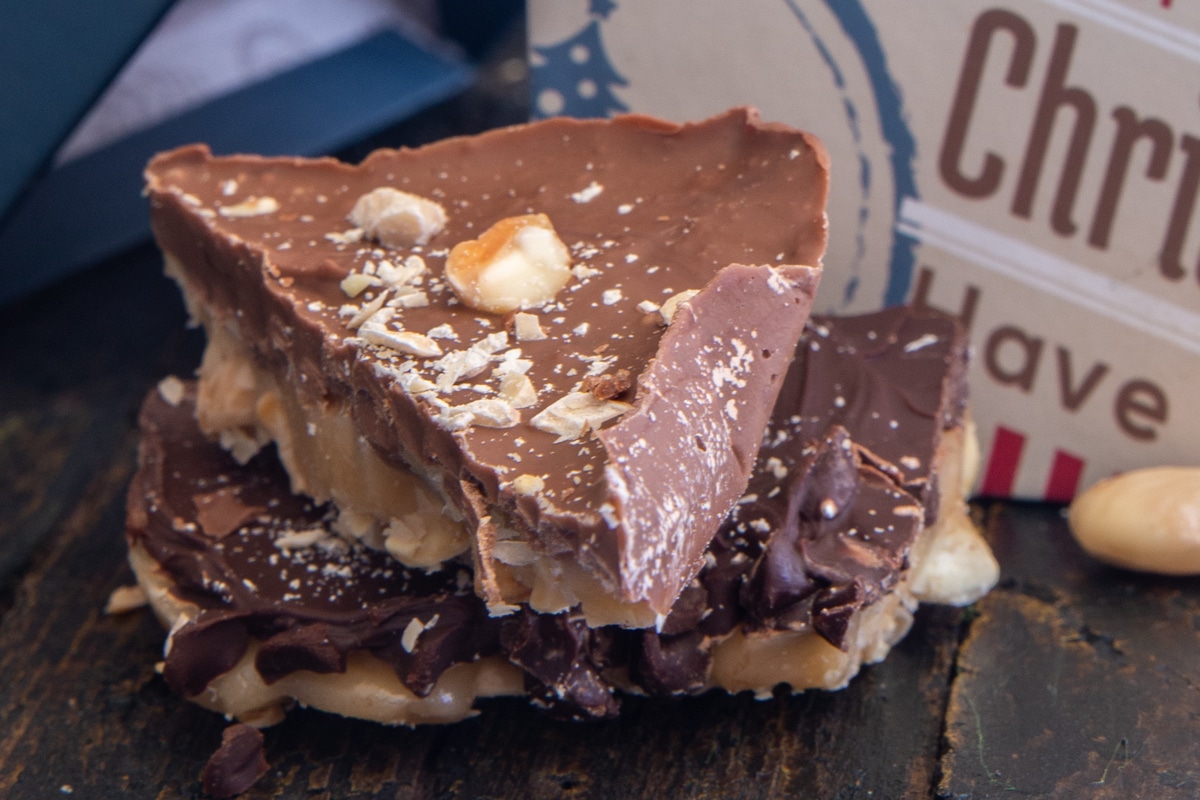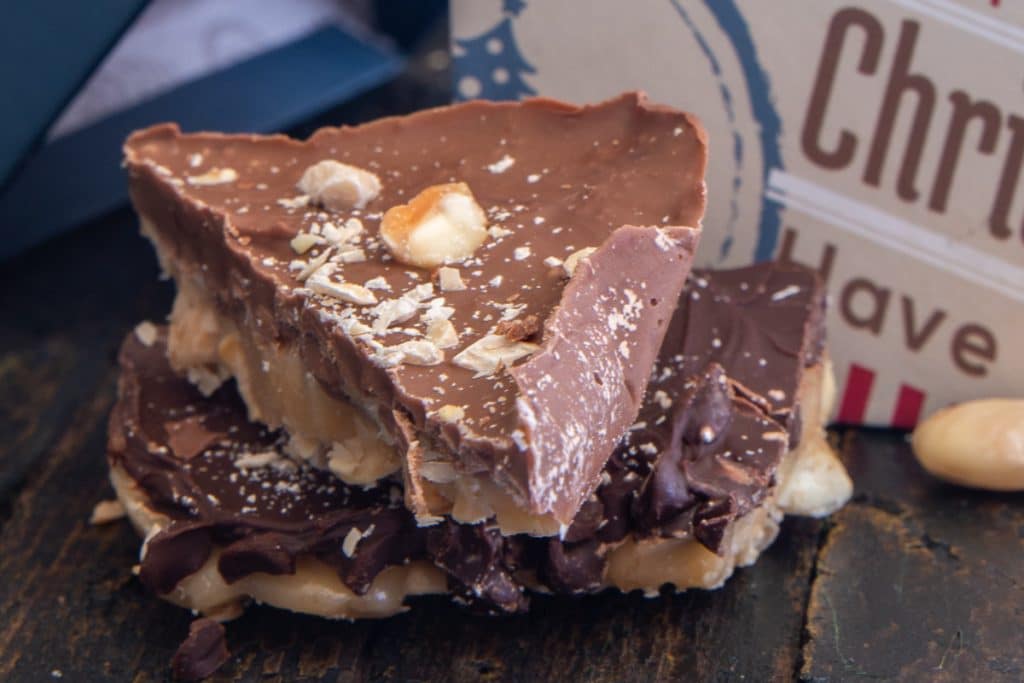 More Holiday Candy Recipes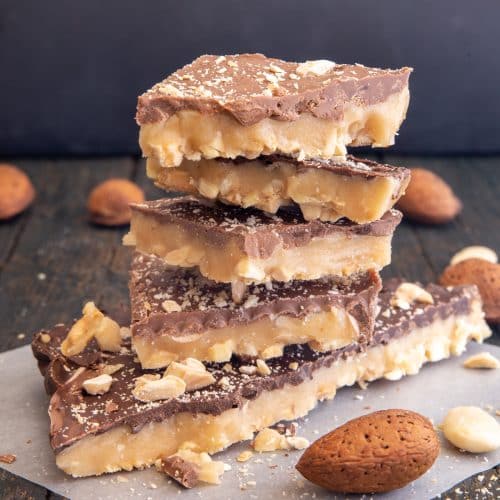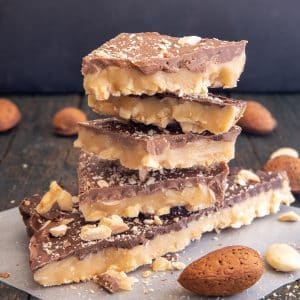 Homemade Toffee
Homemade Toffee is an easy candy recipe with just six ingredients and it only takes about 20 minutes to make.
Ingredients
1

cup

butter salted

1

cup

sugar (very fine/caster)

1

teaspoon

vanilla

¼

teaspoon

salt
EXTRAS
¾-1

cup

almonds

1-1¼

cup

chocolate chips (milk, dark or a mix)
Instructions
Place the raw almonds (skinned) on a cookie sheet and toast in a pre-heated oven at 350F (180C) for about 4-5 minutes, stir then continue roasting for 3 minutes, remove them from the oven and move immediately to a clean bowl. Do not leave them on the cookie sheet or they will continue to bake and you could end up with burnt nuts. Once cool chop until medium coarsely chopped.

Sprinkle half the nuts on the bottom of a parchment paper lined 8 or 9 inch (20 or 22 cm) square pan (I used an 8 inch/20 cm)), set aside.

In a medium pot over medium heat add the butter and sugar, once the butter starts to melt, start to stir, and continue stirring until it becomes a dark amber colour, or 300-305F (148-152C) on a candy thermometer.

Remove the pot from the heat and stir in the vanilla. Pour the toffee onto the top of the nuts in the pan, sprinkle with chocolate chips, cover with foil for 5-10 minutes then spread evenly, top with remaining chopped almonds. Once the toffee is firm, approximately 1-2 hours, break into pieces. Enjoy!
Notes
Instead of almonds you can substitute with hazelnut, walnuts or even pecans.
Store the toffee in an airtight container, place parchment paper between the layers. It will keep up to 2 weeks at room temperature, if you home is too hot, then refrigerate.
It can also be frozen, freeze in a freezer safe container or bag, separated with parchment paper between the layers. It will keep for up to 2 months in the freezer.
Nutrition
Calories:
166
kcal
Carbohydrates:
15
g
Protein:
1
g
Fat:
12
g
Saturated Fat:
6
g
Polyunsaturated Fat:
1
g
Monounsaturated Fat:
3
g
Trans Fat:
0.3
g
Cholesterol:
20
mg
Sodium:
82
mg
Potassium:
60
mg
Fiber:
1
g
Sugar:
13
g
Vitamin A:
227
IU
Calcium:
20
mg
Iron:
0.2
mg