Homemade Orange Cream Filled Croissants
These Homemade Croissants are made with a simple pastry dough and filled with a creamy orange cream cheese filling. Perfect as a Breakfast or snack recipe.
Orange Croissants
Believe me, there is nothing like a Cappuccino and a Cornetto (croissant) in the morning in Italy. One of my favourite breakfasts to wake up to.
But making a traditional Croissant is a bit of a process, so I decided that a simple pastry dough would be a good alternative.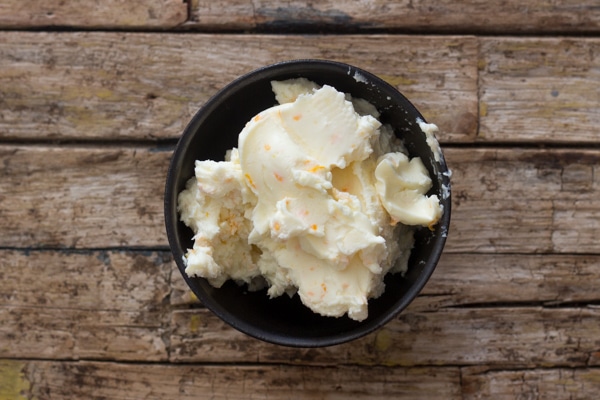 It's actually a recipe my mother had. You may think they look a lot like crescent rolls and I guess I could have called them that but she called them Croissants so I will too.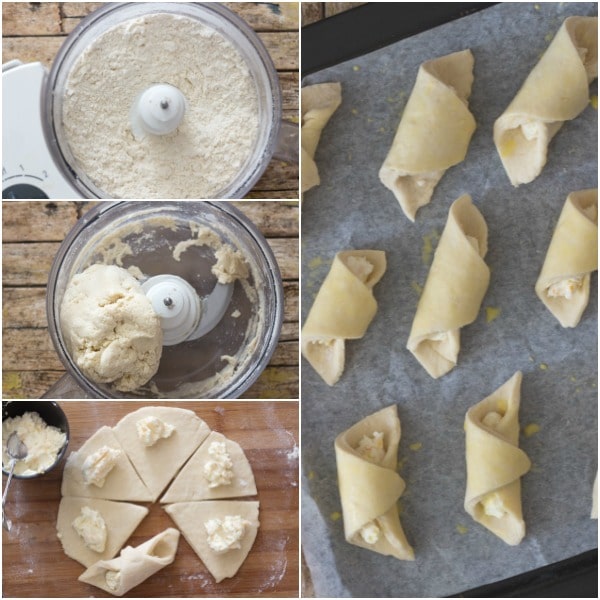 And why not fill it with a simple orange cream cheese filling? These baked up fast and easy and were not only a good choice for breakfast, but also snack or dessert.
As the Italian said "this pastry dough is perfect". Yeah it was pretty good!
More Delicious Pastry Recipes
Homemade Cinnamon Apple Strudel
Easy Blueberry Cream Cheese Danish
Pastry Baked Cannoli with two Fillings
Homemade Yogurt Crescent Rolls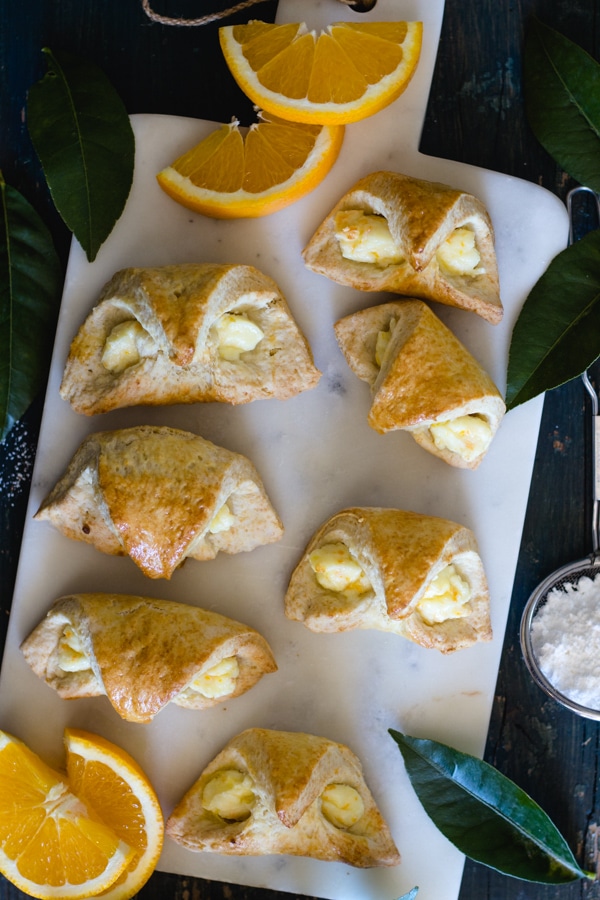 What is the traditional dough for Croissants?
Croissants are made with a layered dough leavened with yeast.
The dough is layered with butter, rolled and folded several times,  then it is rolled into a sheet, and cut and formed into croissants.
This results in a layered, flaky texture very much like puff pastry.
Some (me included) like to make a fast and easy croissant using store bough puff pastry. You can easily fill it with some hazelnut cream filling or your favourite jam.
And believe it or not France is not the inventor of the Croissant but Austria!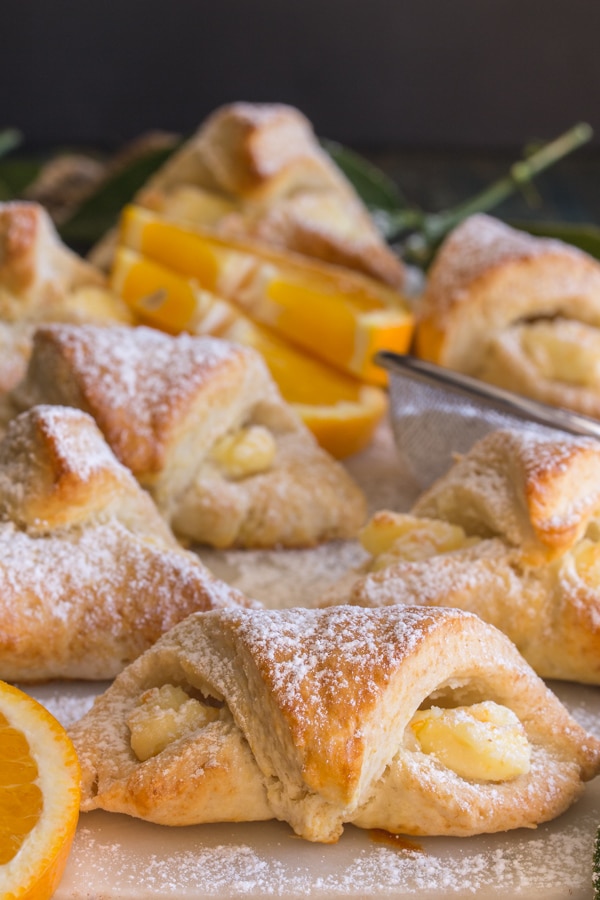 Delicious ways to Make a Croissant
Add an apple pie filling, mix up some chopped apples, cinnamon and a little butter.
Add some chocolate chips or chopped chocolate.
If you love Nutella just add a teaspoon or two.
You could also turn these into a savory croissant and make a ham and cheese crescent.
Or a little Pancetta and Parmesan cheese.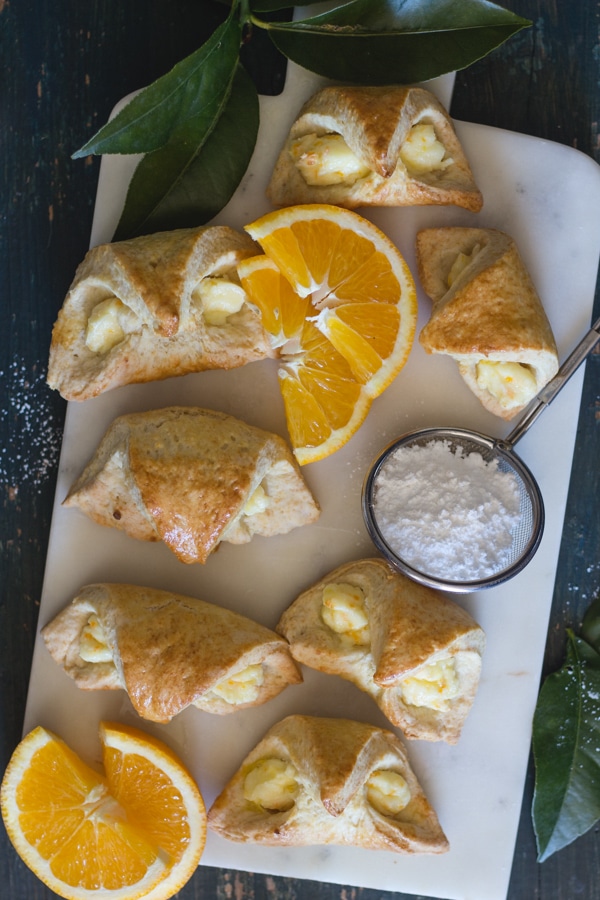 How to Store these Cream Cheese Filled Croissants
Because these pastries are made with Cream Cheese it is advisable to refrigerate them if they are to be left out for more than 1-2 hours. Be sure to wrap them well before refrigerating.
I didn't have to, because they were gone in 30 minutes.
So when you are looking for a quicker way to make a Homemade Croissant, I hope you give these Orange Cream Cheese Filled Croissants a try, and let me know what you think. Enjoy!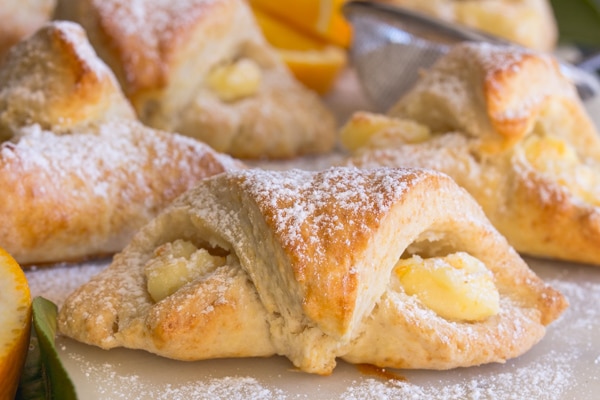 CLICK HERE TO SAVE THIS RECIPE TO MAKE LATER!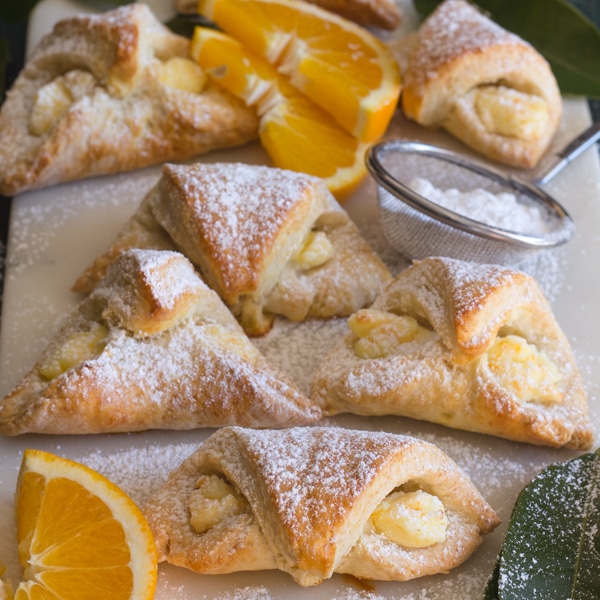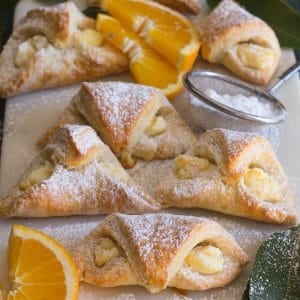 Homemade Orange Cream Filled Croissants
These Homemade Croissants are made with a simple pastry dough and filled with a creamy orange cream cheese filling. Breakfast or Snack perfect.
Ingredients
CROISSANT DOUGH
1 3/4

cup

all purpose flour

(240 grams)

1

tablespoon

baking powder

1

tablespoon

sugar

1

pinch

salt

1/3

cup

butter (salted)

(75 grams)

2/3

cup

milk** (more or less)

(150 grams)
ORANGE CREAM CHEESE FILLING
4

ounces

cream cheese (full fat / softened)

(125 grams)

3

tablespoons

powdered / icing sugar

2

teaspoons

orange zest
**I used 2% milk and 1/3 cup + 1/4 cup to bring my dough together.
Instructions
Pre-heat oven to 350F (180C), line a large cookie sheet with parchment paper.
CREAM CHEESE FILLING
Make the filling first, beat the cream cheese, sugar and zest until combined and creamy, set aside.
CROISSANT DOUGH
In a large bowl whisk together the flour, baking powder, sugar and salt, then add the butter and combine to form coarse crumbs (you can use a fork or food processor). Add the milk a little at a time until you have a slightly sticky dough.

Form the dough into a ball and place on a lightly floured flat surface and knead about 10 times until smooth. Divide the dough into two parts. Roll one part at a time into a 8-9 inch (20-22 cm) circle, cut into 6 wedges.

Place a teaspoon or 2 of the orange filling about 1/2 inch from the top of the wedge, roll the wedge down from the wide end to the pointed bottom to form a croissant or crescent shape.

Place rolled pastries on prepared cookie sheet, brush the croissant with the egg wash (be sure to brush underneath the rolled part of the croissant also so it all sticks together and it doesn't open while baking). Bake for approximately 18-20 minutes or until golden. Let cool then dust with powdered sugar. Enjoy!
EGG WASH
In a small bowl beat together the egg and milk.
Nutrition
Calories:
169
kcal
|
Carbohydrates:
18
g
|
Protein:
3
g
|
Fat:
9
g
|
Saturated Fat:
5
g
|
Cholesterol:
38
mg
|
Sodium:
91
mg
|
Potassium:
156
mg
|
Sugar:
4
g
|
Vitamin A:
320
IU
|
Vitamin C:
0.4
mg
|
Calcium:
76
mg
|
Iron:
1
mg
Did You Make This Recipe?
Please leave a comment below or pin it to your Pinterest account!
.