Easy Dutch Apple Loaf is the perfect dessert loaf or snack. A delicious combination of cinnamon and apples makes this an easy sweet bread for Fall.
Dutch Apple Loaf
The calendar says October but the weather here in Italy still says summer. I must admit I don't like that too much. Middle of October and I am still sweating.
Enough already, I want to wear a jacket and sit in the TV room with a blanket over my legs, oh well at least I can cook and bake like it is October. And believe me this Dutch Apple Loaf is perfect.
If someone asked me to  pick a favourite spice for cooking without a doubt I would pick oregano, now if you asked me the same question about baking no problem on that one either, I choose cinnamon.
And nothing better than cinnamon in a sweet bread unless you are adding apples.
This Dutch Apple Loaf was first made too many years ago to count by my sister, who passed away suddenly four and a half years ago.
I remember she made it the first time at Christmas, and I loved it at first bite. It became along with my Mom's so delicious Christmas cookies a Christmas tradition.
I think I ate that Dutch Apple Loaf before during and after Christmas dinner and all day long.
Last week when I made the Cinnamon Cake I said that was a cake that I could probably eat all by myself well, yes this is the loaf I could eat by myself.
This is the perfect loaf to share with friends and family. A fast and easy loaf to make and take for a dinner at friends. A moist and soft loaf with just the right balance of cinnamon and apple.
Dutch Apple Loaf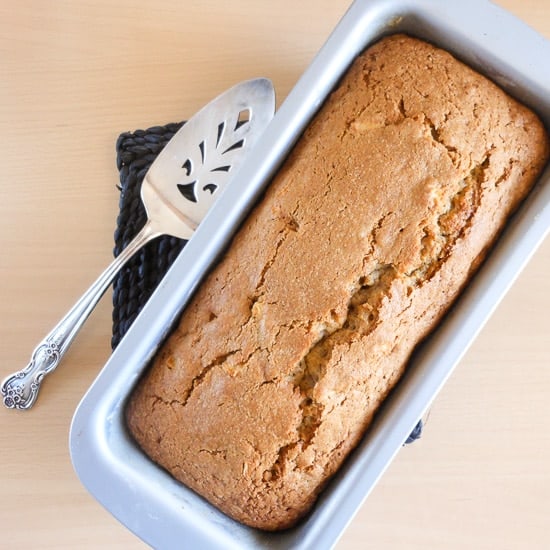 Perfect with a cup of coffee for breakfast. You could even do what I do and make a couple and freeze one for later.
How ever you decide to make this loaf or decide to share or not to share, I do hope you enjoy this Dutch Apple Loaf. Happy Baking!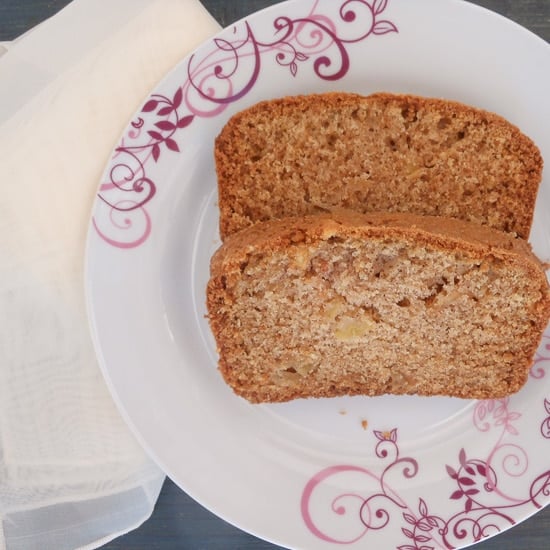 Dutch Apple Loaf
A moist, soft and delicious apple and cinnamon loaf, Dutch Apple Loaf. The perfect breakfast, snack or dessert bread.
Follow me on Youtube!
Watch the videos and don't forget to subscribe on Youtube!
Ingredients
1/2

cup

butter* (soft)

112 grams

1

cup

sugar

200 grams

1

large

egg (room temperature)

2

cups

flour

260 grams

1

pinch

salt

1

teaspoon

baking soda

2

teaspoons

cinnamon

1

large

apple peeled and chopped (small to medium size)

1/2

cup

whole milk (room temperature)

120 grams
*If using unsalted butter then add ¼ teaspoon of salt.
CINNAMON SUGAR TOPPING
¼

cup

granulated sugar

2-3

teaspoons

ground cinnamon
CINNAMON CRUMBLE TOPPING
½

cup

all purpose flour

2

tablespoons

granulated sugar

2

tablespoons

brown sugar (lightly packed)

½

teaspoon

ground cinnamon

¼

cup

butter (softened)*
*If too dry add 1-2 tablespoons more of softened butter.
Instructions
Pre-heat oven to 350F (180C). Grease and flour a 9x5 inch (23x12cm) loaf pan.

In a medium bowl cream butter, add sugar and cream well, then add the egg, beat for approximately 1 minute.

In a medium bowl add flour, salt, soda and cinnamon, whisk to combine, then fold in the diced apple until combined.

With a wooden spoon add the flour mixture, alternately with the milk (in 3 parts, ending with the milk) to the creamed mixture. Mix just until combined. Spoon into the prepared loaf pan, top with either the cinnamon topping or crumb topping and bake approximately 55 minutes.
FOR THE CINNAMON TOPPING
In a small bowl mix well the sugar and cinnamon.
FOR THE CRUMB TOPPING
In a medium bowl mix until well combined the flour, sugars (if you prefer you can use 4 tablespoons of granulated sugar) and cinnamon. Add the butter and with a fork mix until coarse crumbs appear.
Notes
For room temperature ingredients remove from the fridge 30-60 minutes before using.
My sister used to make this loaf with sweetened condensed milk, just substitute 1/2 cup of milk with condensed milk. It makes a denser loaf but still really delicious. 
Nutrition