Fresh Blackberry Mini Pies, the perfect mini pies filled with a fresh blackberry filling and then baked to perfection. Looking for a fresh fruit dessert recipe? This is it!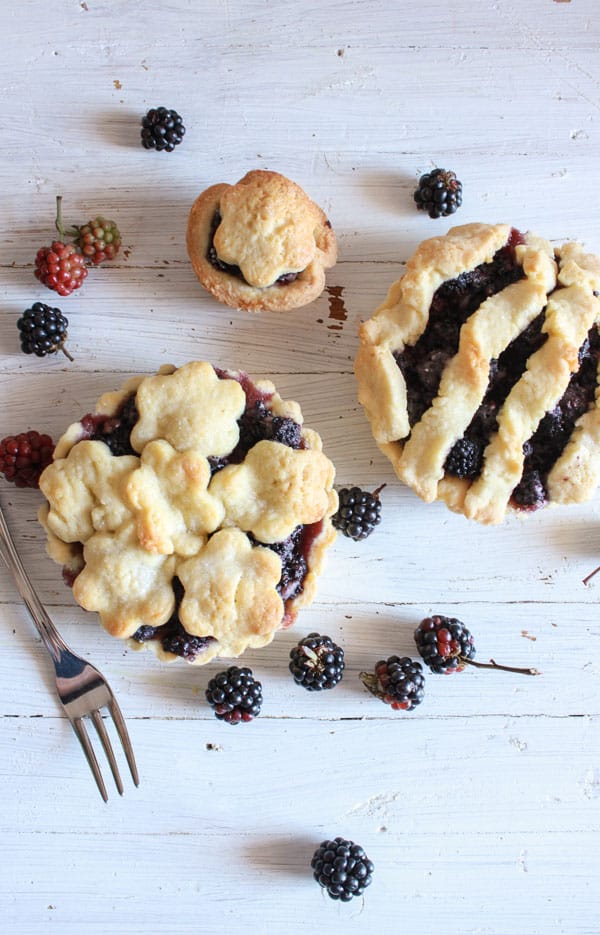 Last weekend was one of Italy's biggest holidays, Ferragosto. This holiday has very antique origins. It was created by the Emperor Augustus in 18 a.C. in Rome, to celebrate the end of farm work and to honour the god of fertility and hearth, Conso.
Originally the Romans would start their celebrations on the 1st of August, but in reality they stopped working for almost the entire month of August.
Around the VII century, The Catholic church changed the holiday's meaning and celebration to the Virgin Mary's Assumption to Heaven. And the day was changed from the 1st to the 15th of August.
Even to this day most Italians close up shop and go on vacation for a big part of the month of August.
For the holiday we spent the day at our friends' house in the country. Surrounded by vineyards and a lovely blackberry vines, which I noticed still had quite a few berries.
I could not let those berries go unobserved! Non-chalantly, I asked "please pretty please have them"? I really needed to make some Blackberry Mini Pies. I figured I could blackmail her by promising a Blackberry Tart or two!
Unfortunately they were not enough for what I had in mind, but the Italian reminded me that yes we have vines behind our vineyard too! Believe me, ours were not nearly as neat as my friends' vines.
Our vines attack your every move. Blackberry vines my friends are deadly!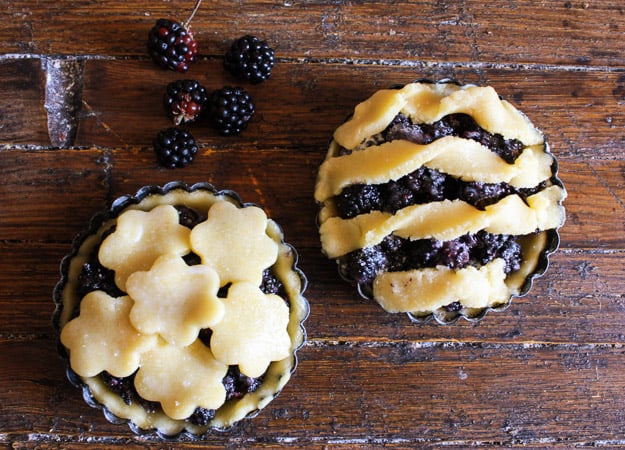 Back in my Canadian life, I was always nominated the Pie and Tart baker for our family holiday get togethers. Since my arrival in Italy I haven't given much attention to Pies.
When I saw those beautiful blackberries I decided I really needed to make some Blackberry Mini Pies.
Fresh Blackberry Mini Pies
I also knew that the perfect pastry would be my trusted Crostata Italian pastry. These Blackberry Mini Pies are loaded with blackberries and are absolutely delicious all on their own. Enjoy!
Fresh Blackberry Mini Pies
Fresh Blackberry Mini Pies, an easy homemade pie recipe. The best mini pie dessert made with a flaky pie pastry and delicious filling.
Follow me on Youtube!
Watch the videos and don't forget to subscribe on Youtube!
Ingredients
FOR THE PASTRY
1 3/4

cups

all purpose flour

(225 grams)

1/2

cup

sugar

(100 grams)

1

teaspoon

baking powder

1

large

egg (room temperature)

1

large

egg yolk (room temperature)

1/2

cup

+ 2 tablespoons butter (room temperature- cut into cubes)

(105 grams)
FOR THE FILLING
3

cups

fresh raspberries (or black berries)

(370 grams)

6

tablespoons

sugar

(75 grams)

6

tablespoons

flour

(49 grams)

juice from 1/2 lemon

2

tablespoons

butter (soft)
Instructions
FOR THE PASTRY
Lightly oil & flour or spray 6 4 inch tart pans.

In a large bowl, gently whisk together the flour, sugar and baking powder, make a well in the middle and add the slightly beaten egg and yolk and butter and combine with a fork. At this point turn mixture onto a slightly floured surface and work the mixture to form a soft dough. Wrap in plastic and refrigerate for 30 minutes.

Remove from fridge and knead the dough a couple of times to soften it up again on a lightly floured surface. Roll out to 1/8" thickness. Place cut out dough into the prepared tart pans and prick the dough with a fork.

Pre-heat oven to 375° (190° celsius).
FOR THE FILLING
In a medium/large bowl mix together the berries, sugar, flour and lemon juice, squish gently with a fork while mixing (but do not squish berries completely). Divide the mixture between the tart pans, filling to the top. Dot with a little butter (2 small dots per tart), top with leftover dough (strips or cut outs), do not completely cover because steam must be able to escape while baking. Sprinkle with sugar and bake for approximately 20-25 minutes. Enjoy!
Nutrition