Grilled Tomatoes and Mozzarella are a fast and easy side dish or appetizer. Tomato slices are grilled on the BBQ then topped with a slice of Mozzarella add a little drizzle of Olive Oil and fresh chopped Basil. Perfect!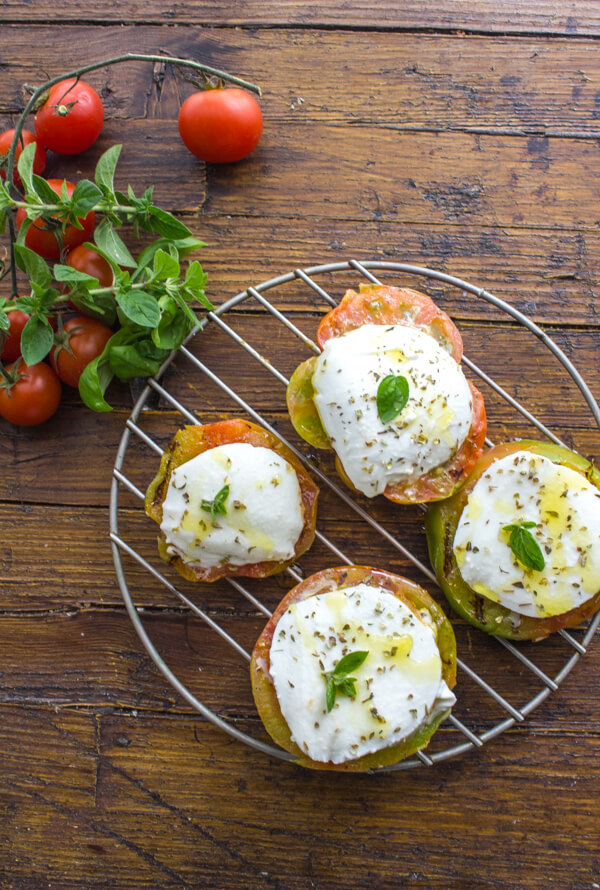 With Summer winding down and tomatoes are everywhere, your local farmer's market, the supermarket and if you are lucky enough even your own garden, then you are probably looking for fast and easy ways to use up all the beautiful ripe and not so ripe tomatoes.
From a Tasty Fresh Tomato Sauce to the perfect BBQ side dish, an Easy Italian Bruschetta to one of my absolute favourites, Best Pizza dough with chopped fresh tomatoes.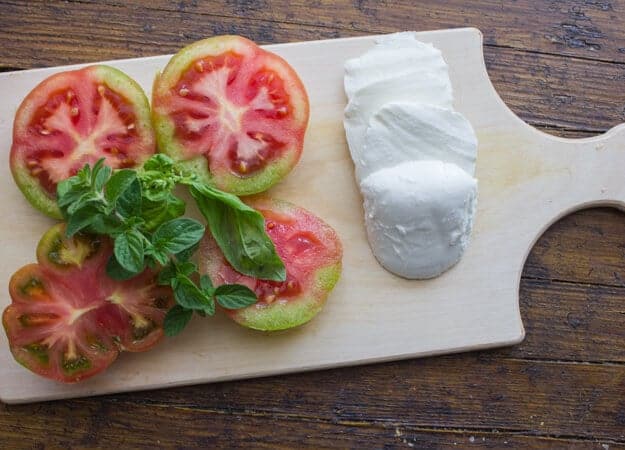 But sometimes a Fast and Easy Appetizer just can't be beat. Especially when you are grilling tomatoes. Of course you are going to want to use a firmer ripe tomato for this, just slice them up to your desired thickness, remember not too thin!
Place the slices on the hot BBQ grill or even an indoor Pan Grill flipping them over to grill on both sides.
Grilled Tomatoes with Mozzarella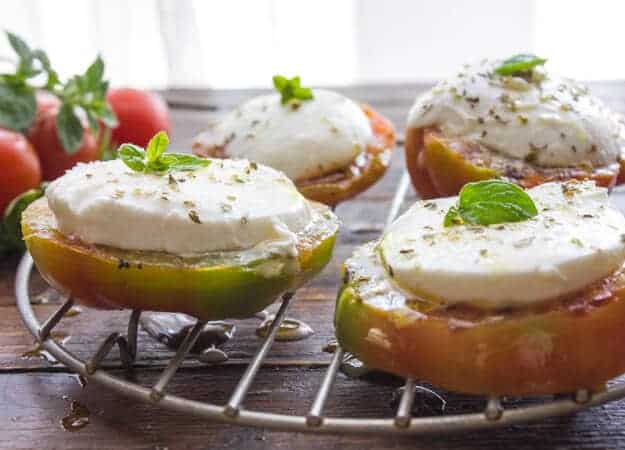 Slice up the same amount of Fresh Mozzarella, place a slice immediately on the Grilled Tomato slices don't forget to drizzle with a little Olive Oil, sprinkle with some Oregano, Salt and of course some fresh chopped Basil. You will be amazed how really delicious this is.
To tell the truth this simple Grilled Tomatoes with Mozzarella Appetizer could also become an awesome Breakfast (and why not?) Light Meal or even a yummy sandwich idea. With summer coming to a close you are going to want to eat all the Summer Veggies you can!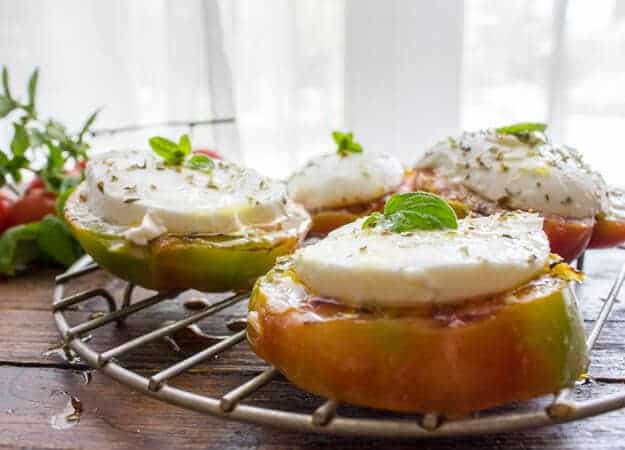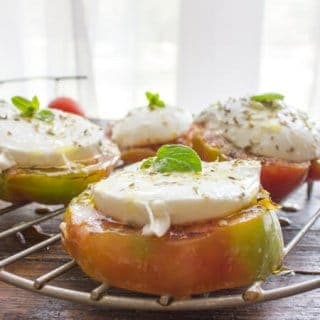 Grilled Tomatoes with Mozzarella
Grilled Tomatoes with Mozzarella, a healthy simple, fast and easy Appetizer, Breakfast or dinner BBQ Recipe Idea.
Ingredients
3-4

Firm Ripe (not overly ripe) Tomatoes

6-8

slices

fresh mozzarella

Olive Oil

fresh chopped Basil

Oregano

Salt
Instructions
On a hot pan grill or BBQ, place thick slices of Tomato, grill on both sides, remove to a clean plate and immediately top each slice with a slice of Fresh Mozzarella, drizzle with olive oil and sprinkle with fresh chopped Basil, Oregano and Salt. Serve immediately. Enjoy!
Nutrition
If you are looking for other Delicious Summer Vegetable Ideas  here are a few I think you will enjoy! Buon Appetito!