Italian Baked Stuffed Tomatoes with Rice, a delicious Italian Vegetarian Main Dish. Ripe Tomatoes stuffed with perfectly spiced Rice. A new family favourite.
Today I decided to go with one of the most popular and better summer veggies. Tomatoes, one of my favourite and of course Italy's most famous.
I have to say this is one of my favourite summer dishes, Baked Stuffed Tomatoes.
The first time I tasted this dish was at a friend's family get together. Could her Mom cook! it didn't matter if there were 5 or 50 people for a meal it was all the same to her.
From the anti-pasto to primo piatto to dessert, she had it all covered. After my first taste this dish became one of my favourites.
With summer coming to an end, and with the over abundance of tomatoes, this is the perfect healthy veggie lunch or dinner dish. It's so easy!
Italian Baked Stuffed Tomatoes with Rice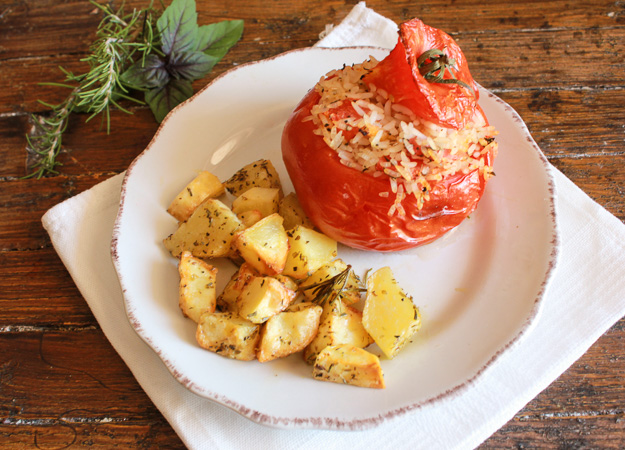 While your rice is soaking in water for an hour, you can get your tomatoes ready and nothing better than serving these Italian Baked Stuffed Tomatoes with Rice with some Roasted Potatoes with rosemary.
This is one of those terrific Italian recipes where you can make it as spicy or simple as you like. My daughters like the rice simple with oregano and basil, my husband likes it a little spicier topped with onion and I like it, yup you got it, with some freshly grated Parmesan cheese tossed in.
Anyway you serve Baked Stuffed Tomatoes, it is the perfect way to end the summer. Buon Appetito!
Italian Baked Stuffed Tomatoes With Rice
Italian Baked Stuffed Tomatoes with Rice, a healthy vegan/vegetarian dish. The perfect baked dinner recipe, with a delicious rice stuffing.
Ingredients
4-5

medium to medium-large firm ripe round tomatoes

seeded and hollowed out

1

cup

uncooked rice (I used long grain par boiled)

185 grams

1

teaspoon

oregano

1/2 gram

1

teaspoon

basil

1/2 gram

1/2

teaspoon

salt

2 1/2 grams

6

sprigs fresh chopped Italian parsley

1

clove

garlic chopped

1/4 - 1/2

cup

chopped tomato pulp

55-82 grams

2-3

tablespoons

olive oil

23 - 34 1/2 grams
Instructions
Pre-heat oven to 375° (180° celsius) lightly oil a large baking pan.

In a medium bowl add rice and cover with water let soak for 1 hour, then drain and rinse.

Rinse and dry tomatoes, carefully cut off top of tomato and set aside, remove seed and pulp from the tomatoes, set aside the pulp and discard the seeds.

In a medium bowl mix together, chopped tomato pulp, oregano, salt, parsley,garlic, 2-3 tablespoons (45 grams) olive oil and rice. Fill hollowed out tomatoes with mixture. Place tops back on tomatoes, sprinkle tomatoes with a little salt and drizzle with olive oil. Add Roasted Potatoes with rosemary and bake for approximately 45-60 minutes or until potatoes and rice are tender. Serve immediately. Enjoy!

** 1/4 cup of Parmesan cheese may be added to the rice mixture if desired or top the filled tomato with a slice of onion (sprinkle with salt, oregano, rosemary and drizzle with olive oil but don't replace with the tomato top).
Nutrition