So, what is the heck is this Kouign Amann? I bet you are asking yourself. I have always loved bread making, everything about it, kneading the dough, continually being in aww when it doubles in bulk (I know, at this point my kids would roll their eyes!)  and then there is that wonderful aroma that fills the house.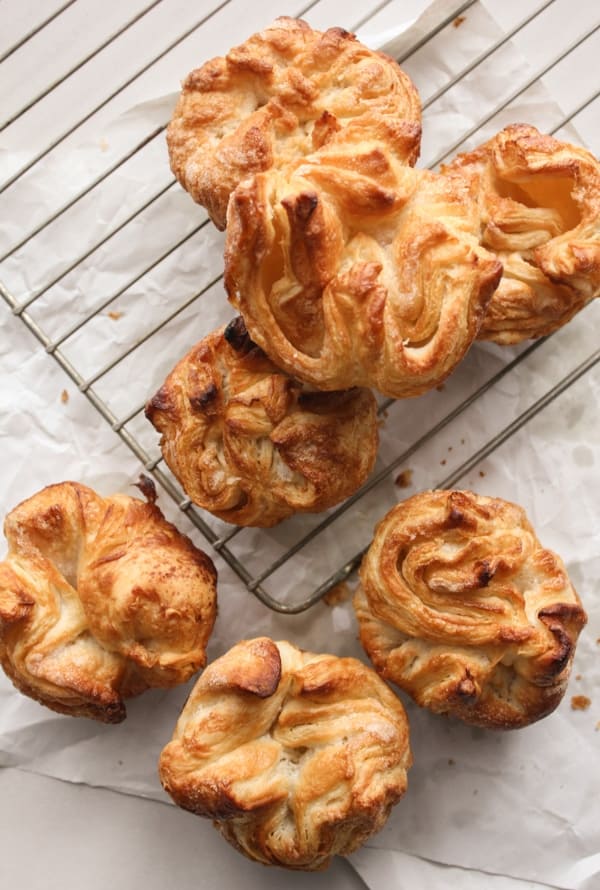 But back to your question, Kouign Amann are Round Crusty Cakes, that are made with bread dough containing layers of butter and sugar that are folded in,  similar to making Puff Pastry. So no, these are not your go to diet food.
I always wanted to try making an original puff pastry recipe, but I always thought it sounded so complicated. Dough wrapped around a butter block then rolled and folded.
But trust me,  it really isn't very complicated or difficult and the end result is positively amazing.
I would advise though if you are interested in baking bread a kitchen scale is a must, since a lot of bread recipes are in grams including this one. Since accuracy is a must.
This month Kouign Amann was chosen and I am telling you what a delicious bread/sweet it is! They were barely cool before I just had to have a taste.
Kouign Amann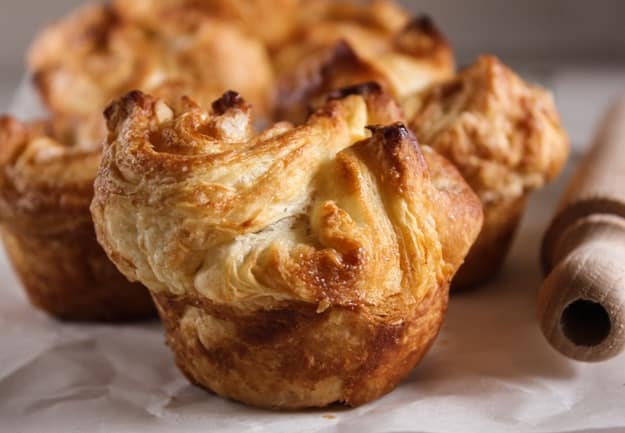 And I can tell you the Italian didn't stop at one, nor two! So if you are feeling the need to make some bread that is a little on the sweet side, I would love it if you gave it a go and let me know how you liked Kouign Amann. Enjoy!
Kouign Amann
Kouign Amann, a Bretagne Pastry recipe, a delicious buttery cake that is worth all the effort. A delicious homemade french dessert treat.
Ingredients
300

grams

to 340 unbleached all-purpose flour

(2 cups + 2-4 tablespoons flour)

5

grams

instant yeast

3/4

teaspoon

salt **

200

ml

warm water

(90 to 95 degrees F)

25

grams

unsalted butter

melted **

250

grams

+ 2 tablespoons cold unsalted butter **

(1 cup + 2 tablespoons)

100

grams

caster or fruit sugar

(very fine sugar, 7/8 cup)
**I can' get unsalted butter in Italy where I am so I used salted butter and 1/2 teaspoon of salt instead of 3/4 teaspoon.
Instructions
In the bowl of a stand up mixer, add flour (I used 300 grams and it was perfect, start with 300 grams, be sure not to add too much flour), yeast, salt, water and melted butter stir to wet the ingredients. Attach the dough hook and knead on low for approximately 2 minutes. The dough should be tacky but not really sticky. Knead on medium for approximately 6 minutes.

Remove the dough from the mixer and form into a ball. Place the ball in a lightly greased bowl and cover it with plastic wrap and let sit to rise for an hour.

Meanwhile, make your butter block. Place the butter between 2 pieces of parchment paper and roll to form an approximate 5 1/2 inch square, wrap with plastic wrap and refrigerate to chill.

Once dough has risen place on a slightly floured flat surface, then roll the dough into an approximate 8 inch square. Place the chilled butter block on an angle in the middle of the dough and then fold the corners of the dough (like an envelope) to cover the butter completely.

Then roll the butter dough into an approximate 6 inch by 18 inch rectangle. Fold the bottom third of the rectangle into the middle, then fold the top third over that (see photos). You will have a square, wrap in plastic and refrigerate for 30 minutes.

Remove from fridge and repeat the rolling and folding 2 more times, always refrigerating the dough for 30 minutes after each roll.

The last chill, roll the dough into an approximate 6 inch by 18 inch rectangle, sprinkle the dough with 1 third of the caster sugar, then fold into thirds again (making a square).

As fast as you can roll the dough into an approximate 16 inch by 12 inch rectangle. Sprinkle the dough with another 1 third of the caster sugar and cut into 12 squares (mine came out more like rectangles but don't worry it works perfectly).

Butter a 12 medium size muffin tin, take the squares by their four corners and place them in the prepared muffin tins. Gently squeeze the corners together. Sprinkle with remaining caster sugar.

At this point, you can either refrigerate them overnight, or bake them immediately. If baking immediately, cover the muffin pan loosely with plastic wrap, and let sit until slightly puffy, approximately 30 minutes.

If you have refrigerated them, remove from fridge and leave them to sit for approximately 1 - 1 1/2 hours at room temperature before baking.

Pre-heat the oven to 425 degrees F. Bake for approximately 30 to 40 minutes, until golden brown. Check after 15 minutes and if they are browning too quickly then cover them very loosely (like a tent) with foil.

Remove them from the oven and let them cool for approximately 2 minutes then remove from muffin tin and place on a wire rack. Let cool approximately (10 minutes) before serving.

If you wish to save for later, then individually wrap each Kouign Amann (cooled) with plastic and place in a freezer bag. Defrost and heat in a 350° oven for approximately 5 minutes before eating. Enjoy!
Nutrition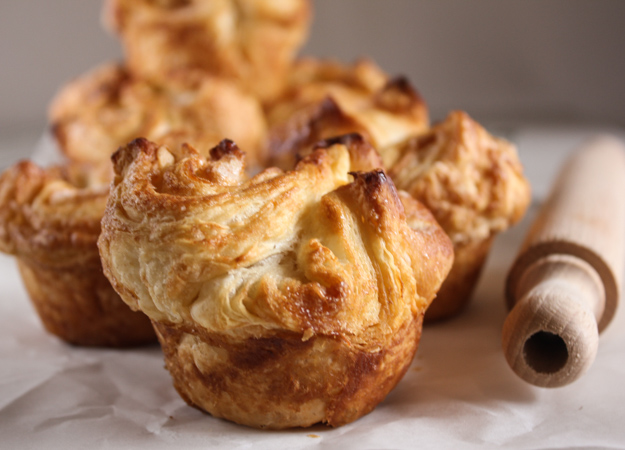 Source:
Paul Hollywood's Version: BBC Food Recipes