Easy Homemade Brioche Nutella Pull Apart Bread a delicious sweet Homemade Brioche Bread, baked and then stuffed with Nutella and rebaked. Eat this amazing Nutella Pull Apart Bread warm out of the oven as a yummy snack or dessert. Amazing!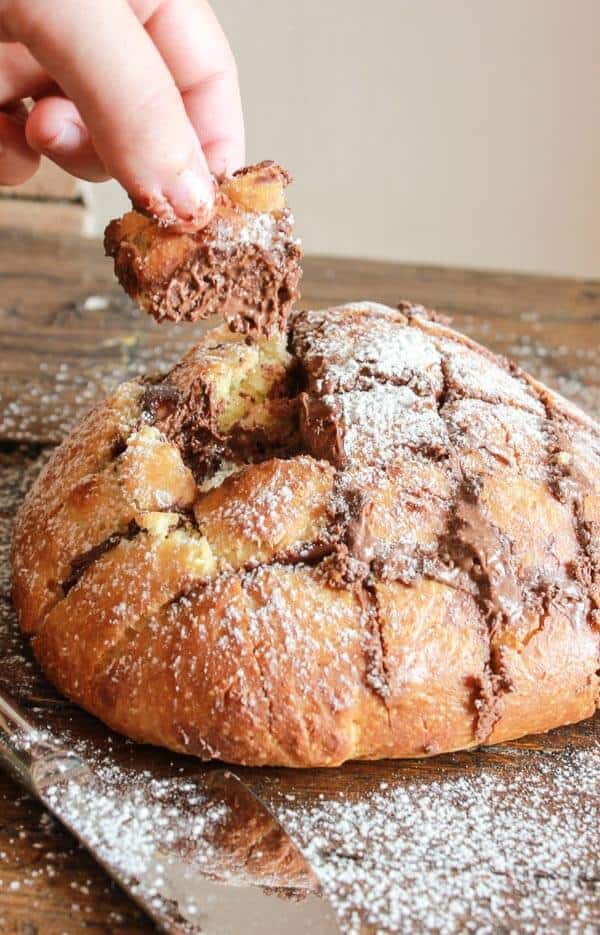 Ever since I first saw this Pull Apart/Crack Bread on the internet I was quite intrigued by it. I noticed it was almost always made with cheese, or on occasion, a Cinnamon Dessert bread. Both have made my mouth water.
Last week  a good friend was having a birthday get together and she asked me to make a Dessert. I decided this was the perfect chance to throw in my 2 cents on the pull apart bread department,
When making the cheesy pull apart bread, a sour dough bread is usually used. I knew this wasn't what I was looking for. I decided instead to opt for a slightly sweet but compact bread. Nothing better than a Brioche.
This Brioche has a little bit of an Italian influence ( thanks to a recipe from my mother-in-law), because it has a tighter crumb. Just what I was looking for, for this yummy Nutella Pull Apart Bread.
It is a really easy bread to make, using a stand up mixer with the dough hook makes it fast and painless. I actually divided the dough in two and one loaf I left plain, (makes a delicious sandwich bread) and the other I used for this Easy Homemade Brioche Nutella Pull Apart Bread.
After I let the Brioche cool, I sliced it (not all the way through) spread on the Nutella, turned it 90°, sliced it again and spread it with more Nutella.
I then wrapped it in foil and baked it for 10 minutes. I let it cool slightly and dusted it with powdered sugar. And then everyone went for it! Enjoy!
Easy Homemade Brioche Nutella Pull Apart Bread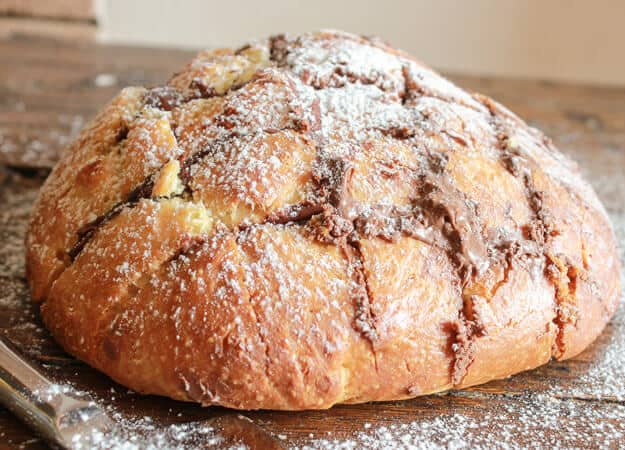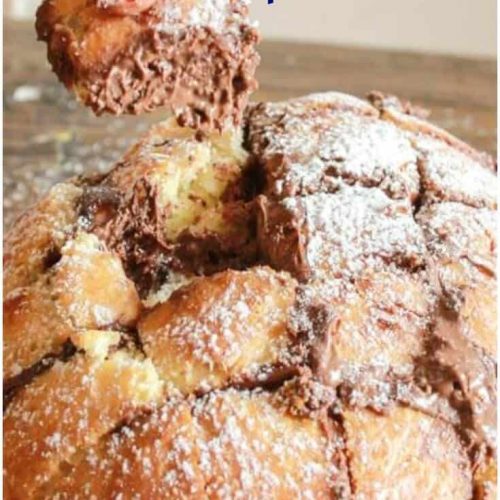 Easy Homemade Nutella Pull Apart Brioche Bread
Easy Homemade Brioche Nutella Pull Apart Bread, a delicious not too sweet, Pull Apart Bread, a Nutella Dessert lovers dream!
Ingredients
BRIOCHE BREAD
½

cup

milk

2½

tablespoons

butter

1

teaspoon

dry yeast

¼

2

cups

+ 2 tablespoons all purpose or bread flour

250 grams

¼

teaspoon

salt

2½

tablespoons

granulated sugar

1

large

egg (room temperature)

½

tablespoon

vegetable oil (I use corn or sunflower oil)
EXTRAS
1-2

cups

Nutella

250 grams

Powdered sugar for dusting
Instructions
Heat milk and butter together (I heated until the milk was hot but the butter wasn't quite melted), stir it to melt the butter and when it becomes lukewarm. sprinkle the yeast on top and wait 5-10 minutes stir together.

In the stand up mixer add the flour, salt and sugar, whisk together, then add the egg, oil and yeast mixture, knead for 8-10 minutes or until the dough pulls away from the bowl, the dough will be a little sticky*. Move to a flour flat surface and knead a few times (the dough should be compact but a bit tacky). Place in a lightly greased bowl , roll the dough in the bowl and cover and let rise in a draft free warm area for approximately 1 hour or until doubled in bulk.
*If the dough is very sticky then add a tablespoon of flour at a time to bring it together.
Punch the dough down form into a round boule or loaf, place on a parchment paper lined cookie sheet, cover and let rise in a warm draft free area for approximately 1 hour or until doubled in bulk.

Pre-heat oven to 350F (180C).

Brush with milk and bake for about 30 minutes, or until golden (tap the bottom of the loaf it should sound hollow when done). Move the bread to a wire rack to cool completely before continuing.
PUTTING IT TOGETHER
Pre-heat oven to 350F (180C).

Once the bread is completely cool, cut the loaf lengthwise into 1/2 inch -1 inch (1 1/4 -2 cm) slices, do not cut through to the bottom crust. In between the slices spread with 1/2 the Nutella, turn the loaf 90° and slice the same size pieces again, spread with the rest of the Nutella. Wrap the bread in foil and bake 10 minutes. Let cool slightly, dust with powdered sugar and serve. Enjoy!
Nutrition