No Yeast Cinnamon Rolls, are a fast and easy breakfast or brunch treat. A soft homemade roll with a brown sugar, cinnamon & butter filling, baked then topped with a Maple Glaze. Perfect.
Cinnamon Rolls
August has been a month full of excitement. This is usually the get-together-with-friends-month!
We usually decide to have dinners together and go out for a whole day to a small town, somewhere around the area that we haven't been to yet and we proceed to check out all the specialties of the place.
Last night for example was one of those days in which we got together here at our house and we cook, drink some wine, eat and laugh more than anything else.
As you can see this recipe has been updated!  This area of Italy is still as beautiful as it was back in August 31, 2014.
One of our friends is a very good cook, he started getting more and more interested in cooking  in the last few years and he has become the "sous chef" of the group.
So he was the one who volunteered in making dinner.
And I volunteered to make the dessert, because no meal is complete without a Delicious Sweet Ending right?
I decided to make these No Yeast Cinnamon Rolls, since no one had ever tried cinnamon buns before, I thought it would be the perfect quick and easy dessert to make.
And of course they are one of my favourites!
Who invented Cinnamon Rolls?
Cinnamon Rolls were apparently invented in Sweden. There is even a Cinnamon Roll National Holiday on October 9.
My mother used to make these almost every Friday night and they became one of our weekly food traditions!
Brown Sugar Pinwheels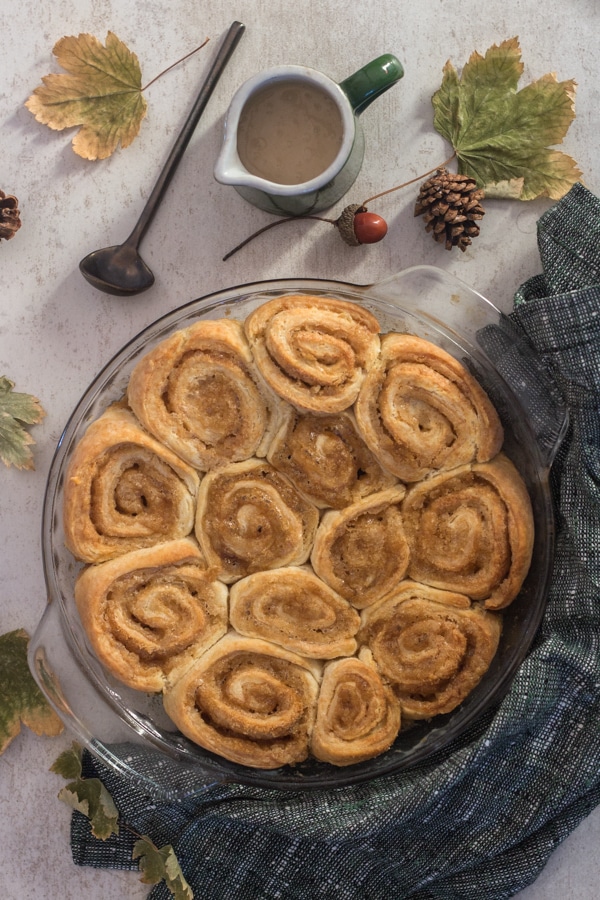 But I consider these an easy substitute for a Cinnamon Bun without the yeast and no rising time needed!
And believe me you can never stop at one!  This time I decided to top them with a Maple Glaze.
The Italian loves these so much they are always gone the same day I make them.
These can also be made individually in a 12 medium size muffin pan.
More Cinnamon Recipes to try
Maple Glazed Brown Sugar Cinnamon Scones
Homemade Cinnamon Apple Strudel
So if you like Cinnamon Rolls made with brown sugar, cinnamon and butter and who doesn't and a simple no Yeast homemade Bun recipe,
Than this is a recipe to try and when you're done baking them and after you've tasted them, let me know what your thoughts are!  Enjoy!
No Yeast Cinnamon Rolls with Maple Glaze
Brown Sugar Pinwheels, fast and easy, no-yeast brown sugar pinwheels,better than a cinnamon bun? Yes they are!
Ingredients
CINNAMON ROLL DOUGH
2

cups

flour

(250 grams)

1

tablespoon

baking powder

1

pinch

salt

1/4

cup

butter softened**

(60 grams)

3/4

cup

milk

(185 grams)
**If using unsalted butter then add 1/2 teaspoon salt.
TOPPING

1

cup

brown sugar

(200 grams)

1-2

teaspoons

cinnamon

(if desired)

1/3

cup

butter softened

(80 grams)
MAPLE GLAZE
1/2

cup

powdered / icing sugar

1/2

teaspoon

vanilla

2

tablespoons

maple syrup

1/2 -1

tablespoon

cream

(whole / whipping or half and half)
Instructions
Pre- heat oven to 350 degrees (180 degrees). Lightly grease and flour an 8 inch pan.

In a large bowl with a whisk mix flour, baking powder and salt, with a pastry blender cut in butter until it resembles coarse crumbs, add milk and with a fork mix till mixture becomes a soft dough turn onto a lightly floured surface and knead just until dough is thoroughly combined.

Roll dough out to rectangle that is 1/8 inch thick.
TOPPING
In a small bowl mix together the brown sugar and cinnamon (if using).

Spread with butter and sprinkle with brown sugar / cinnamon mixture, pat down lightly. Starting with long end roll into a log, cut into 12 pieces and place in prepared muffin tins. Bake for approximately 30-35 minutes (or until golden). Let cool before drizzling with glaze. Enjoy!
MAPLE GLAZE
In a small bowl combine powdered sugar, vanilla and maple syrup if it is too thick add 1/2 tablespoon of half and half, mix until smooth.
Nutrition
Calories:
262
kcal
|
Carbohydrates:
42
g
|
Protein:
2
g
|
Fat:
9
g
|
Saturated Fat:
5
g
|
Cholesterol:
24
mg
|
Sodium:
285
mg
|
Potassium:
175
mg
|
Sugar:
25
g
|
Vitamin A:
6
%
|
Calcium:
8.7
%
|
Iron:
6.5
%