This delicious Mascarpone Cream is easy to make and egg free. The perfect Italian recipe, delicious served traditionally with Panettone or Colomba or use it as an accompaniment for your favourite cakes and pies. Or why not fancy up some fruit and add a little?!
Easy Mascarpone Cream
Not only is this Cream decadent and sooo creamy it is also very popular in Italy during the holidays, when it is served with Panettone or Colomba. Known as Crema al Mascarpone.
This traditional recipe is actually made with fresh eggs, but I decided to give you an egg free version, and it turned out perfect.
Of course don't leave it just to Christmas and Easter or special occasions, this fluff is perfect with fresh fruit or even frozen fruit. Remember when I told you about Freezing Summer Strawberries? Yup I layered this cream with those too!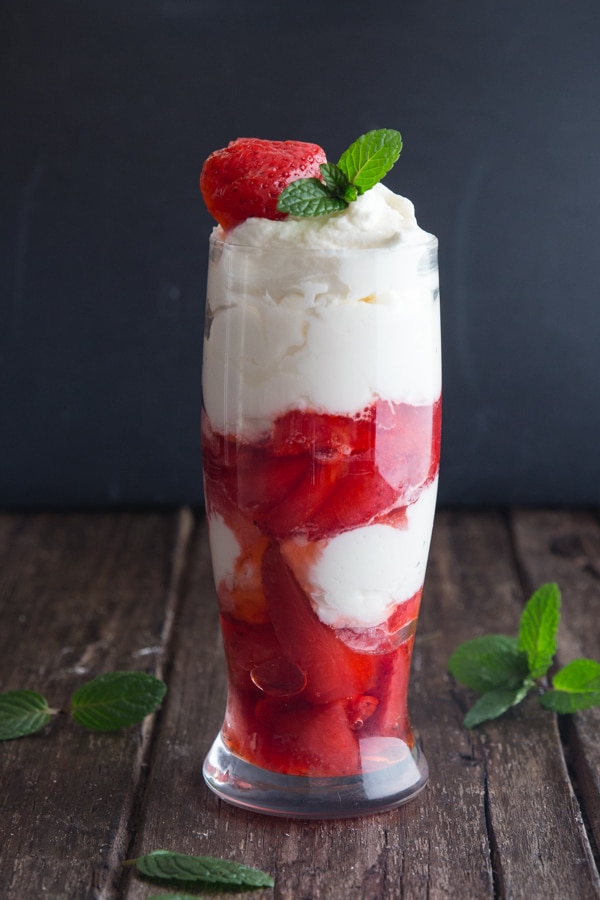 How to make Mascarpone Cream
Place the cold cream and sifted powdered sugar in a bowl and the mascarpone and vanilla in another.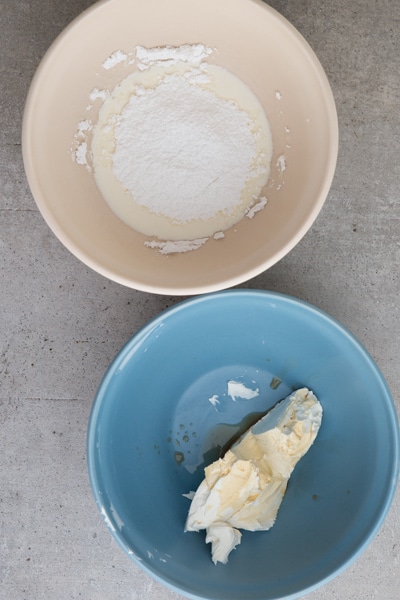 Beat cold cream with sifted powdered sugar until thick peaks form.
Drain the mascarpone of any excess liquid, then beat with the vanilla until it smooth and velvety.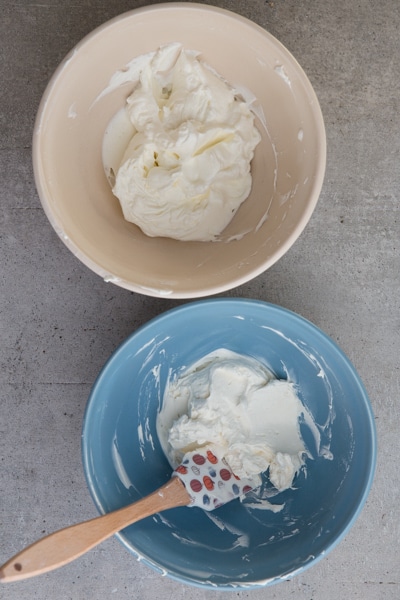 Add the whipped cream to the mascarpone and with a whisk combine well until smooth and completely mixed.
Refrigerate until ready to use.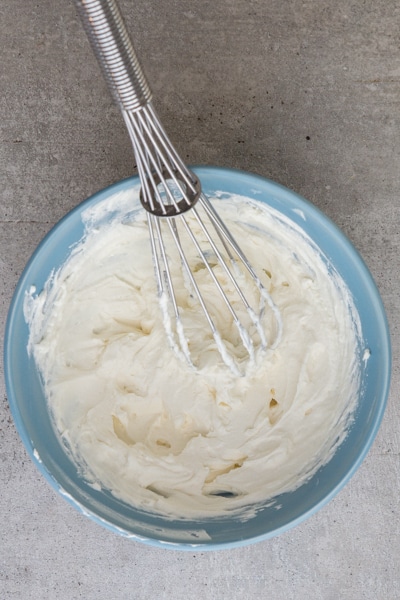 What is Mascarpone Cream?
It's a soft type cheese that is obtained from processing cream with the addition of a little citric acid, it originated from the Lombardy Region.
It is believed that the word mascarpone probably derives from "maschpa", which in the local dialect means cream of milk. At one time it was only prepared during the winter months.
Italians love to make many thing using mascarpone including one of the most popular of all desserts, Tiramisu. One of favourite pasta dishes is this creamy Pancetta and Mascarpone Anelli and why not a delicious Fresh Strawberry Pie with a Mascarpone Filling or a Mascarpone Cake with Raspberry Cream for dessert!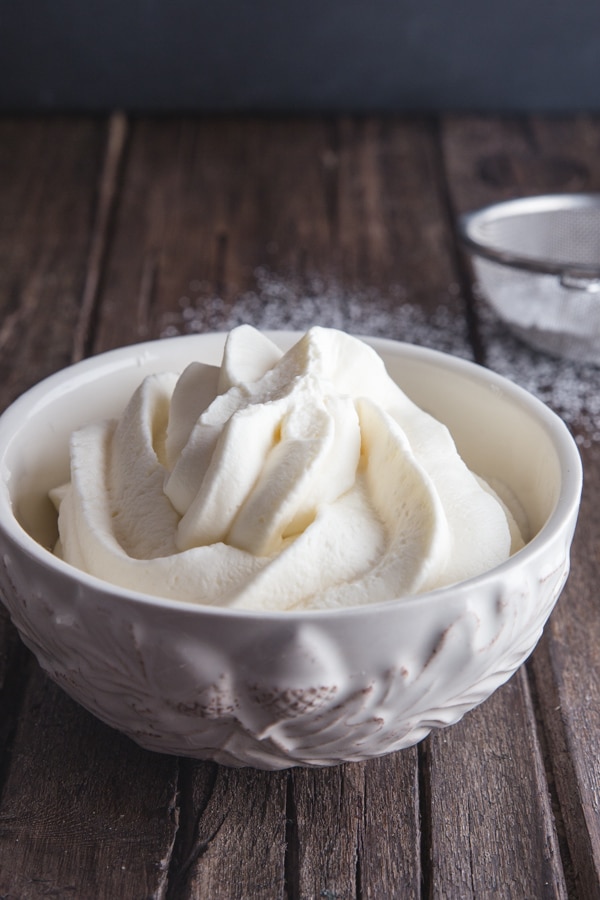 Tips for making the best Cream
Make sure your mascarpone is at room temperature, remove from the fridge 30 minutes before using. Drain it of any excess liquid. Be sure to sift the powdered sugar, you want a smooth creamy cream with no lumps.
Use whole / heavy or whipping cream, a cream with at least 30% fat. If you are counting calories this isn't the time to do it!
No need to wash the beaters between beating, beat the cream first then beat the mascarpone and vanilla.
Best to make and serve this cream, it's thicker when just made.
How to store it
I would recommend making this cream just before serving, that way it stays very thick. It can be refrigerated for up to two days but it won't stay as thick. Although that wonderful delicious taste will remain.
The cream cannot be frozen.
So if you are looking for a traditional Italian cream that is perfect served with your favourite cake or even fruit, why not give this Easy Mascarpone Cream a try. Enjoy!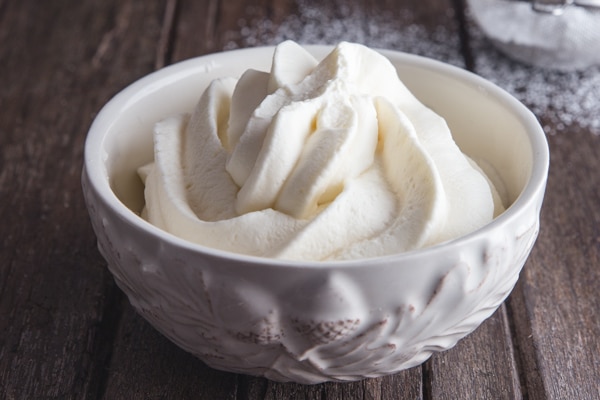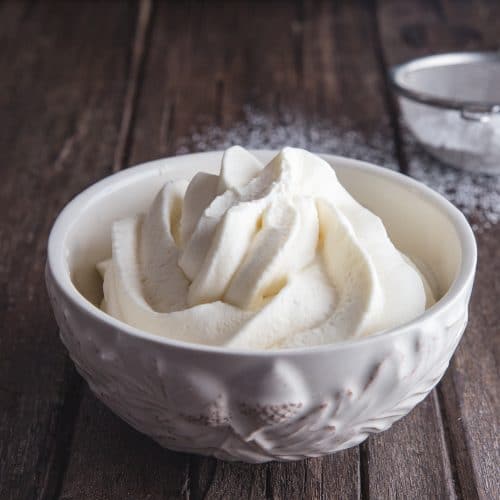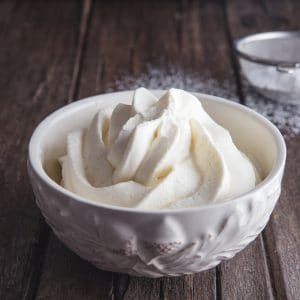 Easy Mascarpone Cream
This delicious Mascarpone Cream is easy to make and egg free. The perfect Italian recipe, serve it with your favourite cake or fresh fruit.
Ingredients
1/2

cup

whole / heavy / whipping cream (at least 30% fat/cold straight out of the fridge)

(120 grams)

1/4

cup

powdered / icing sugar (sifted)

(30 grams)

1/2

cup

+ 1 tablespoon mascarpone (room temperature)*

(125 grams)

1/2

teaspoon

vanilla
Instructions
In a medium bowl beat the cream and sugar until thick peaks appear (very thick).

In a medium bowl beat (with same beaters) the mascarpone and vanilla until smooth and creamy.

Add the whipped cream to the mascarpone mixture and whisk strongly until smooth. Don't over mix. Use as a topping for cakes or fresh fruit. Enjoy!
Notes
It may be best to drain the mascarpone for about 15 minutes to remove any excess liquid.
Nutrition
Calories:
1039
kcal
Carbohydrates:
36
g
Protein:
10
g
Fat:
95
g
Saturated Fat:
59
g
Cholesterol:
276
mg
Sodium:
108
mg
Potassium:
89
mg
Sugar:
30
g
Vitamin A:
3324
IU
Calcium:
235
mg