Mocha Almond Biscotti, a fast, easy and tasty Italian Christmas Cookie, the perfect combination of coffee and chocolate. The perfect addition to your Cookie Recipe Collection.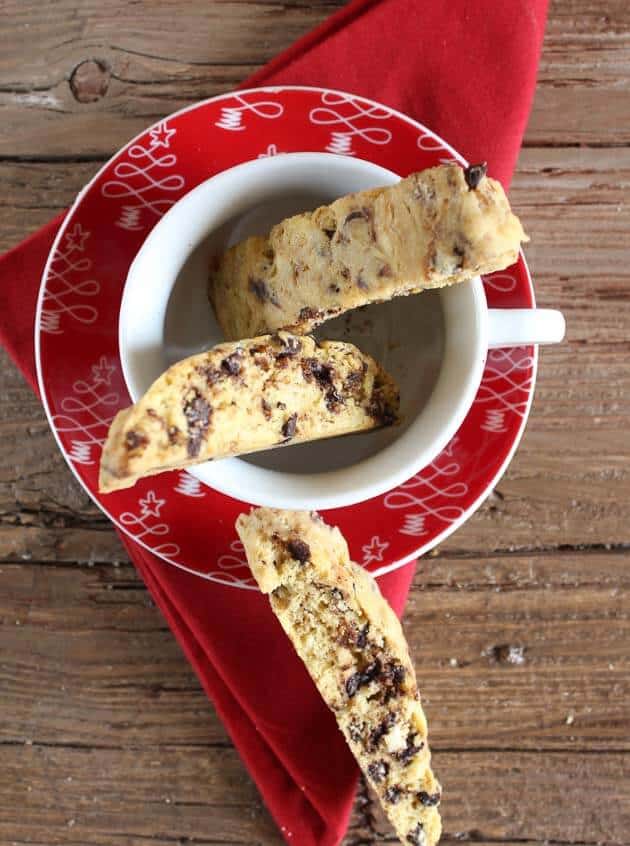 It took me the longest time to try a biscotto, not because I didn't think that they tasted good or I didn't like the look of them but because they are so darn hard. I knew if I dared take a bite I'd break a tooth or two!
For that reason, my husband told me that you can dunk them in coffee to make them softer, and in espresso to be exact. In fact biscotti means twice baked, with the second baking causing the cookie to dry and harden.
The first time I tried one of these Mocha Almond Biscotti was a get together at my sister's house. My Italian cousin made them, not only were they delicious, but they weren't "OMG there goes another tooth" biscotti.
So even though these Mocha Almond Biscotti are also twice baked they are on the softer side but still crunchy and of course just as delicious.
Biscotti are a very popular Italian Christmas cookie, after a taste you will understand why. The dough from these Mocha Almond Biscotti is very sticky so make sure you refrigerate it for at least 1/2 an hour.
I actually left it in the fridge for a few hours, then lightly flour a flat surface and also your hands when working with this dough, it will make it all much easier.
If you are looking for a yummy change from your usual Christmas Cookie recipes this tasty Mocha Almond Biscotti is something worth trying. Maybe you will get the urge to go dunking in your espresso too! Happy cookie baking. Enjoy!
Mocha Almond Cantucci
Ingredients
1/4

cup

butter softened

56.5 grams

3/4

cup

sugar

150 grams

1

teaspoon

vanilla

5 grams

2

eggs

1 3/4

cups

flour

218.75 grams

1

teaspoon

baking powder

5 grams

2

teaspoons

instant coffee

3 grams

1

cup

semi sweet chocolate chips

175 grams

1/4-1/2

cup

slivered almonds

28-55 grams
Instructions
In a large bowl beat sugar and butter until well blended (I used my food processor to make this dough and it worked really well), add vanilla mix, then beat in eggs one at a time, beat until combined.

In a medium bowl whisk together flour, baking powder and coffee, then gradually stir into egg mixutre. Fold in chocolate chips and almonds. Batter will be quite sticky, so wrap in plastic and refrigerate for at least 30 minutes (I left mine in the fridge for 2 hours).

Pre-heat oven to 300° (150° celsius)

Remove from fridge and form into 2 logs (approximately 23cm), place on a parchment paper lined cookie sheet.

Bake for 35 minutes or until light brown in colour.

Remove from oven and let cool for 10 minutes. Reduce oven heat to 275° (135° celsius).

Cut the logs diagonally into 3/4 inch (2 centimeter) thick slices (or thinner if desired), lay on their side, on parchment paper lined cookie sheets. Bake for approximately 8-10 minutes or until dry. Cool completely before serving. Can be frozen, store covered. Enjoy!
Nutrition