Mocha Cake Doughnuts, light and soft with just the right amount of coffee taste. Top with a drizzle of Cream Cheese Frosting and it's the perfect Dessert, Snack or even Breakfast Treat.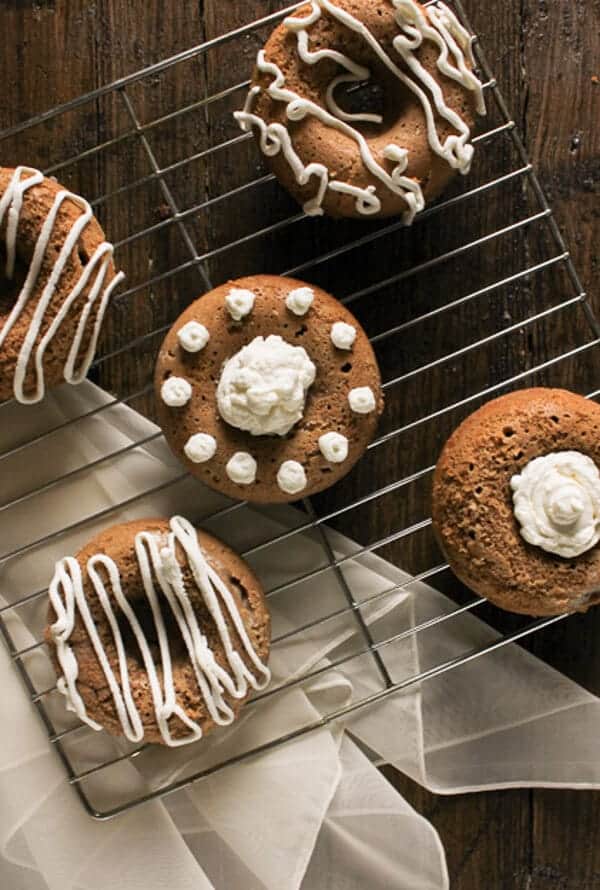 I have been obsessed with doughnuts since last summer. It all started when I went to Toronto to attend my eldest daughter's graduation, she is now my eldest daughter the "Journalist" and of course visit my family.
On one of our lets-go-walk-around-town days my daughters bright idea was to go try her absolute favourite pastries, macarons. I had never eaten one and yeah I was curious. They were everywhere.
We arrived at this small and adorable pastry shop in downtown Toronto, we chose our macarons (of course I went with chocolate, what else?). As  my daughter eats hers so slowly to savour every bite full.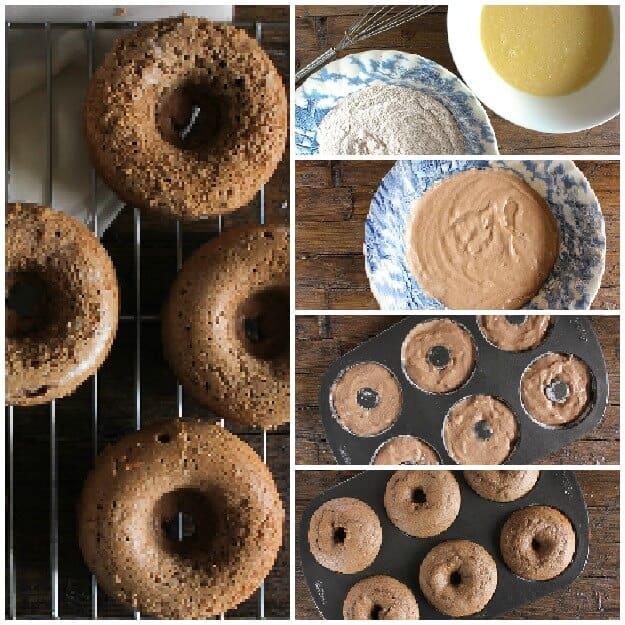 I can only think that  1. they certainly aren't my favourite and 2. what? $4 dollars for one macaron?
On our way out of the adorable bake shop I noticed a sign up with day classes in bread making, Pie making and yes doughnut making. So obviously I signed up for the doughnut class.
I was so excited this class was going to teach me all the techniques for making fried and Cake doughnuts, how cool would that be?
A week before the class I received an email telling me to bring comfortable shoes and an apron. I had that apron ready from the day I signed up.
Mocha Cake Doughnuts
I even ordered a doughnut cake pan, imagining myself the day after my class baking up some yummy cake doughnuts.
Unfortunately 2 days before the class, I receive the dreaded "sorry class has been cancelled and will take place instead in 2 weeks", but not for me. I packed my doughnut pan and back to Italy I went.
Since that sad day of my cancelled doughnut class I have been obsessed with doughnuts, but not anymore because these soft and delicate tasting Mocha Cake Doughnuts with a creamy marscarpone glaze were a complete success.
The Italian ate one before I could even glaze it and the Nutella queen ate almost all the rest. I hid one because photos must be taken.
Now, I am no longer obsessed but I will be making more doughnuts. Enjoy!
Mocha Cake Doughnuts
Mocha Cake Doughnuts, a delicious soft donut, a combination of chocolate and coffee makes this a perfect snack, dessert or breakfast treat.
Follow me on Youtube!
Watch the videos and don't forget to subscribe on Youtube!
Ingredients
BATTER

1

cup

flour

3/4

teaspoon

baking powder

1/4

teaspoon

baking soda

pinch of salt

1/3

cup

sugar

1

teaspoon

cocoa

3

tablespoons

butter melted

1

egg

1/4

cup

coffee

1/2

teaspoon

vanilla

3

tablespoons

greek yogurt

1

tablespoon

milk

MARSCARPONE GLAZE

1/4

cup

whipping cream

I use whole cream only because that is all I have

2

tablespoons

marscarpone

cream cheese may be substituted

1

tablespoon

icing sugar
Instructions
Pre-heat oven to 350° (180° celsius). Grease 6 tin donut pan.

In a medium bowl whisk together flour, baking powder, baking soda, salt, sugar and cocoa.

In a small saucepan over low heat melt butter, remove from heat and let cool slightly.

In a medium bowl whisk together egg, coffee, milk, yogurt and vanilla, add melted butter and combine.

Mix the wet ingredients into the dry ingredients and mix just until it becomes smooth.

Fill doughnut pan until almost full. Bake for approximately 8-10 minutes (check with a toothpick for doneness), cool in pan and then remove to wire rack to cool completely.

In a small bowl add whipping cream, marscarpone and icing sugar, beat until desired thickness. Top with glaze. Enjoy!
Nutrition