A delicious welcome to Spring with this No-Bake Berry Greek Yogurt Pie. Fast and Easy and made with your favorite flavor of Greek Yogurt. Healthy too!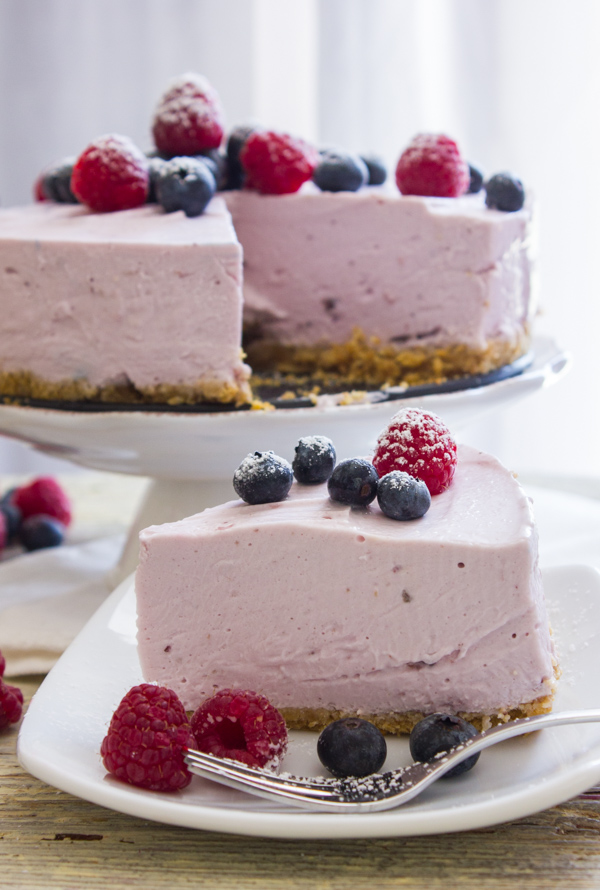 I decided to make this amazing No-Bake Berry Greek Yogurt Pie.My daughters and I first discovered Yogurt Pie when we were grocery shopping one day. Boxed cake and pie mixes were not very big in Italy until about 5-7  years ago.
When we saw the Spring/Summer boxed Yogurt Pie we decided that we needed to try it. It was pretty darn good for a box. So when Spring would roll around and out would come The Desserts we would always grab a box of our favourite cake.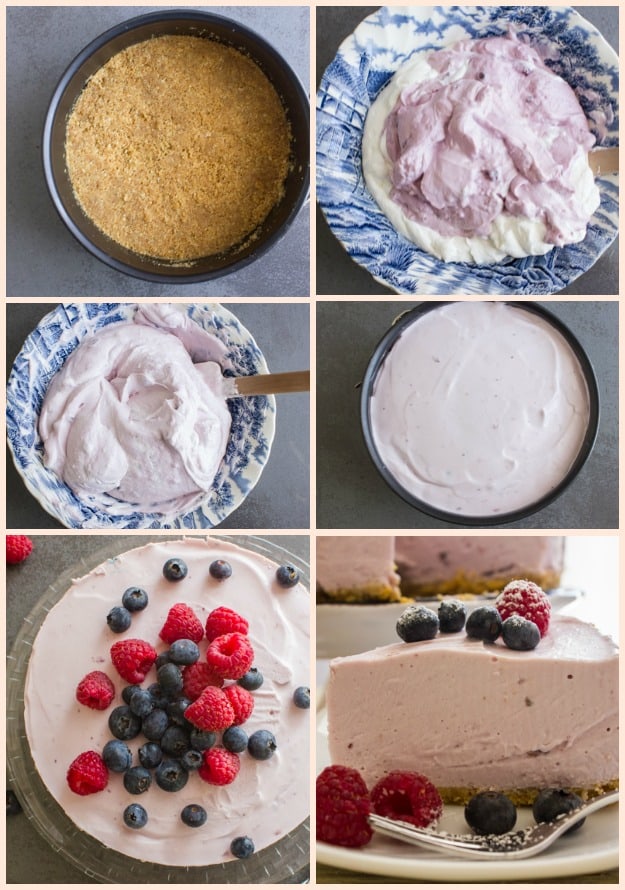 The other day when I was in the Super Market I noticed our favourite Yogurt Dessert was on the shelf. I also saw that I was not the only one gawking at the desserts.
Almost as if she was reading my mind a woman beside me commented "you always know when Spring has arrived"  a third woman responded "if you want to eat an even better Yogurt Pie, I've got the recipe for you".
Music to my ears. I don't think the other woman was much interested, but I already had my pen and paper out of my purse.
I let her know that I was more than interested in her recipe. And this my friends is how my No Bake Berry Greek Yogurt Pie became one of the Italians favourite desserts.
He has already told me a couple of flavours he can't wait to try. Even the Nutella Queen was not impressed that he ate the last slice, ok the last two slices.
No-Bake Greek Yogurt Pie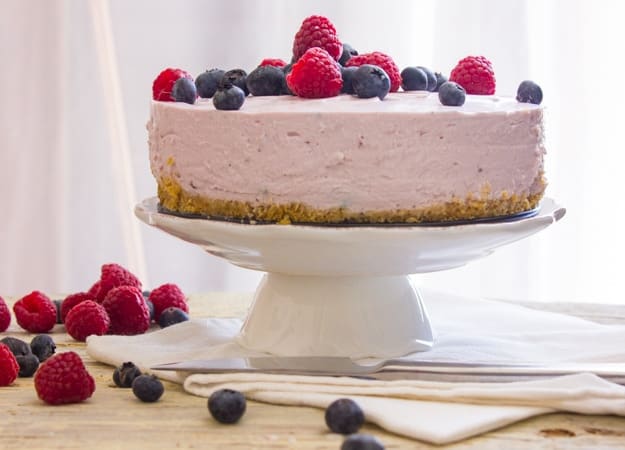 I decided to change the recipe up a bit by using Greek Yogurt instead of regular since it is thicker, and I used some milk instead of all cream.
My daughter and I decided that if you could eat a cloud this is what it would taste like. Soft, fluffy and absolutely amazing.
Just like my Easy Yogurt Cake. Pick your favourite Greek Yogurt flavour and the rest is easy. The perfect dessert to end a Family Sunday Supper. Enjoy!
No-Bake Greek Yogurt Pie
A delicious No-bake Greek Yogurt Pie, an easy recipe, pick your favorite Greek Yogurt flavor. The perfect family dinner dessert.
Follow me on Youtube!
Watch the videos and don't forget to subscribe on Youtube!
Ingredients
COOKIE BASE
1 1/2

cups

graham cracker / cookie crumbs**

(180 grams)

1/4

cup

butter melted

(54 grams)
YOGURT FILLING
1/4

cup

+ 1/2 tablespoon milk

(72 grams)

1

cup

whole or whipping cream

(230 grams)

2

cups

any flavour greek yogurt (remove from fridge 30-45 minutes before using)

(510 grams)

1 1/4

sheets gelatin or 1½ teaspoons gelatine powder
Instructions
COOKIE BASE
Mix graham cracker / cookie crumbs and melted butter, press down on the bottom of a 7 - 8 inch (17 - 20 centimetera) springform cake pan (or line a regular cake pan with plastic wrap). Place in refrigerator.
YOGURT FILLING
Fill a medium bowl with water add the gelatin and soak until it softens (10-15 minutes).

In a small pot add the milk heat the milk but do not boil, remove gelatin from the water, wring out well and add to the milk, stir until completely melted. Set aside.

In a medium bowl beat cream until thick peaks form, gently fold in the yogurt, when well combined add the gelatin/milk mixture and combine well. Remove the cookie base from the fridge, pour the cream mixture on top, smooth the top with a spatula. Refrigerate 5 hours or overnight. Top with fresh fruit before serving. Enjoy!
Notes
If you are using powdered gelatine, then use 1 1/2 teaspoons and add it to the warmed milk (no need for water) and continue with the recipe. Let me know how it goes.
Nutrition
Need some help with Gelatin? Check it out here  David Lebovitz