No-Bake Nutella Cookie Crust Double Chocolate Cheesecake, fast and easy, a no egg cheesecake. White Chocolate, Dark Chocolate and Nutella. What a Perfect combination.
No Bake Nutella Cookie Crust Double Chocolate Cheesecake
You can't always make people happy all of the time! So when my youngest daughter, the Nutella Queen insisted that I hadn't made anything Nutella related in a while, I kind of had to agree.
But what? You can only Stuff  it in so many things. My mind was hard at work. And since we were having friends over for dinner and they are my perfect guinea pigs, I thought they would be happy to try my new creation!
Double Chocolate Cheesecake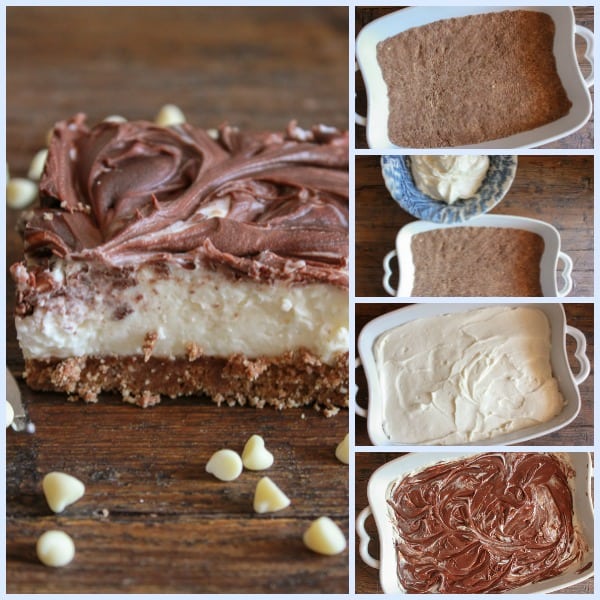 They absolutely love cheesecake. One of our friends is an amazing cook who was also telling me that he has no luck with making desserts. Once he made a cheesecake with 12 eggs! What?
That wasn't a cheesecake it was a frittata! Haha, he said it weighed a ton.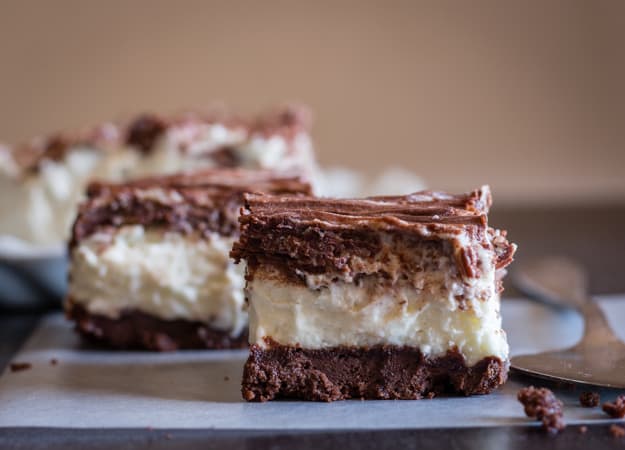 No need to fret, I have no eggs in this No Bake Nutella Cookie Crust Double Chocolate Cheesecake . But I do have an amazing crust,
I decided that instead of using the usual cookie and butter crust or Oreo cookie crust, which, ok don't hate me, is not my favourite, I would switch it up a bit.
And so I made a cookie crumb Nutella crust. Worked like a charm. All you have to do is place some Nutella in a bowl, place it over a pot with some water (make sure the water does not touch the plate).
Let the water boil on low and this will thin it up within 10 minutes. Mix them together and there you have a crust that you'll love! They were made for each other.
I thought a nice white creamy cheesecake would be a perfect companion with a semi sweet chocolate topping, and I was right.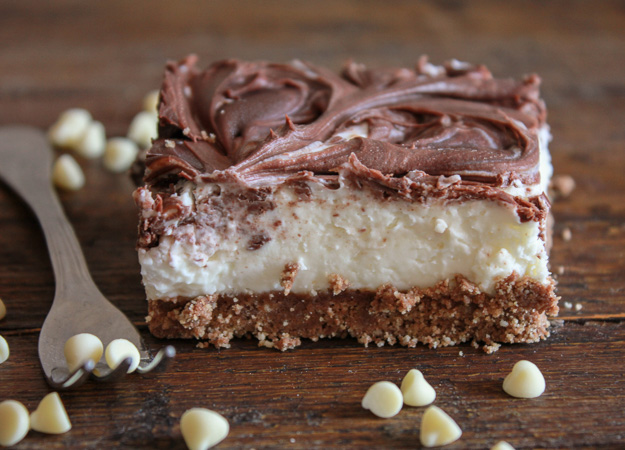 The first time I made these bars back in July 2015 my daughter and friends in Italy loved them, and since I have re made these No Bake Nutella Cookie Crust Double Chocolate Cheesecake Bars a few times in the last week I can honestly say they were an even bigger hit! Enjoy!
Other Nutella Recipes to Try!
Nutella Kit Kat Oreo Ice Cream Cake
Easy Italian Puff Pastry Balls
Nutella Chocolate Peanut Butter Bars
No Bake Nutella Cookie Crust Double Chocolate Cheesecake
No-Bake Nutella Cookie Crust Double Chocolate Cheesecake, with a better than Oreo crust, the ultimate creamy chocolate cheesecake dessert.
Ingredients
FOR THE BASE

1 1/4

cup

cookie crumbs use a butter/cream vanilla based cookie or substitute with graham cracker crumbs

(105 grams)

1/4

cup

+ 1 tablespoon Nutella

(91 1/2 grams)

FOR THE WHITE CHOCOLATE FILLING

1

cup

cream cheese

(225 grams)

3/4

cup

whipping cream

(180 ml)

1 1/2

tablespoon

sugar

3

ounces

white chocolate

(90 grams)

TOPPING

3 1/2

ounces

dark chocolate

(100 grams)
Instructions
Line a deep 9x9x2 inch ( 22x22x5 centimeters) baking dish with parchment paper. (scrunch up the paper and fit into pan)

Place the Nutella in a small bowl, place the bowl on a small pot with some water (do not let the water touch the bowl with Nutella) place on medium heat to boil, continue on a soft boil for approximately 10 minutes or until the Nutella becomes quite thin.

Remove from heat and mix with cookie crumbs, place in the bottom of the baking pan, press down firmly, refrigerate. Continue with the White Chocolate Filling while the crust is in the fridge.

Melt the white chocolate the same way you melted the Nutella, the only difference is let the white chocolate cool (not cold)

In a medium bowl whip the cream until stiff.

In a medium bowl beat together cream cheese, sugar and cooled white chocolate, fold in whipped cream.

Remove crumb crust from fridge, spread white chocolate mixture on top.

Melt dark chocolate the same as the Nutella. Let cool (not cold).

Drizzle cool dark chocolate over the filling and swirl with the tip of a knife.

Refrigerate for approximately 5-6 hours or over-night. Enjoy!
Nutrition
Calories:
280
kcal
Carbohydrates:
21
g
Protein:
3
g
Fat:
20
g
Saturated Fat:
12
g
Cholesterol:
42
mg
Sodium:
134
mg
Potassium:
157
mg
Fiber:
1
g
Sugar:
13
g
Vitamin A:
475
IU
Vitamin C:
0.1
mg
Calcium:
62
mg
Iron:
1.7
mg