Pumpkin Baci Di Dama with Mascarpone Filling, one of the best things about Fall. A soft perfectly spiced cookie with just the right touch of Pumpkin and the perfect creamy filling.

My mother-in-law has come to the age where she can't do as much as she used to. So my sister-in-law has taken over the vegetable garden.
And take over she has, from her tomatoes, green beans and now this amazing pumpkin patch. Naturally I had to stick my nose in there, after all we are veggie garden neighbours and I begged for a pumpkin.
It worked, I got my pumpkin. I have been experimenting with this delicious pumpkin dough. I based it on a dough that in Italian is called Pasta Frolla, sort of a shortbread pie dough.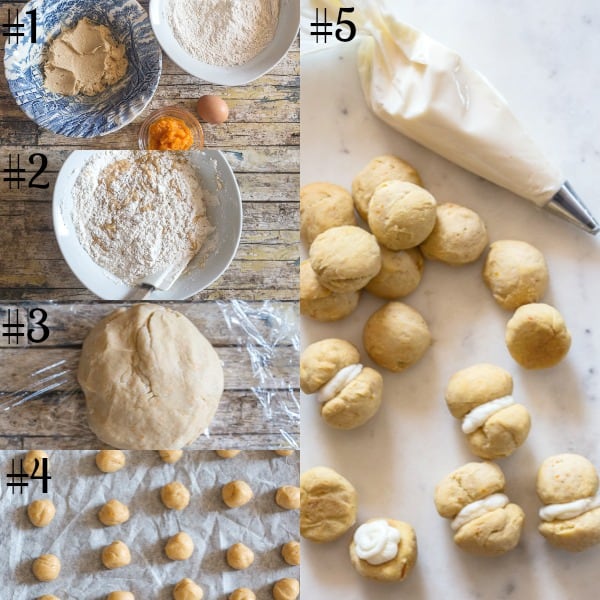 I guess that is why is has become one of my favourite doughs. One of those do-everything-pastry-doughs, seriously, I make Cookies, Pies and Tarts. And now something for Fall.
I remember eating a pumpkin cookie at a friend's house, and naturally I didn't write the recipe down, figured I would remember, of course I didn't!
So here I was, a cook scientist in the kitchen! I knew it was based on a Pasta Frolla but I wasn't positive about the amount of pumpkin.
How to make Pureed Pumpkin
It's so easy and simple. I remove the outer shell, seeds and pulp. I then cut it into 2 inch pieces. Place it in a large pot add enough water to cover and boil until tender.
I do not add anything to the water, no salt, nothing. Once the pumpkin is tender I then blend it until smooth. Nothing to it and I know that it's only pumpkin and no additives.
After mixing and experimenting, I came up with this delicious Pumpkin Cookie Dough. After seeing this cute little cookie Baci di Dama (Lady's kisses) in the bakery I decided I would use this dough to make them.
And I would fill them with a delicious creamy Mascarpone cream filling. You could eat them plain or do as my husband and sprinkle them with some unsweetened cocoa
The cookie, Baci di Dama is originally from the region of Piedmont, (supposedly they resemble a womans lips ready for a kiss) and are made with hazelnuts (or almonds) and filled with melted chocolate.
Just a little update, I did make a traditional Baci di Dama which I included in my book "Authentic Italian Desserts".
Maybe I will try that next time. But for now I hope you enjoy these Pumpkin Baci di Dama with Mascarpone Filling. Enjoy!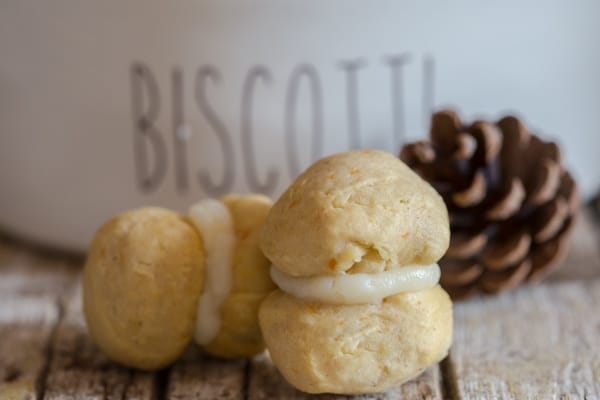 Pumpkin Di Dama with Mascarpone Filling
Pumpkin Baci di Dama with Mascarpone Filling, a delicious, delicate Italian cookie recipe, the perfect homemade Fall dessert or snack.
Ingredients
PUMPKIN DOUGH

1/4

cup

+ 2 tablespoons pureed pumpkin

(can be canned or fresh)

2

cups

+ 2 tablespoons all purpose flour

1/2

cup

brown sugar lightly packed

1/3

cup

butter

(room temperature)*

1

medium

egg

(room temperature)*

1/4

teaspoon

baking soda

1/4

teaspoon

baking powder

1/8

teaspoon

all spice

1/2

teaspoon

cinnamon

1/4

teaspoon

vanilla

pinch salt

MASCARPONE FILLING

4

ounces

Mascarpone**

2 1/2

tablespoons

powdered sugar

1/2

teaspoon

vanilla
*remove from the fridge 30 minutes before using.
**(remove from refrigerator approximately 30-40 minutes before use) you can substitute cream cheese if you wish.
Instructions
In a medium bowl whisk together flour, baking soda, cinnamon, baking powder, all spice and salt.

In a medium bowl beat butter and sugar until creamy, beat in egg, then vanilla, then pumpkin puree, beat for approximately 30 seconds.

Add beaten mixture to dry mixture, and with a fork, mix until it forms into a dough, move to a lightly floured flat surface (add a little flour if dough is too sticky) knead gently until well combined, wrap in plastic wrap and refrigerate for at least 30 minutes. (I made the dough the night before and left it overnight)

Pre-heat oven to 350° (180° celsius).

Roll dough into 4 or 5 ropes, cut off pieces, form small balls (about the size of a walnut or a little bigger). Place on parchment paper lined cookie sheets. (do not flatten)

Bake for approximately 12 minutes or until lightly golden. Let cool completely before filling with Mascarpone filling. Enjoy!

MASCARPONE FILLING

In a small bowl whisk until creamy mascarpone, powdered sugar and vanilla. Place in a frosting bag or use a spoon to fill cookies.
Nutrition
Calories:
128
kcal
Carbohydrates:
16
g
Protein:
2
g
Fat:
5
g
Saturated Fat:
3
g
Cholesterol:
21
mg
Sodium:
49
mg
Potassium:
40
mg
Sugar:
6
g
Vitamin A:
1070
IU
Vitamin C:
0.2
mg
Calcium:
20
mg
Iron:
0.7
mg
Republished from September 26, 2015.