Strawberry Filled Soft Italian Cookies, a delicious soft cookie with a yummy fresh strawberry filling. The Perfect Dessert or Snack Cookie.
Strawberry Filled Italian Cookies
Strawberries are a very strange fruit for me, I never liked them until I was pregnant and then I craved them so much that I couldn't get enough of them.
After my daughter was born I could tolerate them as long as they were in something or covered in something, mainly chocolate or whipped cream. For me these Strawberry Cookies are perfect.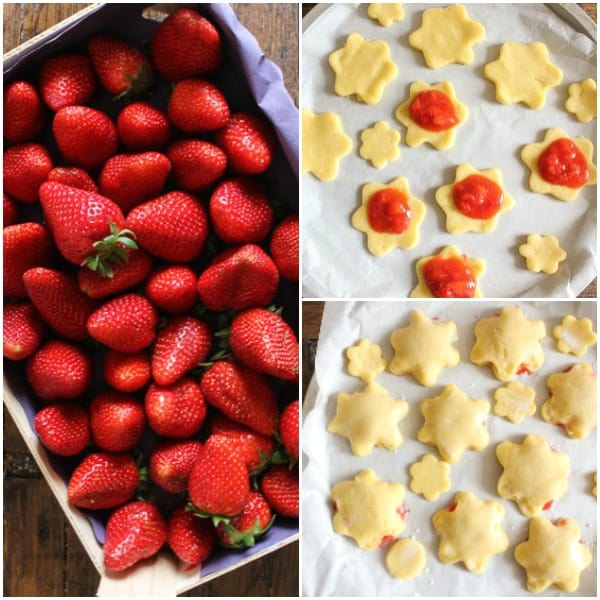 Before strawberry season ends here in Italy I knew that I had to share these cookies. Made with an easy, buttery  Italian dough.
Actually in Italy this dough is so versatile it is a base for a lot of homemade sweets,  such as a Crostata (an Italian pie),Pies , also some Easy Summer Desserts  and now cookies!
Italian dough is probably one of the easiest, most delicious doughs I have ever made, I love using it. I had my eldest daughter make the dough this time.
She complained that it wasn't coming together, but as I told her, "use a little strength my dear" and 30 seconds later she had an incredible soft Italian dough. Remember to gently knead but with a little arm power until it comes together.
Like other pastry doughs 30 minutes in the refrigerator is a must (especially in the warmer weather). But when it is rolled out and filled with this delicious cooked strawberry filling, I am telling you, they were gone in a day.
Strawberry Filled Italian Soft Cookies
Not only was it perfect for these Strawberry filled Soft Italian Cookies, but a couple of tarts worked amazingly well too! A little scoop of Vanilla Ice cream would be perfect. Enjoy!
Strawberry Filled Soft Italian Cookies
Strawberry Filled Soft Italian Cookies, the perfect soft cookie with a delicate strawberry filling. Dessert is served.
Ingredients
FOR THE DOUGH
1 ¾

cups

flour

½

cup

sugar

1

teaspoon

baking powder

1

egg

1

egg yolk

½

cup

+ 2 tablespoons butter (room temperature)*

(cut into small cubes)

1

teaspoon

vanilla

1

pinch

salt**
*For room temperature remove from the fridge 45-60 minutes before using.
**If you use unsalted butter use ¼ teaspoon salt.
FOR THE FILLING
2

cups

chopped strawberries

400 grams

4

tablespoons

sugar

56 grams

1

tablespoon

cornstarch

12 grams
Instructions
In a large bowl, gently whisk together the flour, sugar and baking powder and salt, make a well in the middle and add slightly beaten egg and yolk, vanilla and cubed butter. With a fork mix together until dough slightly comes together, then turn mixture onto a slightly floured surface and work gently to form a soft dough. Wrap in plastic and refrigerate for 30 minutes.

FOR THE FILLING

In a medium sauce pan add strawberries, sugar and cornstarch, cook over medium heat until thickened (I left a little juice) approximately 10 minutes, remove to a medium-sized bowl and let cool completely.

Meanwhile, Pre-heat oven to 340° (170° celsius), line cookie sheet with parchment paper, and lightly grease and flour 2 or 3 tart pans if using.

Remove dough from fridge, knead the dough a couple of times to soften it up on a lightly floured surface.

Roll out 1/2 the dough (easier to work with) at a time to 1/8 inch thickness and cut out with a round type of cookie cutter.

In the middle of each cookie add approximately 1 teaspoon of strawberry filling, top with second cookie and seal with fingers dipped in water if necessary.

Continue until all cut outs are complete (and 2 or 3 tarts if desired).

Bake for approximately 13-15 minutes, (cookies should not be golden, tarts approximately 5 minutes longer). Let cool slightly on cookie sheet and then move to a wire rack, dust with powdered sugar if desired before serving. Enjoy!

** Depending on size of cutter makes approximately 10 sandwich cookies, 3 tarts, I also made small cut out cookies with leftover dough.
Nutrition
Calories:
122
kcal
Carbohydrates:
17
g
Protein:
1
g
Fat:
5
g
Saturated Fat:
3
g
Cholesterol:
30
mg
Sodium:
44
mg
Potassium:
56
mg
Sugar:
8
g
Vitamin A:
165
IU
Vitamin C:
8.5
mg
Calcium:
16
mg
Iron:
0.6
mg
"The only time for you to eat diet food is when you're waiting for the steak to cook"  Julia Child
Updated from May 17, 2015.