Pumpkin Pie Stuffed Sweet Ravioli, a delicious Italian fried treat. An easy Fall dessert or snack that everyone will love. A yummy sweet pastry filled with a Pumpkin Pie filling, Pumpkin Pie never tasted so good!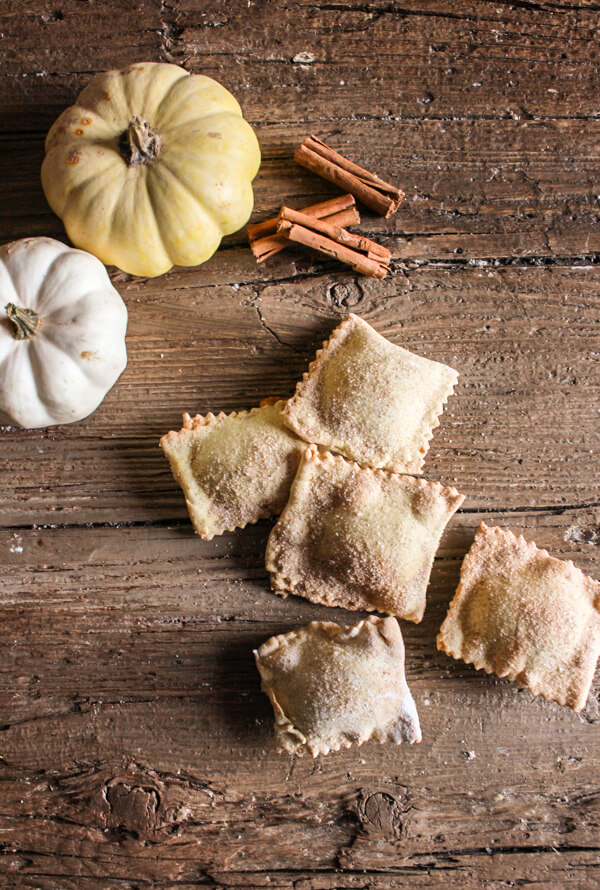 We are now in the middle of our olive picking season. Most of the olives we pick will be produced for olive oil. Some of the olives " I will try to make into the edible version that we buy in our local grocery stores.
This is my first attempt. My mother-in-law used to make all of her own homemade olives, never would she buy them from the store.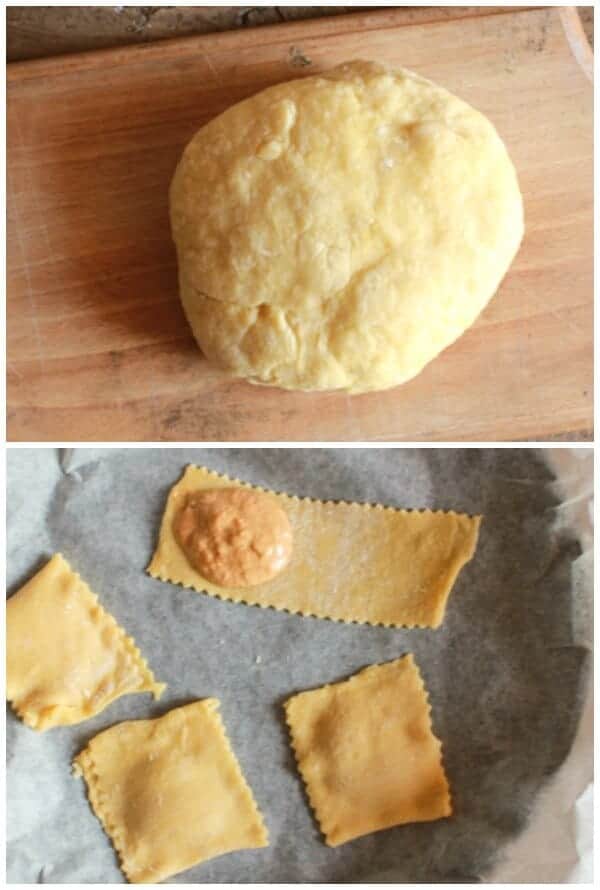 Unfortunately she is no longer able to do this along with all of her other delicacies that we always took for granted, including Sweet or Savory Ravioli.
I can remember years ago when she and my sister-in-law first made sweet stuffed ravioli. It was always a big treat at Carnevale Time.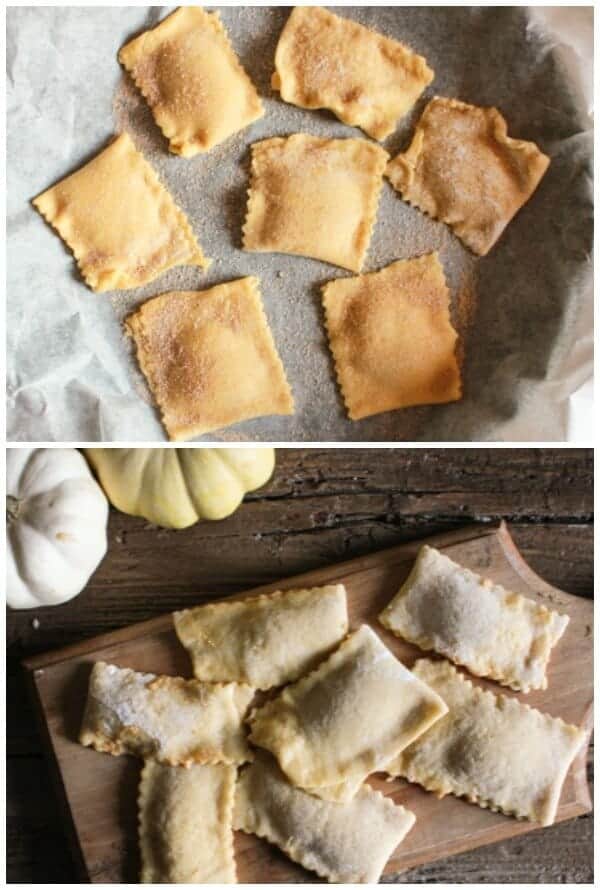 This year I decided that I didn't want to wait until Carnevale for these amazingly delicious sweets. I decided to stuff them my own way.
Sort of like Pumpkin pie meets Ravioli, Pumpkin Pie Stuffed Sweet Ravioli to be exact.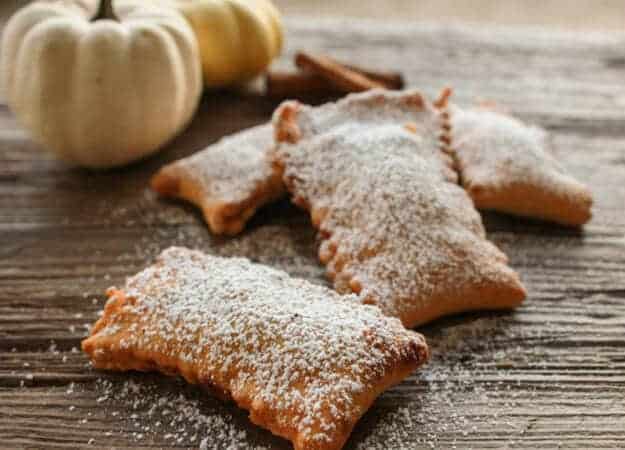 I used my mother-in-law's basic egg pasta dough, although I did add a bit of sugar to give it a little sweetness.
I used my pasta machine to roll it out, but I cut it out and filled it manually, no molds,  I like to think of them as rustic ravioli.
Pumpkin Pie Stuffed Sweet Ravioli
My mother-in-law would deep-fry her sweet ravioli. I decided to deep-fry half and bake the other half. The baked ones I sprinkled with a little cinnamon sugar and the deep-fried I dusted with powdered sugar.
Both  are really delicious and they were gone in minutes. Best to eat them warm. Enjoy!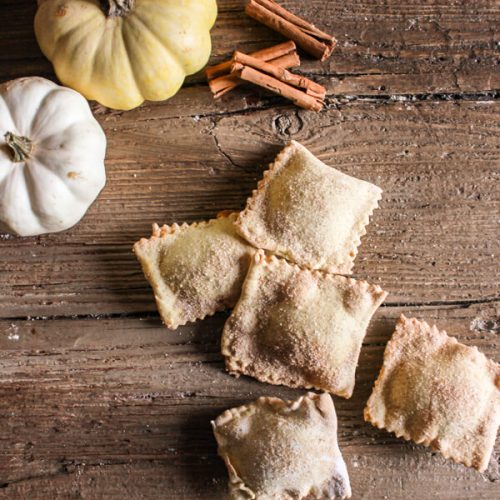 Sweet Pumpkin Stuffed Ravioli
approximately 20 ravioli depending on size.
Ingredients
DOUGH

1 1/2

cups

+ 1 1/2 tablespoons flour

2

eggs

1/4

teaspoon

salt

1

tablespoon

sugar

FILLING

3/4

cup

pumpkin puree

1/2

teaspoon

cinnamon

1/8

teaspoon

all spice

1/4

teaspoon

salt

2

tablespoon

cream cheese

2 1/2

tablespoons

brown sugar

1

tablespoon

flour
Instructions
Drain pumpkin puree for 10-15 minutes (to remove some excess liquid)

FILLING

In a medium bowl combine with a fork until well blended, puree, cinnamon, all spice, salt, cream cheese, brown sugar and flour, refrigerate for approximately 1 hour to thicken.

DOUGH

While the filling is in the refrigerator, prepare the dough. In a medium bowl whisk together flour, salt and sugar, make a well in the center and add eggs, mix together with a fork, then move to a lightly floured flat surface and knead (add a little flour when needed to the surface, (if it is too sticky) until dough is smooth, almost silky and well combined. Cover and let rest 30 minutes.

If you don't have a pasta machine, I recommend rolling the pasta out in small batches,(keep unused dough covered with a tea towel so it doesn't dry out) because it has to be quite thin, (1/8 inch or 1/3 centimeter) always keep the dough lightly floured or it will stick. If using a machine, take a batch of dough (the size of an apple) flatten and lightly flour, and place through the machine (using the largest setting), fold the ends into the middle and feed through the machine again (remember to always lightly flour the dough),change the setting to smaller and feed through the lightly floured dough again, continue until you reach the correct thickness, should happen around the 5th or 6th feed, and don't forget to always lightly flour the dough, (change the setting to smaller). Pasta strip should be long enough to cover itself, cut in half.

Lie out one half (on a lightly floured surface), remove filling from fridge, place a heaping teaspoon of filling on top dough leaving approximately 1/2 inch spacing between, brush edges and space between filling with water, cover with other half of dough strip, pressing down to seal, cut into ravioli squares, (you could use a ravioli pastry cutter, pizza cutter or a knife) with fingers dipped in water make sure ravioli are well sealed.

BAKED RAVIOLI Pre-heat oven to 350°.

Place ravioli on a parchment paper lined cookie sheet, sprinkle with cinnamon sugar (combine 2 tablespoons sugar and 1 teaspoon cinnamon) and bake for approximately 15-20 minutes or until golden.

FRIED RAVIOLI

In a medium pot , fill half way with vegetable oil, heat oil until it reaches 325° then add ravioli a few at a time, fry until they turn golden (turning ravioli to cook), drain on a paper towel lined plate. Sprinkle with powdered sugar while still warm.

Best served warm. Enjoy!
Nutrition