The Best Simple Two Way Shortbread Cookies, these are a delicious easy to make Shortbread Cookie Recipes, a delicious melt in your mouth cookie that you will make year after year. Choose the traditional Shortbread or Brown Sugar Shortbread.

Shortbread Cookies
Probably the most awaited Christmas Cookies! But to tell the truth I like to make these not just at Christmas Time! They are so good how can you not?
How to Make Shortbread Cookies:
Beat butter until creamy.
Sift icing sugar, corn starch, salt and flour 4 times (I know, but it is worth it)
Then add to creamed butter a little at a time and work in with a wooden spoon as long as possible.
Move to a lightly floured flat surface and knead until mixture cracks slightly.
Pat gently to 1/3″ thickness.
Cut out cookies with your favourite cutters.
Place on ungreased cookie sheets and bake for approximately 10-12 minutes.
Be sure you don't let them brown.
Let cool on cookie sheets.
This dough is so easy to work with you don't even have to roll it out, just pat to your desired thickness, (I tend to like them thicker, more cookie for the bite you could say).
I love Simple Shortbread Cookies, they practically melt in your mouth. I always had a friend who said that her Brown Sugar Shortbread was the best and made exactly how it should be made with only 3 ingredients, butter, sugar and flour.
But to make her happy I would make her Brown Sugar Shortbread cookies, and I have to admit she did have a good argument, they are pretty yummy.
Although I would argue that my Mom made the best cookies and hers had five ingredients. And yes I still stand by my Mom's.
How to Store Shortbread Cookies:
The baked cookies should be stored in an airtight container at room temperature for up to a week. I sometimes store mine in the fridge because I like cold cookies. They will last up to 10 days by storing them in the fridge.
How to Freeze Shortbread Cookies:
To freeze the shortbread cookies, place parchment paper in between the layers of cooled cookies this prevents them from sticking together when they are in the containers for freezing,
or you can also place the baked cooled cookies on a cookie sheet and freeze them, then move the frozen cookies to either airtight bags or containers.
Baked Shortbread Cookies will last up to a month in the freezer.
To thaw the cookies be sure to remove the frozen cookies from the bags or containers (this way no condensation will form) and let them thaw at room temperature.
How to make Shortbread Cookies without a cookie cutter:
With this Shortbread dough you can actually just roll the dough into a log shape, then slice it and bake on a parchment paper lined cookie sheet. I would probably refrigerate the log (before cutting) for about 20 minutes.
Can this Shortbread Recipe be made with a mixer?
If you can't or don't want to knead the dough by hand, then yes a stand up mixer using the paddle attachment will work just fine.
I would only knead up to a point, when the dough just starts to come together (or even better, very coarse crumb mixture) and then knead the dough by hand. Completely kneading by machine can make the dough tough and dry.
As a reader Trina, stated "The dough does come together with elbow grease. I wouldn't add more butter, it just takes kneading and I found that the mixer does not bring it together, you need to get in there with your hands".
What is the best flour for Cut out Cookies?
Be sure to use a high protein (at 12%) flour, a low protein flour will cause the cookies to spread, and believe me refrigerating the dough will not help.
Shortbread
Why do you add Cornstarch to Shortbread Cookies?
I have recently discovered that a lot of people add corn starch (my Mom's fourth ingredient) to cookie and cake recipes, the reason is because it adds softness to the finished cookie or cake.
To add a twist I even topped a couple of big stars with some Nutella and one with jam, then put some crumbled up dough on top.
So grab your favourite Christmas cookie cutters and start cutting, 10 minutes in a low oven is all these Melt in Your Mouth Shortbread Cookies need.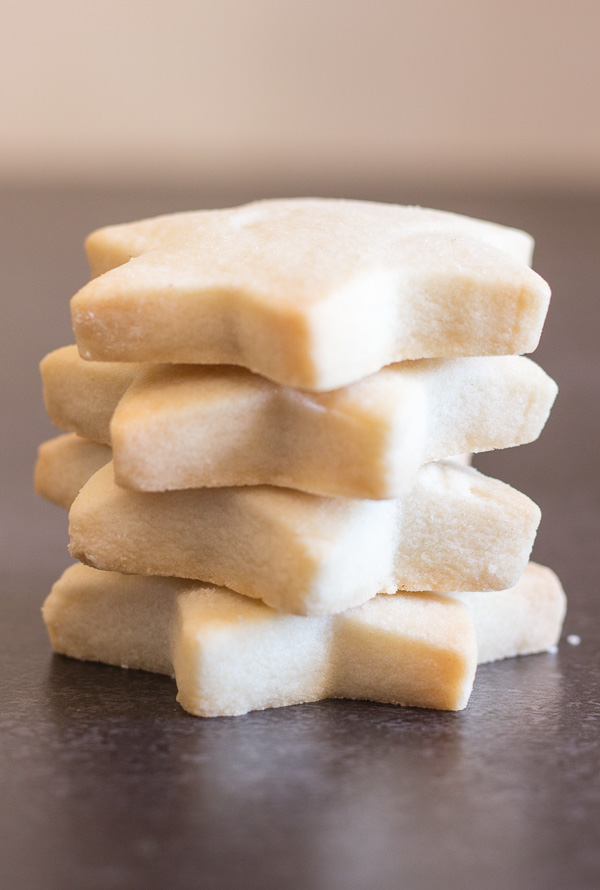 More Shortbread Cookies You May Enjoy!
And why is it called Shortbread Called Shortbread:
According to British Food History – Dating back to the 12th century , shortbread was originally called biscuit bread. These biscuits were made from left-over bread dough that was sometimes sweetened and dried out in the oven to form a hard, dry rusk. This practise took place over the whole of the British Isles, not just Scotland.
I hope you try these Shortbread Cookies, either my Mom's or the Brown Sugar Shortbread or why not both, and be sure to let me know, which Shortbread Cookie you prefer? Enjoy!
The Best Simple Two Way Shortbread Cookies
The Best Simple Two Way Shortbread Cookies, the ultimate melt in your mouth cookie. Traditional or brown sugar. Your new Christmas Shortbread recipe.
Ingredients
MY MOM'S SHORTBREAD
1

cup

butter softened

1/2

cup

icing / powdered sugar

1/2

cup

corn starch

pinch

salt

2

cups

flour
MY FRIEND'S SHORTBREAD
1

cup

butter softened

1/2

cup

brown sugar (lightly packed)

2 1/2

cups

flour
Instructions
Pre-heat oven to 325° (160 celsius).

MY MOM'S SHORTBREAD

Beat butter until creamy. Sift icing sugar, corn starch, salt and flour 4 times (I know, but it is worth it) add to creamed butter a little at a time and work in with a wooden spoon as long as possible, then move to a lightly floured flat surface and knead till mixture cracks slightly. Pat gently to 1/3" thickness. Cut with Christmas cutters and place on ungreased cookie sheets and bake in pre-heated oven for approximately 10-12 minutes, don't let them brown. Let cool on cookie sheets.

Approximately 30 cookies (depending on size of cutters)

MY FRIEND'S SHORTBREAD

Cream butter until fluffy, add sugar and cream together, then add flour gradually and mix with a wooden spoon as much as you can. Move the mixture to a lightly floured flat surface and with your hands work the dough until it comes together and forms a ball. If it is too sticky, wrap in plastic and refrigerate for approximately 20 minutes. On a lightly floured surface roll to 1/2 - 1/3 thickness. Cut out with desired shapes, place on ungreased cookie sheets and bake in pre-heated oven for approximately 10-12 minutes. Let cool on cookie sheets and then remove to wire racks.

Yield approximately 30 cookies (depending on size of cutters)

** I have received a couple of messages saying my Mom's shortbread doesn't come together and they had to add butter, a lot of butter!  So I just made it again and no extra butter is needed, please note this is a dough that needs to be kneaded not whipped and don't forget the sifting.  It will be crumbly until you start to knead it, then with a little bit of elbow grease you will arrive at the desired dough.  Or you can also bring it together with a stand up mixer. Hope this helps.  Let me know.  Rosemary
Nutrition
Calories:
206
kcal
|
Carbohydrates:
21
g
|
Protein:
2
g
|
Fat:
12
g
|
Saturated Fat:
7
g
|
Cholesterol:
32
mg
|
Sodium:
148
mg
|
Potassium:
28
mg
|
Sugar:
5
g
|
Vitamin A:
380
IU
|
Calcium:
9
mg
|
Iron:
0.9
mg
Republished from November 30, 2014