A fast and easy Fresh Tomato Anchovy Pasta (Spaghetti e Alici),  you will overcome your dislike for Anchovies once you have tried this Pasta Recipe. Delicious.
Anchovy Pasta
Have you ever not eaten something because everyone you know  has always said "don't eat that, it's disgusting" so for years and years you never even looked at it never mind eat it because you were convinced it was something you would not like?
Drain the anchovies.
Place the sliced tomatoes, garlic, oil and spices in a pan.
So when my mother-in-law served up her delicious Spaghetti e Alici who would have thought I would be eating anchovies! Let's be honest basically any food sounds amazing in Italian.
Cook the tomatoes and then add the chopped anchovies to the pan.
Cook the anchovies in the sauce for about 2 minutes toss with the pasta and serve.
That's why I originally titled it in Italian, I thought if I had called it Spaghetti and anchovies very few would have been interested. Am I right?
But now I think people should have a more open mind about food and be willing to try just about anything.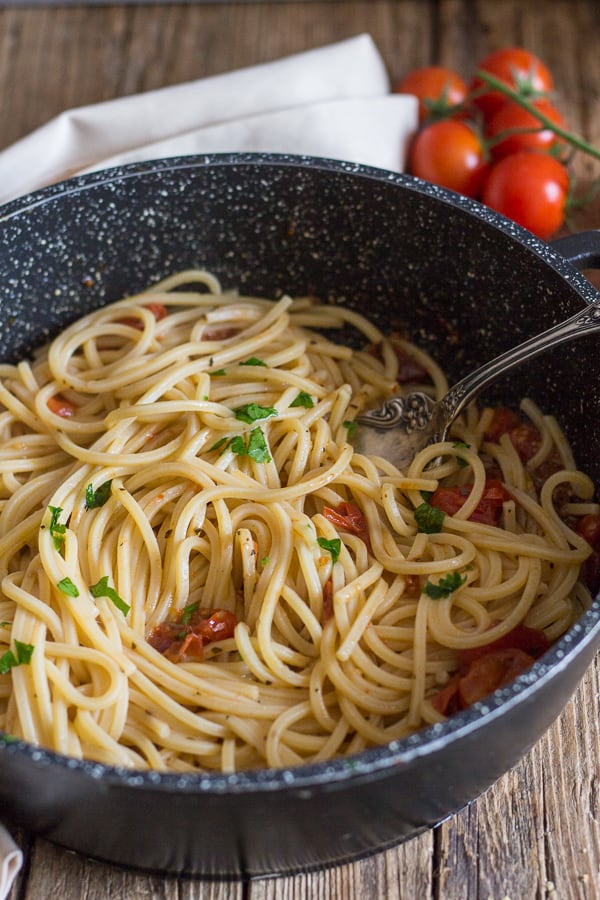 I could not believe I missed out on something so delicious because I was convinced I would never like it. How many different or simple pasta dishes have I tried that are as good or even better than all the fancy creamy recipes? My mother-in-law didn't quite make it this way .
More Delicious Pasta Recipes to try.
Creamy Pasta Boscaiola with Mushrooms and Sausage
Classic Carbonara Pancetta and Egg Pasta
Spaghetti e Alici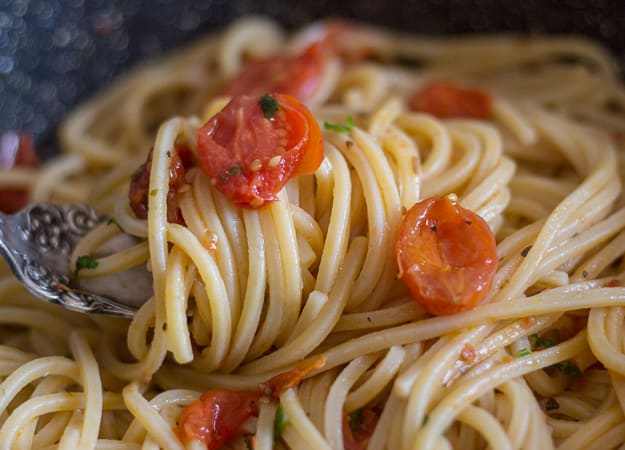 My husband continues to remind me that he perfected this dish. I think we must have made it at least 4 times last week until the Italian was content. Trust me even if you are thinking "Oh no never anchovies, anything but!"
This is the perfect combination, they mix up so well together.
So why not give Spaghetti e Alici a try? Before you know it you will be ordering anchovies  on your pizza! Buon Appetito!
Spaghetti e Alici
Spaghetti e Alici a delicious fast and easy Italian Pasta recipe, a must try and so yummy. The Perfect Weeknight meal.
Ingredients
2

cloves

garlic minced

8

anchovies chopped

(I used anchovies canned oil and drained)

1/4

cup

olive oil

14-16

cherry or grape tomatoes

(halved)

1/2

teaspoon

basil

1/2

teaspoon

oregano

a pinch or 2 hot pepper flakes

3

cups

cooked spaghetti

(approximately 12 ounces / 350 grams dried)
Instructions
In a large pot of salted water cook the spaghetti al dente.

While pasta is cooking, in a large pan add oil, garlic and tomatoes, basil, oregano and a pinch or 2 of hot pepper flakes, gently stir together and cook on medium heat until tomatoes have softened and have started dry out, then add the anchovies, continue to cook on medium speed until anchovies have turned into a creamy paste (about 5 minutes), gently combine.

Add the 3 cups of cooked spaghetti plus 1/4 ladle of pasta water, raise the heat slightly and toss gently to coat the pasta and sauce has thickened. Serve immediately. Enjoy!
Nutrition
Calories:
309
kcal
Carbohydrates:
35
g
Protein:
8
g
Fat:
14
g
Saturated Fat:
2
g
Cholesterol:
4
mg
Sodium:
16
mg
Potassium:
206
mg
Fiber:
2
g
Sugar:
2
g
Vitamin A:
290
IU
Vitamin C:
14
mg
Calcium:
32
mg
Iron:
2.2
mg
Updated from January 20, 2015.