This Easy Sweet Focaccia, is made in a skillet on the stove. Stuffed with your favourite chocolate and or creamy hazelnut spread. Dessert or snack, it's perfect.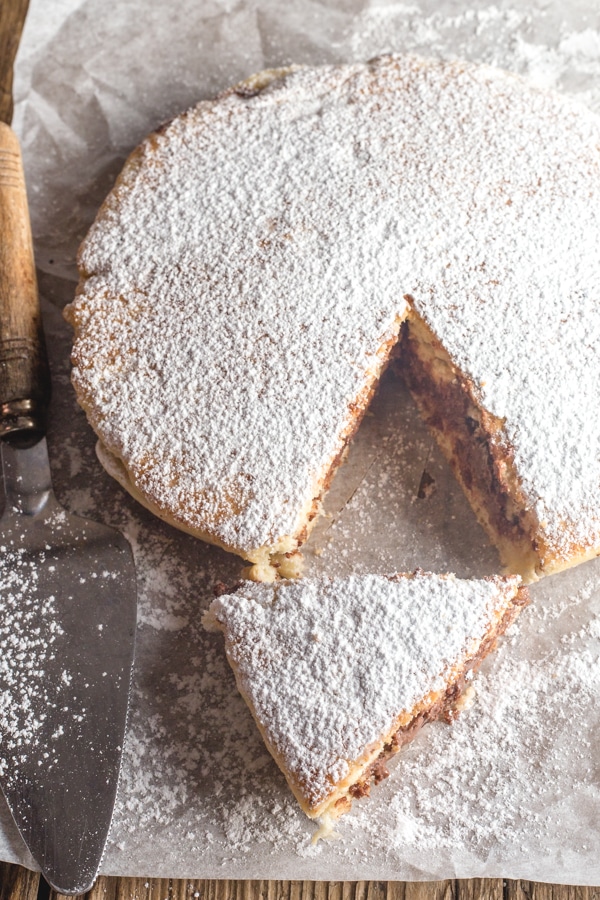 Sweet Focaccia
In Italy I soon found out that every meal was important and to be enjoyed to the fullest. And that of course included "Merenda" (snack).
Especially for kids. Whether it consisted of a slice of Homemade Crostata or a piece of Pizza Bianca!
A couple of weeks ago after having a conversation with my kids on the what else but food.
We remembered this incredibly delicious Sweet Focaccia that was stuffed with chocolate and Nutella that I would make for them.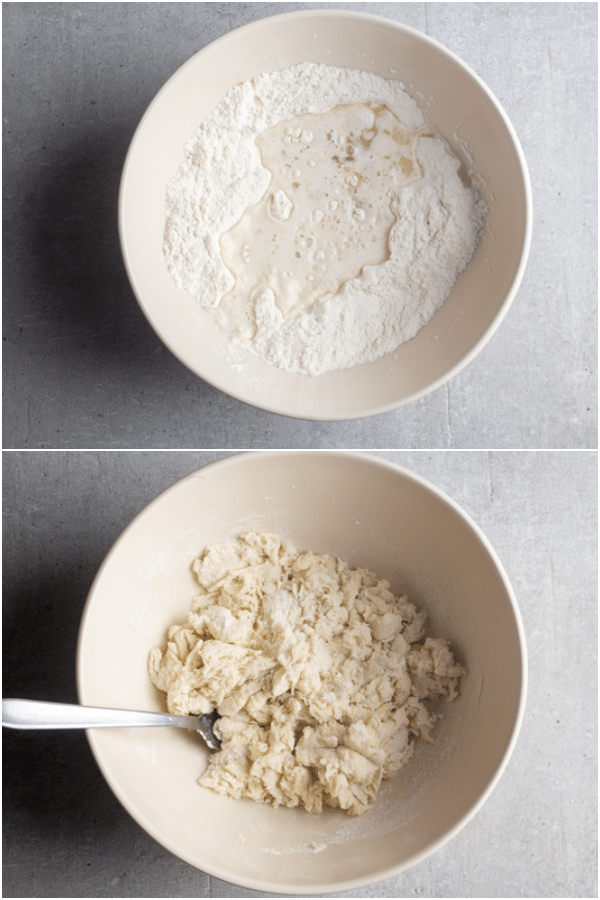 And better still, it was made on top of the stove. No need to heat the oven just turn on the stove, therefore, yup perfect in the Summertime too.
This Focaccia is what Italians refer to as "Golasa", meaning good and rich, an incredibly good food experience!
It had been a while since I last made this, in fact the kids were quite little, but I am telling you, they loved it now as much (maybe more) as they loved it back then. And yes the Italian too!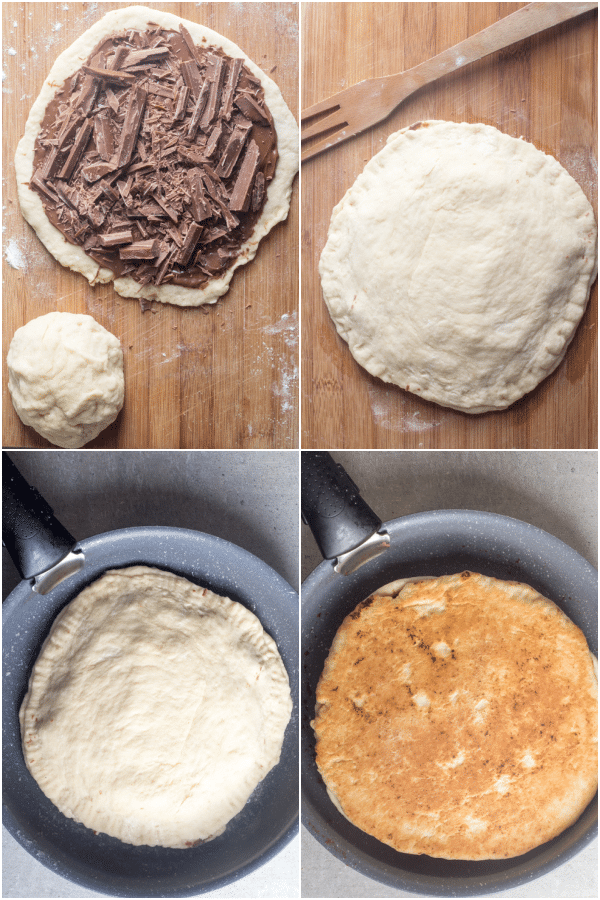 You may think that it's going to be so sweet and a small piece is all you need, but believe me it's one of those Italian sweet recipes that are in fact perfectly balanced. Not too sweet and not too savory!
The best way to eat this Focaccia is warm and be sure to give it a dusting of powdered sugar, it really does make it perfect.
What is Focaccia made of?
When we think of Focaccia we think of a savory yeast bread made with flour and olive oil. But this sweet Focaccia has a little sugar and baking powder rather than yeast.
How long does it take to make Focaccia?
This Fast and Easy Focaccia takes about 30 minutes to make, the dough comes together in about 10 minutes (there is a small resting time), then it is then baked in a covered skillet for approximately 5-8 minutes on either side.
The Best Fillings for a Sweet Focaccia
I like to stuff mine with a layer of Hazelnut Cream and grated milk chocolate, you could also use just chocolate, either dark, milk or white chocolate. Just be sure to use a good quality chocolate. Chocolate chips would work too.
Or even fill with a combination of chopped nuts and chocolate.
How about a layer of your favourite jam?
Finely chopped apples tossed with cinnamon, brown sugar and a little melted butter sounds pretty good too.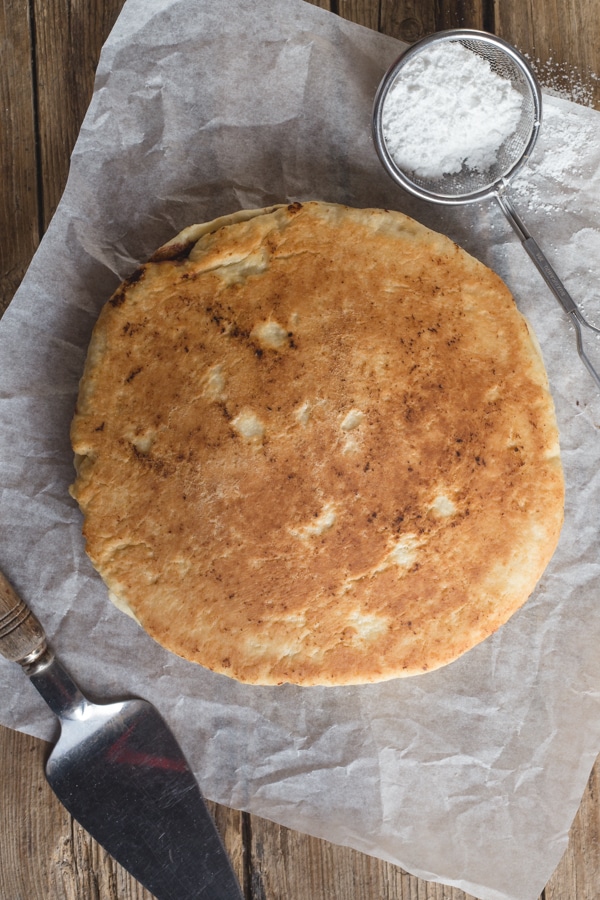 More Delicious Focaccia Recipes
Pumpkin Focaccia Bread with Black Olives
However you decide to fill your Skillet Sweet Focaccia I hope you enjoy it. And be sure to let me know how it turns out. Enjoy!
Stove Top Stuffed Sweet Focaccia
This Easy Sweet Focaccia, is made in a skillet on the stove. Stuffed with your favourite chocolate and or creamy hazelnut spread. Dessert or snack, it's perfect.
Ingredients
FOR THE DOUGH
2

cups

all purpose flour

(260 grams)

1/4

cup

granulated sugar

(50 grams)

1 1/2

teaspoons

baking powder

1

pinch

salt

1/2

teaspoon

vanilla

1/2

cup

water

1

tablespoon

vegetable oil

(I use corn oil)
FOR THE FILLING
1/2

cup

Nutella (or favourite hazelnut cream)

(148 grams)

3 1/2

ounces

chocolate (dark, milk or white or combination) chopped

(100 grams)
EXTRAS
1

tablespoon

butter (divided)

2

tablespoons

powdered / icing sugar

(more or less)
Instructions
FOR THE DOUGH
In a large bowl whisk together the flour, sugar, baking powder and salt. Make a well in the middle and add the vanilla, water and oil. Mix together with a fork until combined.

Move dough to a flat surface and knead a few times to form a smooth dough ball. Cover (with bowl or clean towel) and let rest 15 minutes.

Cut the dough in half and form 2x 8 inch (20 cm) circles, one circle spread with the Nutella and sprinkle with the chopped chocolate (or chips). Wet the border with a little water and then place the 2nd circle on top and seal with a fork or wooden fork.

Heat half the butter in a 9-10 inch (23-25 cm) frying pan, place the focaccia in the pan, cover and cook for 7-10 minutes* on low- medium low heat. Remove the focaccia to a clean plate, melt the remain butter and then gently add the uncooked side of the focaccia, again cover and cook for 7-10 minutes. Move to a plate, cool to warm, dust with powdered sugar and serve. Enjoy!
*Check halfway through to make sure it isn't burning. Turn down heat if cooking too quickly.
Nutrition
Calories:
339
kcal
Carbohydrates:
51
g
Protein:
4
g
Fat:
13
g
Saturated Fat:
10
g
Cholesterol:
3
mg
Sodium:
29
mg
Potassium:
221
mg
Fiber:
2
g
Sugar:
24
g
Vitamin A:
45
IU
Calcium:
60
mg
Iron:
2.7
mg