Thin Crispy Focaccia crunchy and so tasty, a no yeast Italian focaccia made in 30 minutes. The best accompaniment to any soup or stew. Perfect even as a snack or appetizer.

Thin Crispy Focaccia or better known in Italian as "Sciacchiatine Croccanti", is one of those addicting breads/pizza that you always wish you made double because you will be fighting over the last piece.
The first time my Mom came to visit me in Italy I bought her some at the bakery and she couldn't stop talking about how good it was.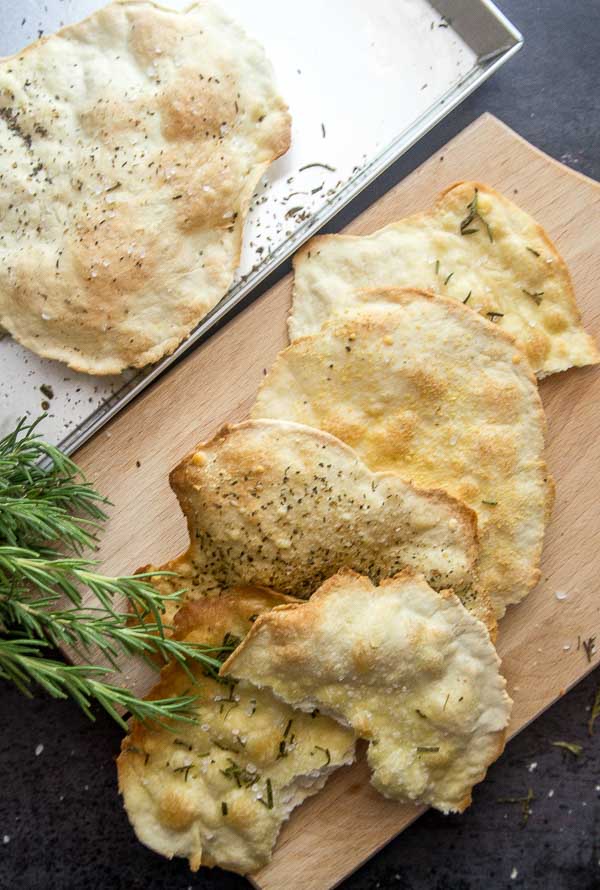 I won't tell you how many packages she took home and whenever I went back to Toronto to visit I would always make sure to take some for her.
But the day I got this fabulous recipe from a friend's mother, I never bought it again. This is a yeast free dough, but it does need to rest a bit.
Don't let that stop you because it is so easy and you can pretty well top it with whatever you fancy. And because this is a delicious rustic type of Italian bread don't worry about making perfect circles.
I sprinkled a couple with some Italian seasoning or rosemary and oregano and of course don't forget a couple sprinkled with some freshly grated Parmesan cheese.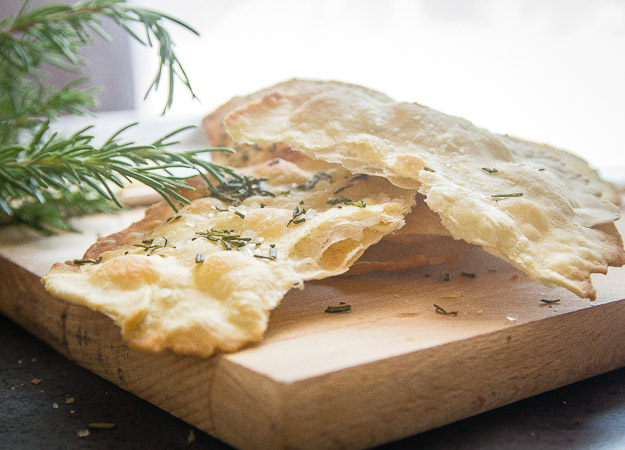 Crunchy, crispy and the perfect accompaniment to a comforting bowl of Soup or Stew. Although my family always eats it before I can get the soup or stew on the table! Buon Appetito!
Thin Crispy Focaccia
Thin Crispy Focaccia, an easy, crunchy Italian recipe, sprinkle it with your favorite seasonings. A perfect accompaniment to soup, stews.

Ingredients
1 1/4

cups

flour

(150 grams)

1/3

cup

semolina flour **

(50 grams)

2

tablespoons

olive oil

1/4

teaspoon

salt

1/4

cup

+ 3 tablespoons water

(96 1/4 grams)
Instructions
In a medium bowl whisk together flours and salt, then add oil and water, combine until almost united then move to a lightly floured flat surface and knead for approximately 10 minutes, until smooth, form into a ball, cover with plastic bowl and let sit 30 minutes.

Pre-heat oven to 450°. Lightly grease 2 large pizza pans.

Divide dough into 5 – 6 balls, using your fingers (or rolling pin) form balls into round thin flat circles, (keep extra dough balls covered while forming one ball at a time). Place on pizza pan and brush circles well with olive oil and sprinkle with Italian seasoning, oregano, basil, freshly grated Parmesan cheese, rosemary, coarse salt or a mixture. Bake for 10 minutes or until golden. Let cool or eat warm. Enjoy!

**This is a high durum wheat which is ground into flour very high gluten content which makes it perfect for breads and pasta. If you can' find semolina then you can substitute with regular flour (all-purpose).
Nutrition
Calories:
206
kcal
Carbohydrates:
32
g
Protein:
4
g
Fat:
6
g
Sodium:
117
mg
Potassium:
88
mg
Calcium:
9
mg
Iron:
1.9
mg
Republished from October 2015