If there is one thing that I haven't been able to live without since moving to this country, it's tomatoes.
Tomatoes have to be the most versatile vegetables out there.  You can cook it, stew it, fry it, bake it, all this and you can also eat it raw.
They say the Italian flag colours, which are red, white and green, represent tomatoes, mozzarella and basil.  Isn't that fitting!  Those are the exact colours in this fast, easy and  delicious tomato sauce.  But instead of mozzarella we have garlic.
When I have things to do or places to go and not much time to get lunch on the table, I can always fall back on this amazing sauce.
What is also  great about this sauce is anything left on the plate can be scooped up with a piece of bread, nothing better.  In Rome it is called "fare la scarpetta".  I suppose the equivalent in english would be  "licking your plate clean",  but in Italian, you use a piece of bread instead to clean your plate.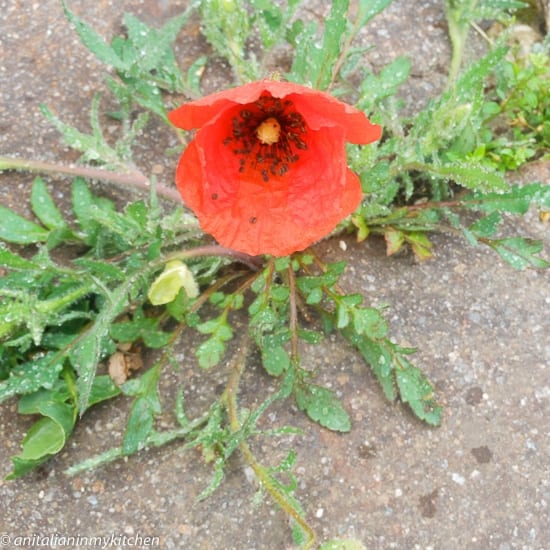 If there are 2 things that anyone should plant anywhere, in the ground or in a vase, it would be tomatoes and basil.  You can't go wrong with these two. But until we are in the month of July or the month of the fresh tomato, we will just have to do with canned or bottled tomatoes, which will suffice. So out with the bread and fai la scarpetta!  Buon Appetito!
Ingredients
3 tablespoons (40 grams) olive oil
1/2 teaspoon (2 1/2 grams) salt
1-2 large cloves of garlic chopped
1 1/2 teaspoons (1 gram) oregano
5 basil leaves chopped
2 dashes of hot pepper flakes
1 can diced tomatoes with puree (nothing else added) (1 1/2 to 2 cups,400 grams)
1/2 cup (115 grams) water
Instructions
In a medium pot add olive oil and garlic, cook on medium heat for 1 minute, add tomatoes, oregano, salt and hot pepper flakes. Stir, cover and cook on medium for 10 to 12 minutes, uncover and cook another 5 minutes until thickened, but still a little liquid remaining. Add 2 1/2 to 3 cups (275 to 330 grams) cooked pasta, toss gently and top with freshly grated parmesan cheese if desired. Don't forget the bread, and enjoy.
http://anitalianinmykitchen.com/easytomatosauce/