These easy Amaretti Cookies or Italian Almond Cookies, have only four ingredients which makes them a fast and easy Cookie Recipe. They are also gluten and dairy free too, which means almost everyone can have one!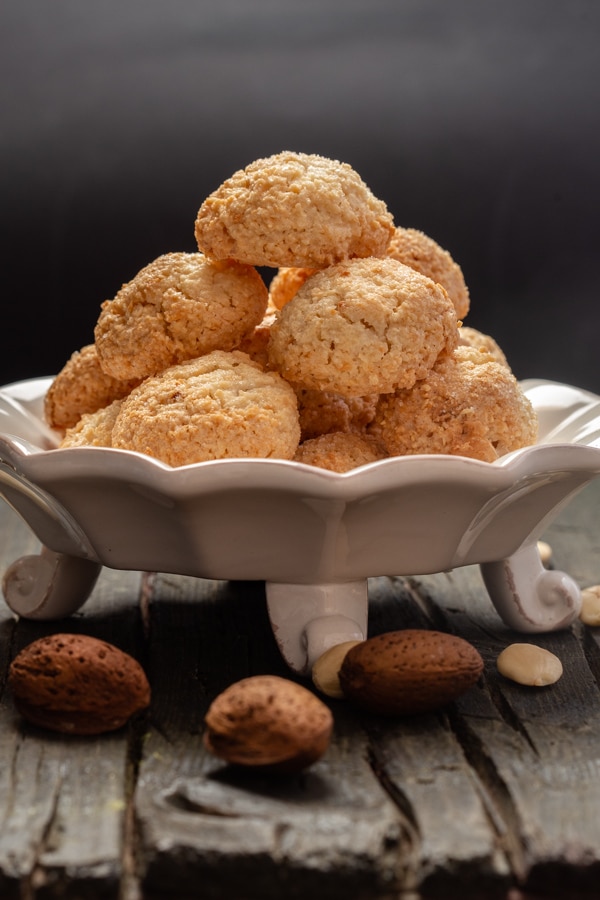 I usually make these cookies during the Christmas Holidays along with some of my Mom's best cookies including Whipped Shortbread and Almond Crescent Cookies. But then again if the Italian bugs me enough I will whip up a batch for him.
When our youngest daughter was home it was always a race to grab as many as they could before the other got to them first. They both swear these are their favourite cookies. And to tell the truth they are so quick and easy to whip up, especially when you use a Food Processor that you can have them made and baked in 25 minutes.
My husband is an absolute Nut lover. He has even planted a few nut trees, Hazelnut and Walnut to be exact. He adores Christmas just so he can sink his teeth into some Torrone.
What are Amaretti Cookies
Amaretti Cookies are basically found in all of Italy, meaning they are found in every Region. Although every region makes them a little different. Some let the dough refrigerate for 24 hours and some add an Almond Liqueur. Some use icing sugar and some granulated sugar. But all are made with almonds.
I did neither, I made a simple recipe that a friend gave me years ago which I made a few times, I actually make it two different ways one for the Italian and one for my youngest daughter. He likes them more the traditional Italian was baked longer and with only one egg white, my daughter prefers them flatter which are made with 2 egg whites. Either way you can can't beat these Amaretti Biscotti Recipe.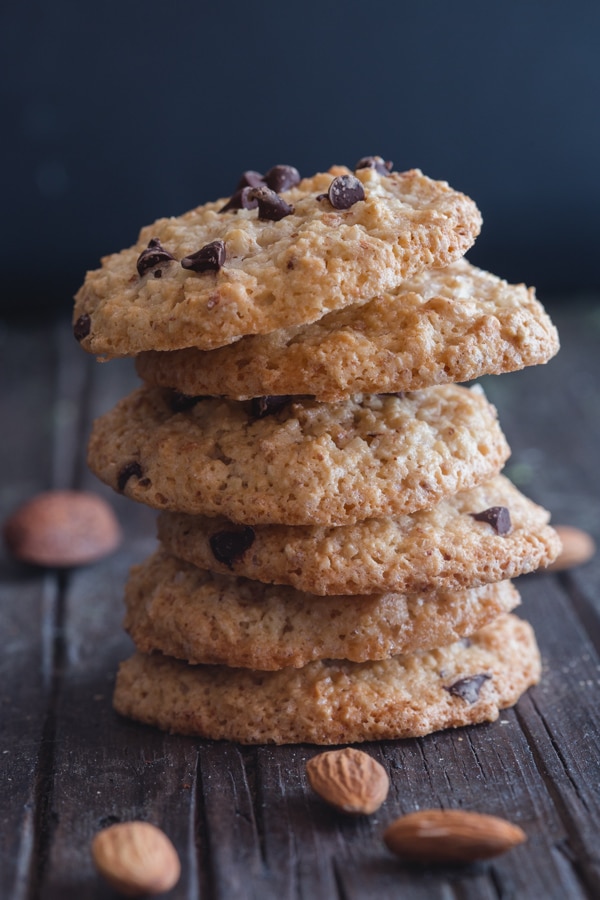 How to make the Italian Almond Cookies
In a food processor add the almonds and sugar and pulse for 20 seconds until mixture is ground finely.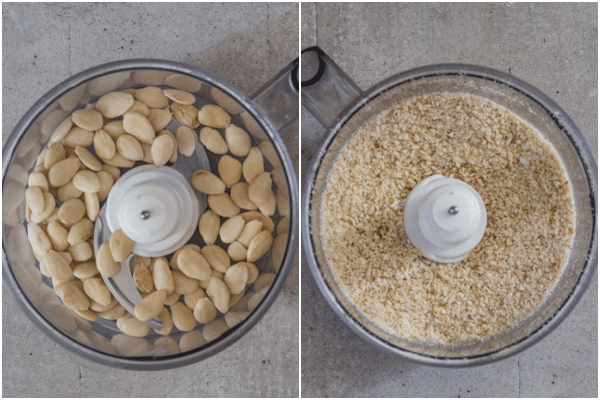 Then add the egg white (or whites if you want a flatter cookie)and almond/vanilla flavouring and again pulse for 30 seconds until mixture comes together.

If you use one egg white you can roll the dough to form a small ball, if you use 2 egg whites then you will need to drop the mixture with a teaspoon on the prepared parchment paper cookie sheet. Be sure to leave about 1 inch between each cookie. Sprinkle with granulated sugar if desired and bake until golden.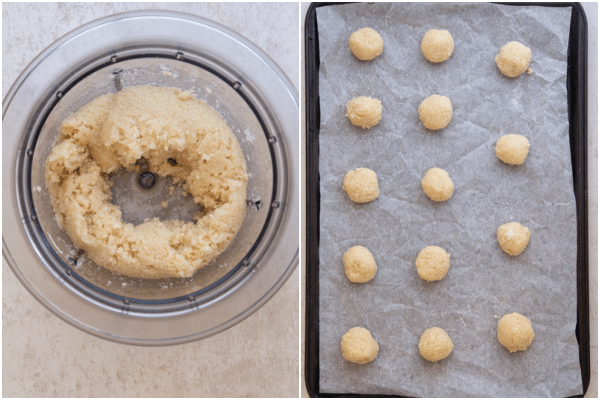 Let cool completely, and sprinkle with icing sugar if desired.
To make the cookies you can either make your own ground almond mixture with whole roasted almonds or purchase almonds already ground, but do not use almond flour which is ground much too finely.
How to roast almonds
Place the almonds in a single layer on a baking sheet and bake for about 10-15 minutes. With a metal spatula turn the almonds a mix a couple of times while in the oven. Immediately move them to a clean bowl to cool before grinding them.
These Amaretti are a crispy on the outside and chewy on the inside type of cookie. Since they are so quick and easy they are even perfect for when you have unexpected guests arrive whether during the holiday Season or anytime! You could slip into the kitchen, whip them up and no body would notice you were gone.
Ok maybe a bit of an exaggeration!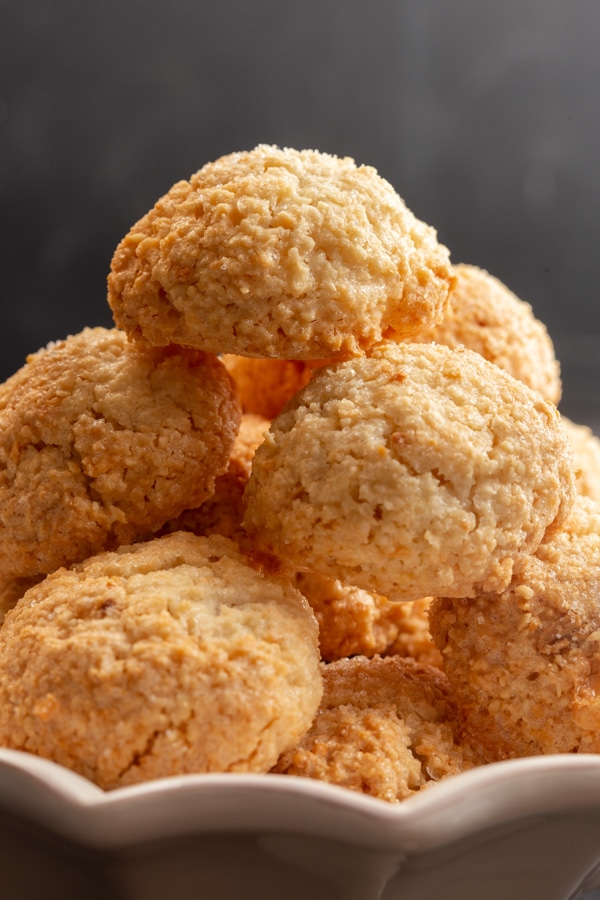 More delicious Italian Cookies
Can you use Almond Flour?
I wouldn't use flour because it is too fine, to make ground almonds you can use either skinned or skin on almonds, it depends on your preference. I usually use skinned and lightly roasted. If you like more of a bite to your cookie you can leave them a little less finely ground.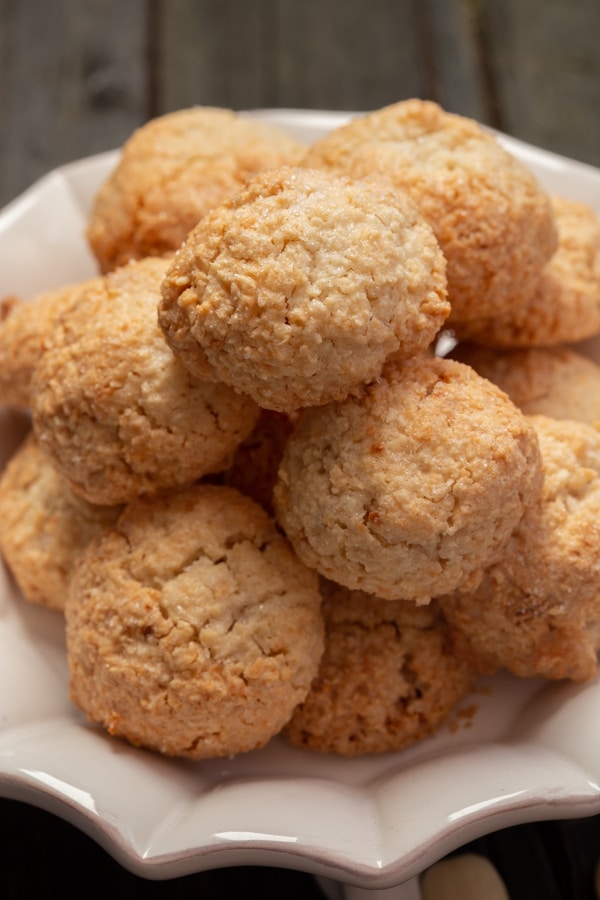 How to store the Almond Cookies
The baked cooled cookies should be stored in an airtight bag or container. They will last for up to three days at room temperature. They can also be frozen in a freezer safe bag or container and will keep for up to six months.
Tips for making the Best Amaretti Cookies
Be sure your almonds are as fresh as possible. If you don't have almond flavouring then vanilla flavouring works well too.
Adding a few chocolate chips to some of the cookies can change them up a bit. And be sure to sprinkle with a little sugar before baking.
So if you are looking for a tasty quick and easy Italian Cookie then I hope you give these Amaretti Cookies a try and let me know what you think. Enjoy!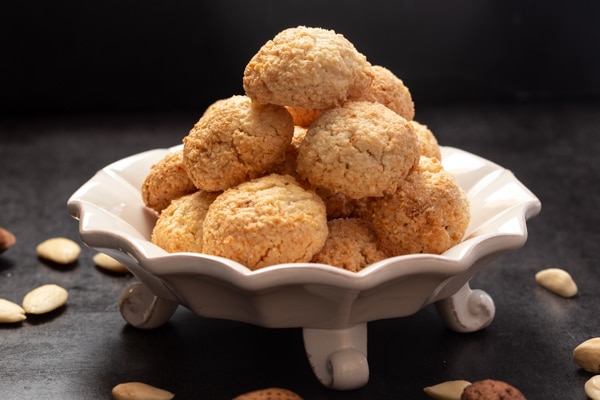 As an Amazon Associate, I earn from qualifying purchases.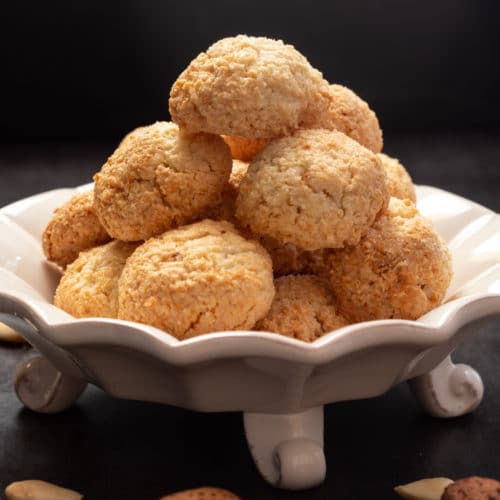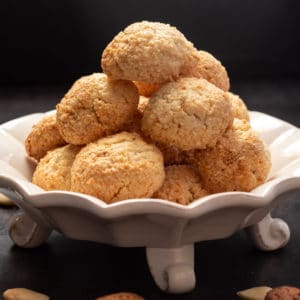 Amaretti Cookies Italian Almond Cookies
Amaretti Cookies, a sweet Italian Almond Cookie crispy on the outside and chewy on the inside cookie recipe. Fast & easy, gluten and dairy free.
Ingredients
1 1/4

cups

ground almonds (not almond flour)

1/4

cup

+ 2 1/2 tablespoons granulated sugar

(81 grams total)

1

large

egg white (room temperature)

1/2

teaspoon

almond or vanilla extract
Instructions
Pre-heat oven to 340°F  (170° celsius).  Line a large cookie sheet with parchment paper.

If making your own from whole almonds, in a food processor add the cooled almonds and sugar and pulse for 20 seconds until very fine.  Then add egg white (or whites) and almond flavouring again pulse for 30 seconds until mixture comes together.

If using ground almonds then in the food processor add the ground almonds, sugar, flavouring and egg white and combine.

Roll the dough into small balls (or if using 2 egg whites drop by spoonfuls) and place them about an inch apart on the prepared cookie sheet, sprinkle with a little granulated sugar if desired. Bake for approximately 17 -23 minutes or until golden*.  Let cool completely, sprinkle with icing sugar before serving if desired. Enjoy!
*Depending on how baked you like them, my kids prefer them on the lighter side (17 minutes and my husband the more traditional Italian cookie about 23 minutes).
Notes
If making your own ground almonds, place the almonds in a single layer on a baking sheet and bake for 10 minutes in a pre-heated 350°F (180°C) oven.  With a metal spatula mix a couple of times while in the oven, immediately move to a clean bowl and let cool 20 minutes before grinding. Grind the cooled almonds with the sugar.
Nutrition
Calories:
72
kcal
Carbohydrates:
6
g
Protein:
2
g
Fat:
5
g
Saturated Fat:
1
g
Sodium:
4
mg
Potassium:
4
mg
Fiber:
1
g
Sugar:
4
g
Calcium:
21
mg
Iron:
1
mg
Updated from December 16, 2016.