A simple and easy fried bread recipe. Bannock a traditional Indigenous Bread made modern.
Easy Bannock Bread
I originally shared this recipe two years ago when Canada was celebrating 150 years.
I decided I had to include one of Canada's Native Peoples recipes. Without getting into the political surrounding of our not so wonderful treatment of our First Nations, I would like to tell you a bit about the origin of Bannock, this simple fried bread.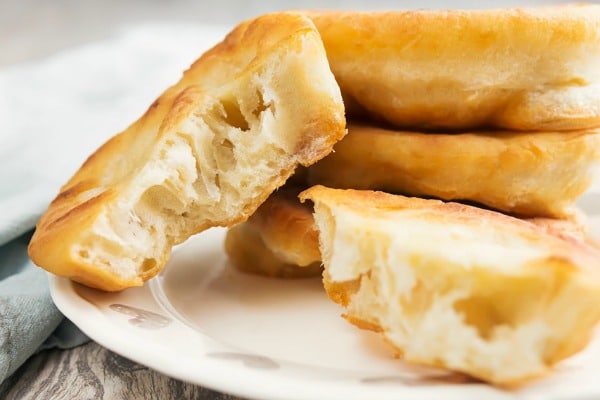 The Origin of Bannock Bread
Bannock was originally brought to North America by Scottish explorers and traders. Indigenous people in particular Métis adopted bannock in their cuisine in the eighteenth and nineteenth centuries probably after their encounters with Scottish fur traders.
As a result, even today many Métis and aboriginal western Canadians often prepare this dish. In western Canada, bannock is much more associated with native and Métis culture than with its Scottish roots.
With very few ingredients and easy to make Bannock is perfect as an accompaniment with a meal or even for Breakfast. It is often made when camping and it has been used as a staple food for wilderness explorers, trappers, and prospectors for centuries.
A few tips in making this Easy Bannock Bread tasty and something you will enjoy often.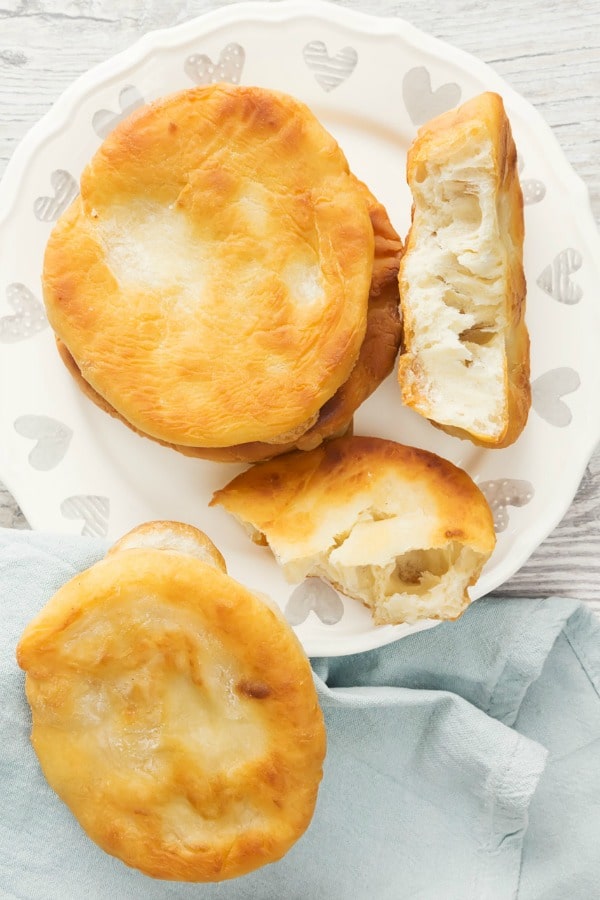 Tips for making the Best Bannock Bread
Whisk the dry ingredients before adding the oil and water. I used olive oil but vegetable oil is more traditional.
Bring the dough together with a fork.
Move the Bannock dough to a lightly floured surface and knead only until the dough comes together.
Do not over knead, this is not a yeast dough, and will be a little sticky, so therefore extra flour is not needed.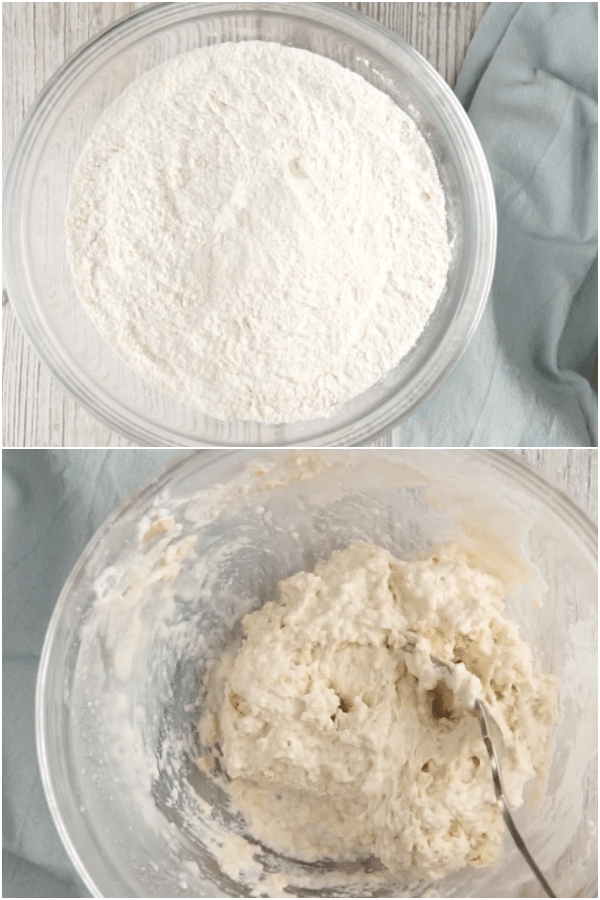 Break off pieces of dough and flatten with the palm of your hand.
Fry in hot oil on medium heat until golden brown and then turn to brown on the other side.
Drain on paper towels.
Eat warm or room temperature.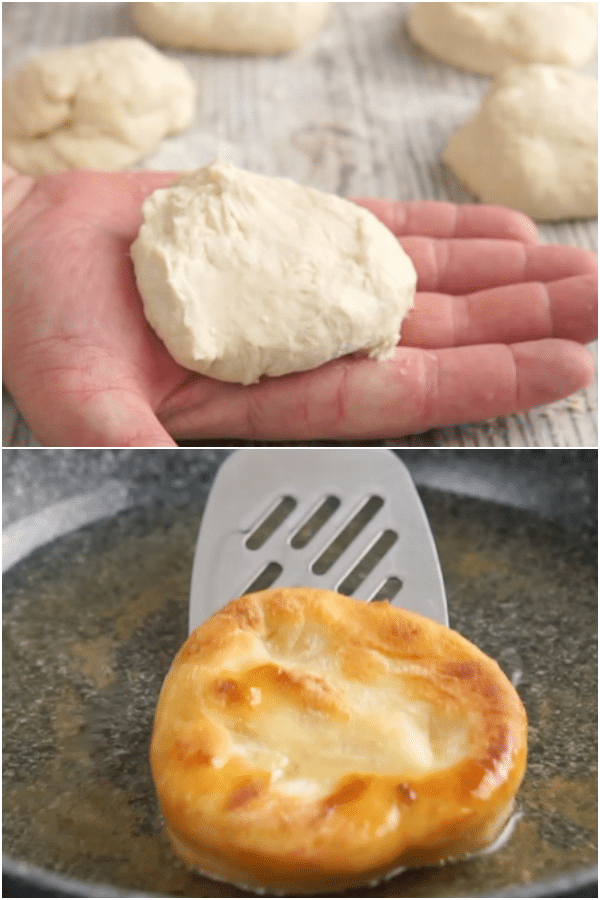 This type of bread should be eaten as soon as possible and not stored.
More delicious No Yeast Breads
I hope you decide to give this simple yeast free bread a try and let me know what you think. Enjoy!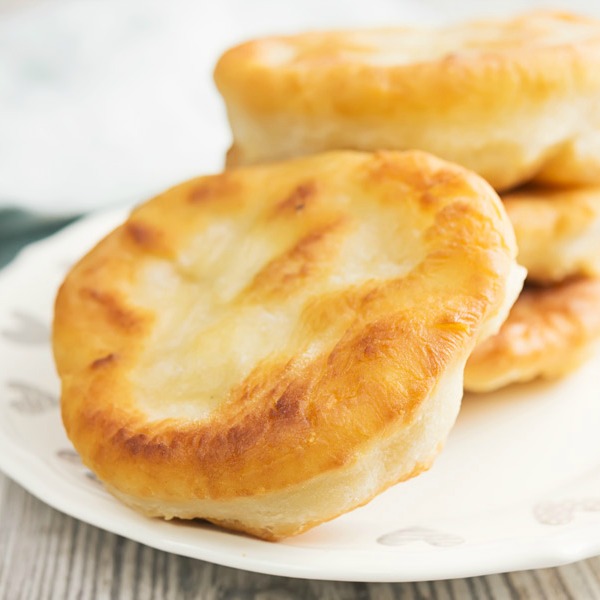 Easy Bannock Bread Celebrating #Canada150
Easy Bannock Bread, a simple fried bread, fast and easy and so delicious, no yeast, the perfect camping, breakfast or side dish.
Ingredients
2

cups

flour

(260 grams)

2

teaspoons

baking powder

1/2

teaspoon

salt

1

tablespoon

olive oil or vegetable oil

3/4

cup

water

(175 grams)

vegetable oil for frying
Instructions
In a large bowl whisk together the flour, salt and baking powder.

Then add the olive oil and whisk together with a fork, gradually add water and stir until the dough almost holds together.  Move to a lightly floured flat surface and gently knead about 10 times just until the dough comes together (the dough will be sticky, do not overknead).

Divide into 5 balls and flatten with the palm of your hand.  Fry in hot oil (350F/175C)on medium heat (enough to cover the bottom of a medium frying pan), until golden brown on both sides (and cooked on the inside).  Drain on a paper towel lined plate and eat warm or at room temperature.  Enjoy!
Notes
 Do not cook on too high a heat or they will only cook on the outside.
Nutrition
Calories:
208
kcal
Carbohydrates:
38
g
Protein:
5
g
Fat:
3
g
Sodium:
236
mg
Potassium:
215
mg
Fiber:
1
g
Calcium:
77
mg
Iron:
2.4
mg
Updated from June 29, 2017.