Cassatelle, a Sicilian sweet dough, that are filled with a slightly sweetened ricotta and chocolate chip mixture, then usually deep-fried but can also be baked! Sprinkled with Powdered Sugar then served.

A while back I received an email from a reader asking me if I had ever heard of these Cassatelle Biscotti (cookies) from Sicily.
And if I had, did I have a recipe. Well after a little bit of digging and inquiring, I acquired this recipe.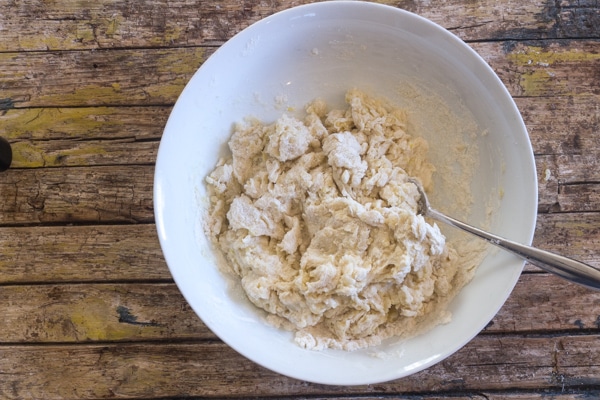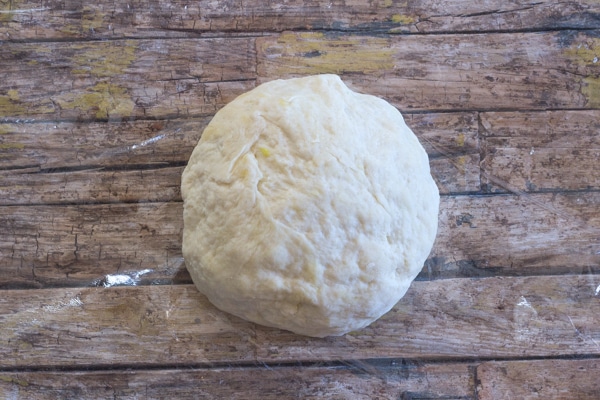 These pastries are made with a simple Italian Pasta Frolla (pie dough) and then filled with a ricotta and chocolate chip filling. Basically the same filling used for Cannoli.
Cassatelle dough is made with a small (very small) amount of either White Wine, Brandy or Marsala, although you could probably just substitute with water or even white grape juice.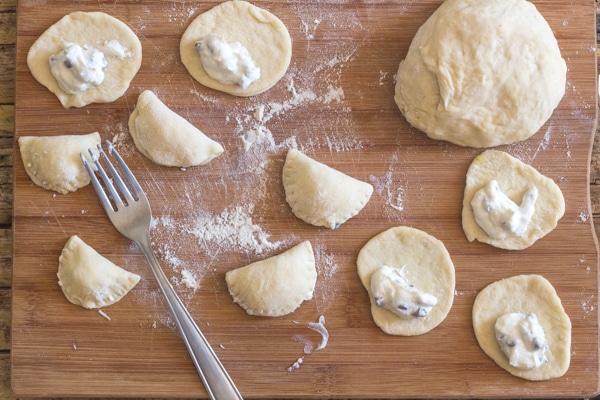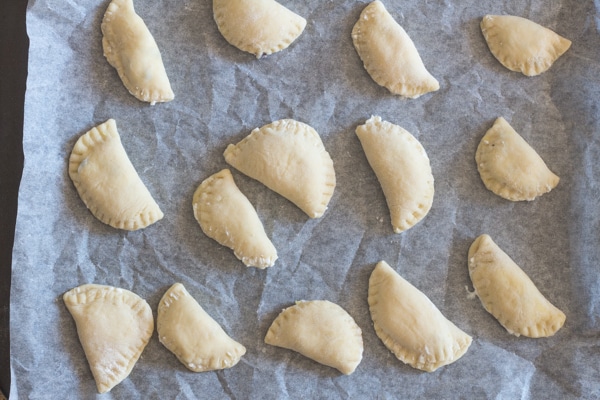 How to Make a Ricotta Filling
Depending on the Ricotta you buy, some brands are a little moister than others. The day before you decide to make your Cassatelle I think it is a good idea to place your ricotta in a sieve over a bowl,
that way the extra moisture will drain. And be sure to store it in the refrigerator.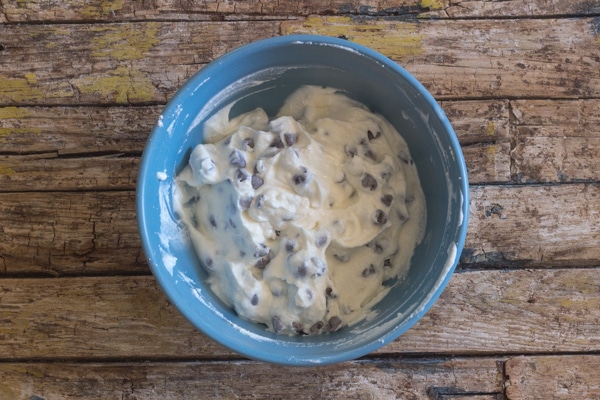 Doing it this way will insure that your filling will remain creamy without any extra liquid.
Then when you are ready to make your Cassatelle, remove the drained ricotta from the fridge, place it in a medium bowl and mix it with the powdered sugar and fold in the chocolate chips.
How to Fry Pastries
Always use a vegetable oil or peanut oil for frying (never olive oil). I don't fry very often so I don't like to reuse oil.
I like to use a heavy bottomed pot but if you have a deep fryer even better.
Heat the oil to the correct temperature before adding the pastry.
Turn the pastry a couple of times while cooking.
Remove cooked pastry from the pot with a slotted spoon and let drain on a paper towel lined plate.
Fried food is always best eaten asap, if you have leftovers, be sure to refrigerate the pastry because of the ricotta filling.
More Delicious Italian Pastries
Pasticiotti Italian Cream Filled Pastries
This is actually the perfect time to make Cassatelle because they are eaten during Carnival "Carnevale" Time in Italy, along with Frappe and Castagnole.
So if you are like a lot of people and can't get enough of Sicilian Sweets then why not give these Cassatelle a try and let me know what you think of them. Enjoy!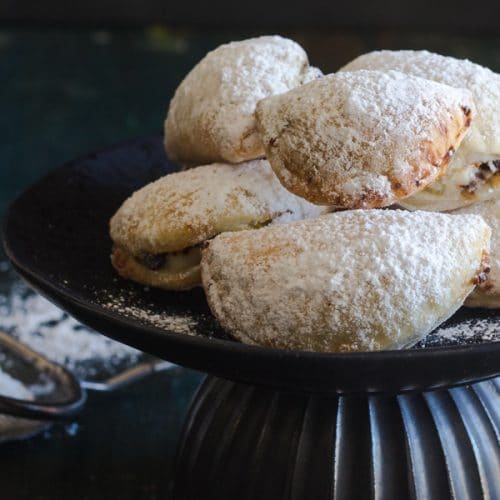 Cassatelle with Ricotta
Cassatelle a Sicilian sweet dough, that is filled with a ricotta & chocolate chip mixture, then usually deep-fried but can also be baked!
Ingredients
PASTRY DOUGH
1 3/4

cups

+ 2 tablespoons all-purpose flour

(250 grams)

3

tablespoons

granulated sugar

(40 grams)

1

pinch

salt

zest

1/2

lemon

1

tablespoon

white wine / brandy or Marsala*

2

tablespoons

olive oil

1

teaspoon

lemon juice

1/2

cup

+ 1 tablespoon water

(120 grams)
*If you don't want to use alcohol then substitute with white grape juice or water.
RICOTTA FILLING
1

cup

ricotta cheese

(250 grams)

1/4

cup

powdered / icing sugar (sifted)

(31 grams)

1/4

cup

mini chocolate chips

(44 grams)
Instructions
Before making Cassatelle it is best to place the ricotta cheese in a sieve or cheese cloth over a bowl in the refrigerator, let it sit overnight before using.
RICOTTA FILLING
Once the ricotta has drained make the filling, place the drained ricotta in a medium bowl and mix with the sifted icing sugar until creamy, then fold in the chocolate chips, cover with plastic and place in the fridge until needed.
PASTRY DOUGH
In a large bowl whisk together the flour, sugar, salt and lemon zest, make a well in the middle and add the wine, olive oil and lemon juice, mix with a fork, then gradually add the water (you may not need it all) continue to mix together until you have a smooth and compact dough. Form the dough into a ball, wrap in plastic and chill for one hour.

Remove the dough from the fridge and roll it very thin (you could also use a pasta machine for this). Using small or medium round cookie cutters cut out rounds, on half the round place 1 teaspoon of filling (a little less if using small rounds), fold over** the empty half and seal the edges with water then using the tongs of a fork seal around the edges to hold it together.

Heat 2 inches of oil in a medium pot to 340F (170C), add 3 or 4 cassatelle at a time and fry until golden (turn them a couple of times frying for about 2 minutes on each side until golden brown).

Remove the cassatelle with a slotted spoon and drain on paper towels, when cool dust with powdered sugar and serve. Enjoy!
**When folding over the dough you may need to gently pull the dough, these are a very rustic pastry, so no need to make them look perfect.
If you want to bake these then bake in a pre-heated oven 350F (180C) for 20-25 minutes or until golden.
Nutrition
Calories:
117
kcal
Carbohydrates:
15
g
Protein:
3
g
Fat:
4
g
Saturated Fat:
2
g
Cholesterol:
10
mg
Sodium:
21
mg
Potassium:
34
mg
Sugar:
5
g
Vitamin A:
95
IU
Vitamin C:
0.1
mg
Calcium:
47
mg
Iron:
0.7
mg
.