This deliciously moist Homemade Italian Cake is made with ricotta cheese and chocolate chips. The perfect Breakfast, Snack or even Dessert Cake Recipe. A Cake everyone will love.

After living in Italy for over 25 years, I like to think I know this country , the people and the food quite well. Especially the food!
Naturally Pasta and Pizza are my favourites, but needless to say, I also love a good Dessert! I like the fact that Italians love to eat cake for breakfast and no excuse is needed.
And of course Ricotta Cake is one of the most popular Italian Cakes to make. This moist tasty cake, just like most Italian Cakes, needs no icing or glaze. Just a simple dusting of powdered sugar is all it needs.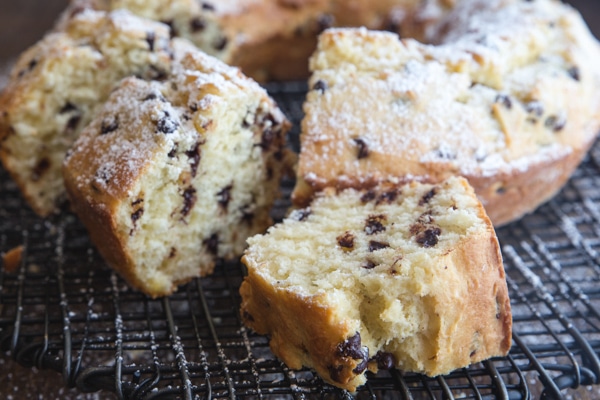 How to make a Ricotta Cake
In a large bowl beat the eggs and sugar for about 3 minutes, then add the vanilla and ricotta and combine.
In a medium bowl whisk the flour, salt and baking powder.
Add the flour mixture to the egg mixture and combine, the batter will be very thick.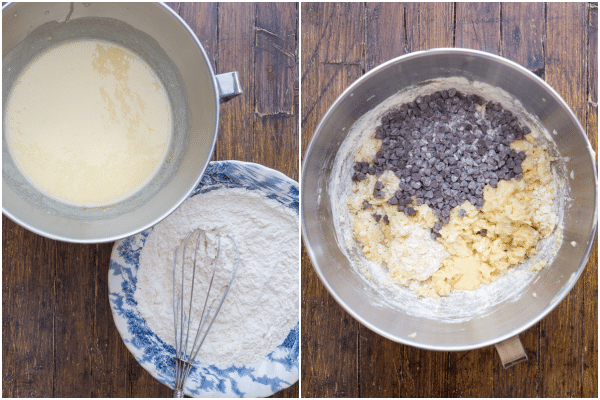 Fold in the chocolate chips.
Spoon into the prepared cake pan and bake for about 35 minutes.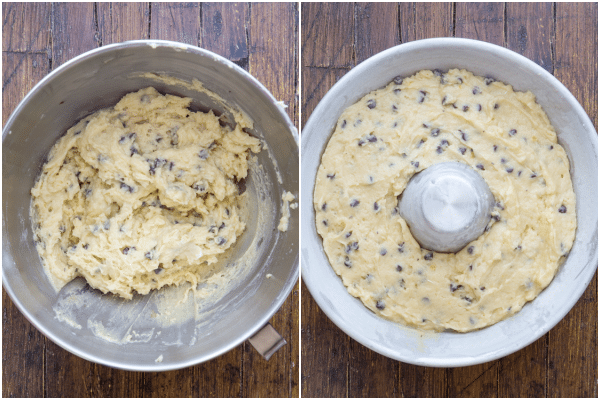 Let cool completely then dust with powdered sugar before serving.
What is Ricotta Cheese?
Ricotta is usually referred to as a cheese. Although it is actually a dairy product that is made through a process of reusing whey left over from the processing of other cheese.
The name Ricotta is derived from Latin, and refers to its processing – re-coctus, which means, cooked twice.
Therefore since it is not produced directly from the curd, but from one of its by-products, ricotta cannot be considered a real cheese.
Is it necessary to drain the Ricotta?
I didn't drain the ricotta for this recipe, but my ricotta was quite thick. If you find that there is a lot of liquid, then drain the ricotta in a sieve for about 10 minutes before adding to the creamed mixture.
How to store a Ricotta Cake
The cake can be stored up to two days at room temperature. Make sure it is well wrapped or stored in an airtight container. Keeping it any longer and it should be refrigerated.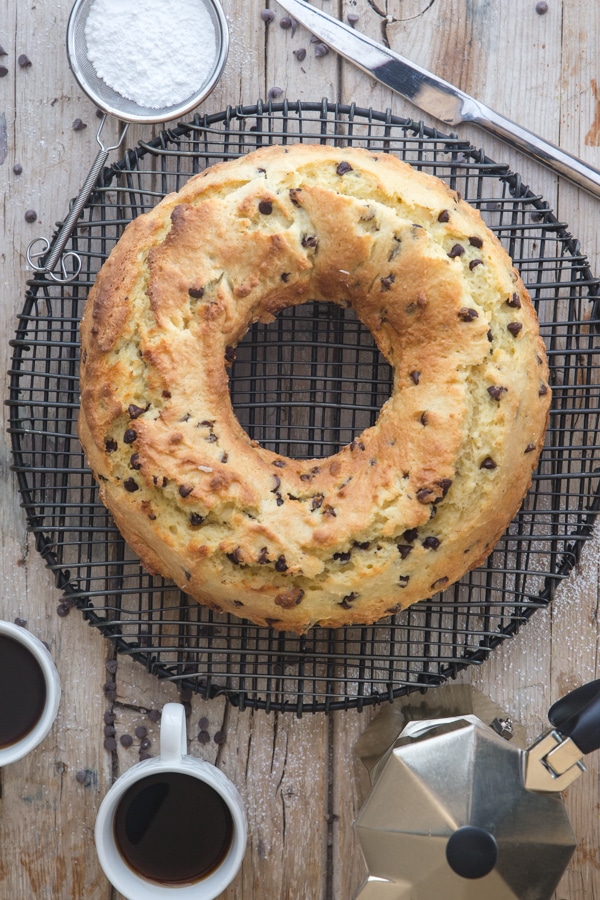 Can a Ricotta Cake be frozen?
Yes the cake can be frozen, be sure to wrap well in plastic wrap and place in an airtight container or freezer bag. It can be frozen for up to three months.
Be sure to remove the cake from the freezer bag or container before thawing, although you can leave it wrapped in plastic and thaw in the fridge over night.
How to prevent chocolate chips from sinking in a cake
To prevent the chocolate chips from sinking in your cake is very easy, just toss the chips with a little flour. I use one teaspoon of flour for every half cup of chips.
This little trick works with other additions from sinking too, such as nuts, dried fruits, and fresh berries. Just toss with a little flour before folding them into your cake, cupcake, or even muffin batter before baking.
More Delicious Italian Cakes
Italy, as everyone knows is going through a bit of a hard time, but as my husband says as he was eating a piece of this Ricotta Cake, "well at least we still have the food". Enjoy!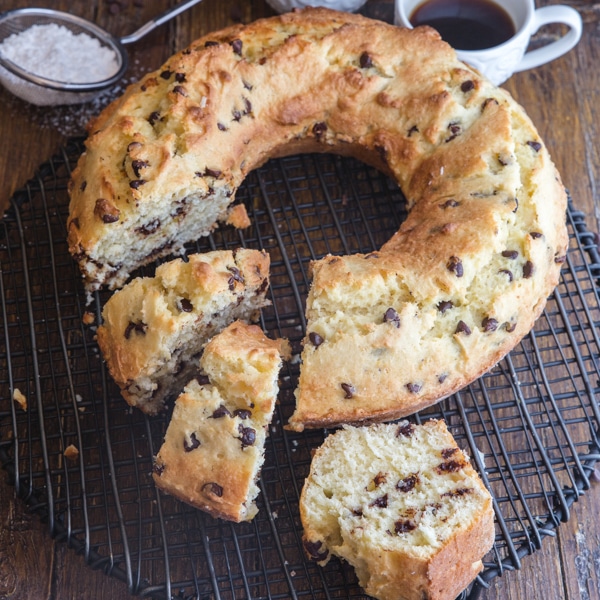 Italian Chocolate Chip Ricotta Cake
Chocolate Ricotta Cake, an easy and delicious cake recipe, moist and full of chocolate chips,a classic Italian dessert. Everyone will love.
Ingredients
2

large

eggs room temperature

1

large

egg yolk room temperature

1

cup

granulated sugar

1

teaspoon

vanilla

1

cup

ricotta room temperature

2

cups

all-purpose flour

1½

teaspoons

baking powder

1

pinch salt

½

cup

mini chocolate chips (unsweetened chips, milk chips or a mixture of both)

1

teaspoon

all-purpose flour
EXTRAS
3-4

tablespoons

icing/powdered sugar (for dusting)
Instructions
Pre-heat oven to 350° (180°), grease and flour a 9 inch (22cm) cake pan or 9 1/2 inch (24cm) bundt pan.

In a large bowl beat the eggs, yolk and sugar until creamy and light about 3-5 minutes. Then add the vanilla and ricotta beat to combine.

In a medium bowl whisk together the flour, salt and baking powder. Add to the creamed mixture and mix just until combined (batter will be thick), fold in the mini chocolate chips*.

Spoon into the prepared cake pan and bake for approximately 30-40 minutes, test with a toothpick for doneness. Let cool completely, then remove from the pan and dust with powdered sugar before serving. Enjoy!
*Toss the chocolate chips with one teaspoon of flour before adding, this prevents the chips from sinking in the batter while baking.
Notes
For room temperature remove ingredients from the fridge 45-60 minutes before using.
Nutrition
Calories:
290
kcal
Carbohydrates:
49
g
Protein:
7
g
Fat:
7
g
Saturated Fat:
4
g
Cholesterol:
75
mg
Sodium:
45
mg
Potassium:
129
mg
Fiber:
1
g
Sugar:
28
g
Vitamin A:
215
IU
Calcium:
100
mg
Iron:
2
mg
Updated from May 16, 2014.