Soft Dark Chocolate Sugar Cookies,  a delicious rich easy to make Sugar Cookie. A definite Christmas Cookie must for your Cookie Tray.
Soft Dark Chocolate Sugar Cookies
Yes we are back again for our monthly Tasty Creations! Last month I shared or better still, our good friend shared his amazing recipe for Tradition Polenta with a Sausage Pork Rib Tomato Sauce.
This month we are back in my territory. The ingredient for this month is sugar. I am so happy to be sharing this amazing Chocolate Sugar Cookie, that I got from my amazing Baker Cousin.
If you remember I have already shared a couple of her recipes. Homemade Coconut Cake which really is a Delicious Cake recipe and my Bloody Good Double Chocolate Halloween Cake .
And I have to say, she did it again! These really are a good Cookie Recipe, just ask my youngest daughter who ate almost all of them! Even the Italian asked "where are all the cookies"?
These Dark Chocolate Sugar Cookies are so easy and fast  to make and they bake up in 10 minutes. They spread out a little, but remain soft on the inside. Perfect.
So if are planning on doing some baking this week don't forget to add these Soft Dark Chocolate to your baking line up. Enjoy!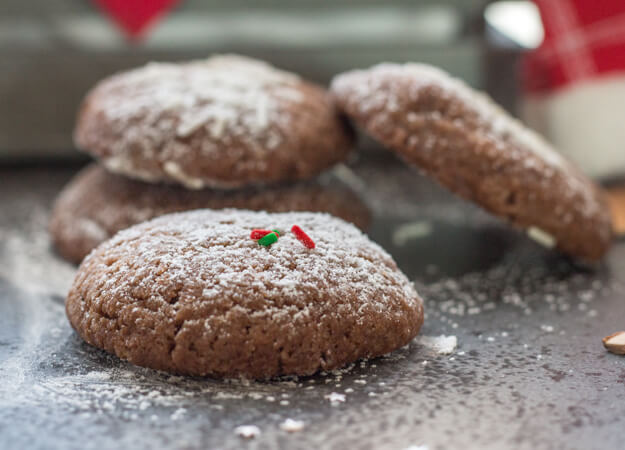 Soft Dark Chocolate Sugar Cookies
Chocolate Sugar Cookies are the perfect Christmas Cookie Recipe addition, an easy, soft, dark chocolate cookie. So yummy.
Ingredients
3

squares

unsweetened chocolate (3 ounces)

1

cup

butter

1

cup

icing / powdered sugar

2

cups

flour

1

egg

1

teaspoon

soda

1/4

teaspoon

salt

1

teaspoon

vanilla
Instructions
In a medium bowl melt chocolate and butter either in the microwave or place chocolate and butter in a medium bowl and place over a small pot of boiling water make sure water does not touch bowl with chocolate, heat until butter has melted then whisk together until smooth. Set aside.

In a medium bowl whisk together flour, baking soda and salt. Set aside.

Stir in icing/powdered sugar into the melted chocolate/butter mixture and combine until well blended, add egg and vanilla stir to combine, add flour mixture and stir to form a dough. Wrap in plastic and refrigerate for approximately 30 minutes.

Pre heat oven to 375°. Cover cookie sheets with Parchment paper.

Roll pieces of dough in 1 inch balls, place on cookie sheets and bake for approximately 8-10 minutes. Dust with Icing/powdered sugar if desired. Enjoy!
Nutrition