Classic Italian Crostata, a delicious Italian Pie makes the perfect dessert or snack recipe, the delicate flaky crust is filled with your favourite choice of Jam.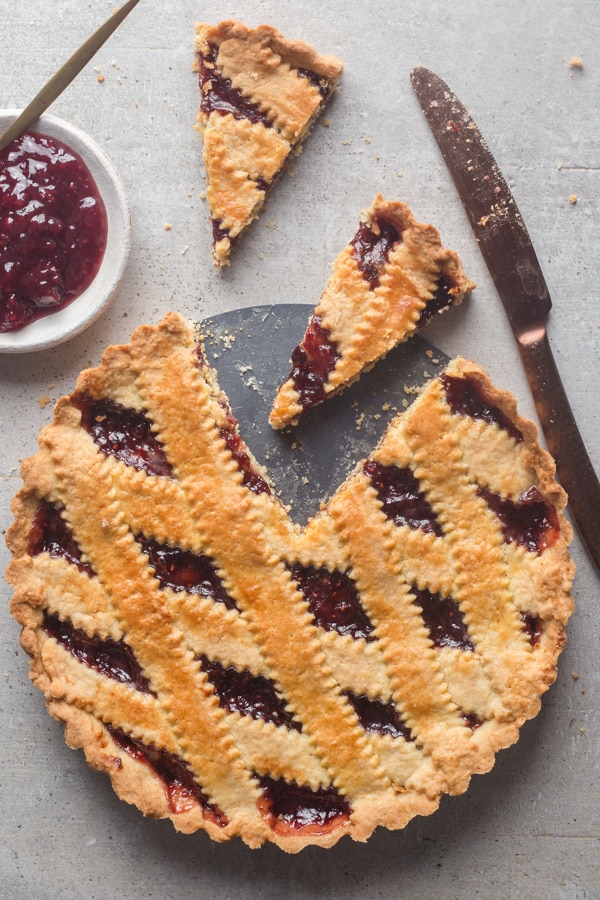 When I first came to Italy I was offered some wonderful Italian food to try, from my mother-in-law's Baked Cannelloni to my sister-in-law's amazing Tiramisu.
But one sweet that was always offered was a Crostata. Considered one of Italys most popular recipes.
This Italian Pie is made with a delicate homemade pastry dough / pasta frolla and filled with a simple Jam filling.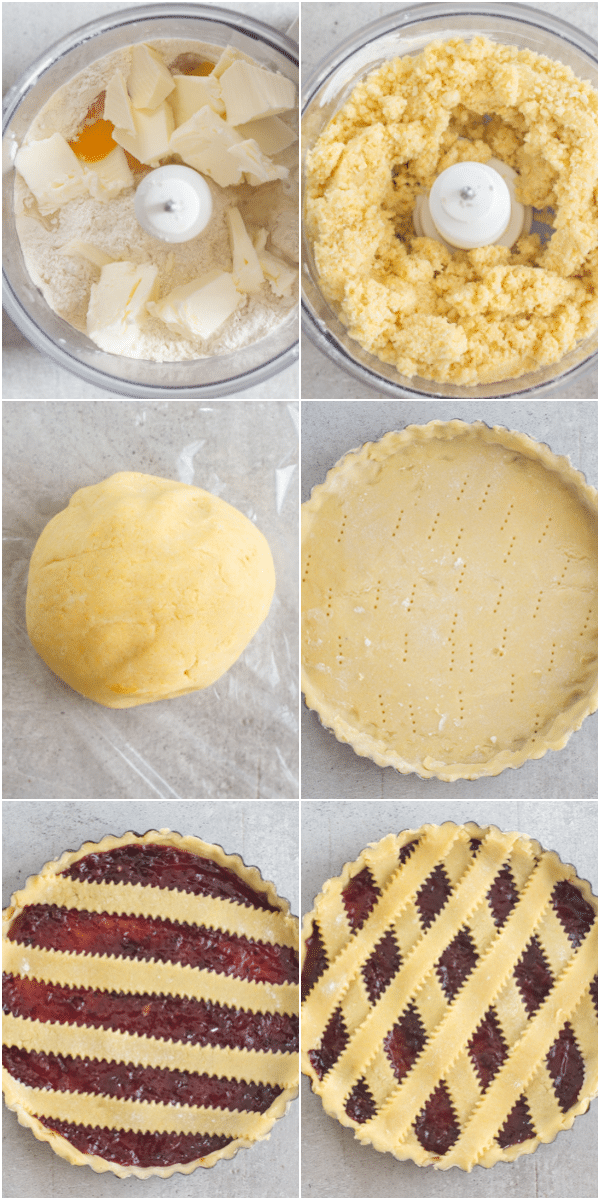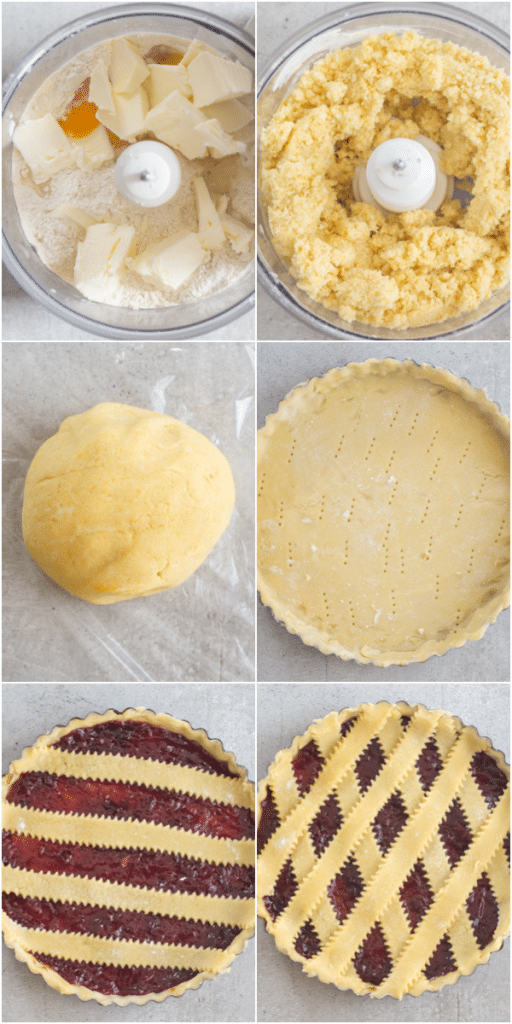 What are the ingredients in Italian Pastry Dough?
Italian pastry dough consists of flour, sugar, baking powder, butter (usually room temperature) and an egg and an egg yolk.
The egg makes the dough even flakier.
Wherever you go in Italy, into a bakery, grocery store or even visit a friend or relative there is always a Jam Filled Crostata in sight.
Everyone has their own homemade recipe, from the wonderful Pasta Frolla (pie dough) to either store bought or Homemade Jam. But if you really want to impress your guests even your Jam will be Homemade!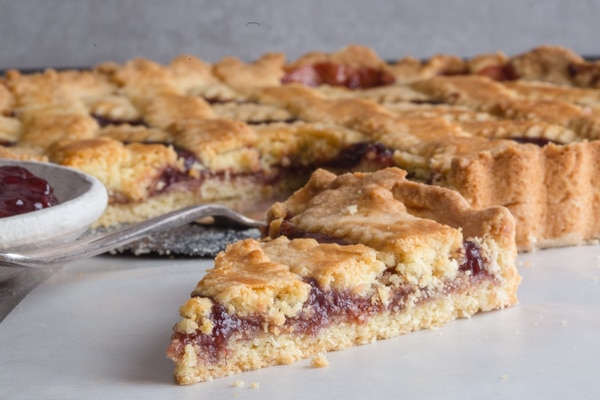 When to serve a Crostata
This delicious Pie is usually served as either a dessert or in the afternoon with an espresso. Although a slice at breakfast is also the norm.
Making Homemade Italian Pie Dough
Making your own homemade dough is not as difficult as it seems. Especially if you use a food processor. Although making it with your hands is fine too.
Place the dry ingredients in the bowl of the machine, whisk them together then add the butter and eggs, pulse to combine.
Move the dough to a lightly floured flat surface and gently knead into a smooth ball. Be sure to chill the dough for at least 30 minutes.
When rolling the dough out make sure your area is floured and lightly dust your rolling pin with flour also.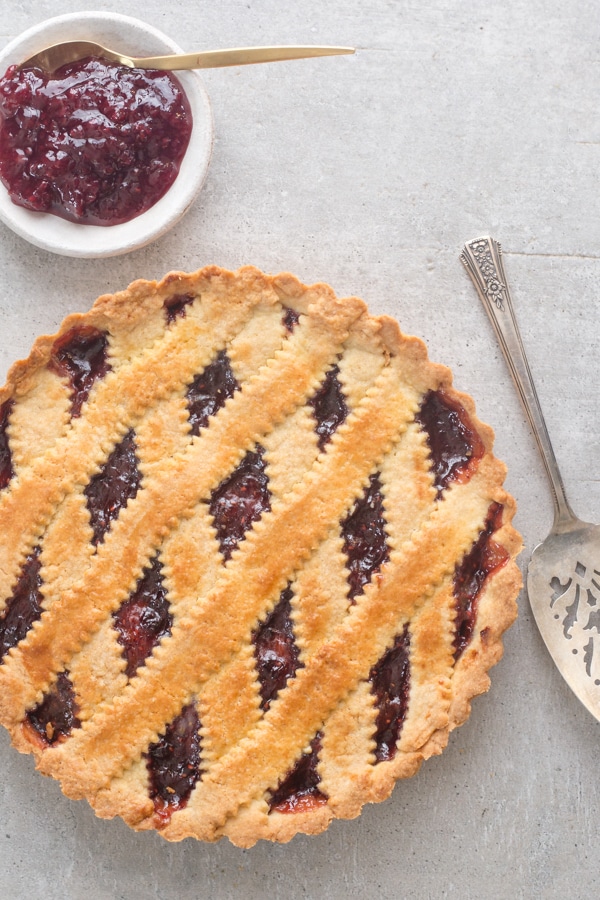 What filling is used in a it?
Instead of the usual fresh fruit filling in North American pies. In Italy a Crostata is usually lined with Jam or of course the ever popular Nutella.
My mother-in-law would make hers with either apricot or plum jam made from her backyard fruit trees.
Of course not everyone is lucky enough to have fruit trees so a good store- bought jam is a great alternative. Just choose your favourite jam and trust me on this, you will love this Crostata Italian Pie.
How to Store it
The pie can be kept at room temperature, covered. A cool area is best. It will keep for 2-3 days.
The pastry dough can be made in advance and kept refrigerated for up to 3 days. Make sure to wrap it in plastic.
The dough can also be frozen, wrap in plastic and place in a freezer bag or container. It will keep in the freezer for about three months.
So let's make a crostata and let me know what you think . Enjoy!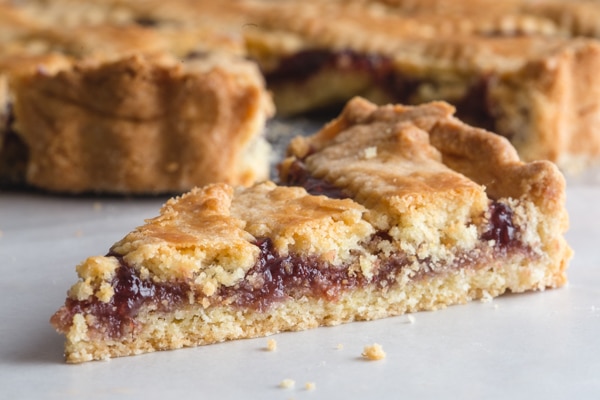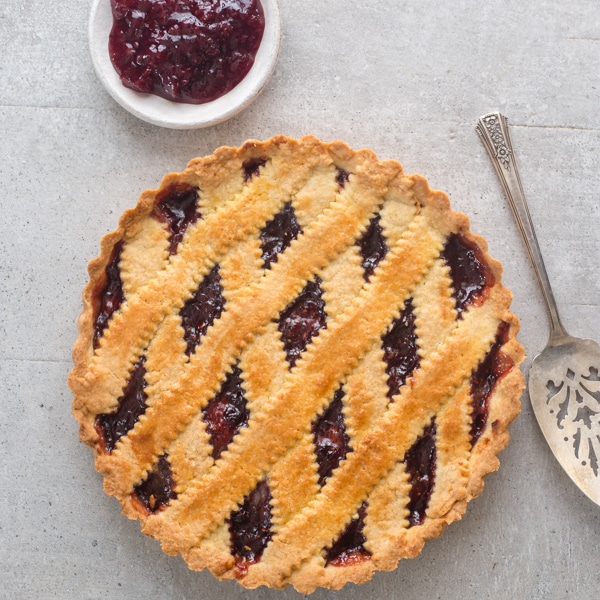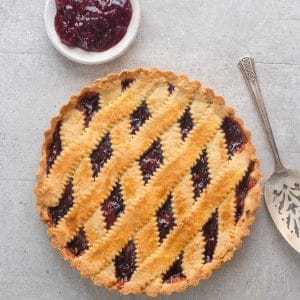 Classic Italian Crostata / Italian Pie
Italian Classic Crostata, a delicious fast & easy dessert pie or snack recipe, this delicate flaky crust is filled with your choice of Jam.
Ingredients
CROSTATA DOUGH
1 3/4

cups

all purpose flour

1/2

cup

granulated sugar

1

teaspoon

baking powder

1

large

egg (room temperature)

1

large

egg yolk (room temperature)

1/2

cup

+ 2 tablespoons butter room temperature

(140 grams total)
Instructions
Pre-heat oven to 350F (180C), grease and flour an 8 or 9 inch- (20 – 22 cm) pie dish.

In a large bowl*,gently whisk together flour, sugar and baking powder, create a well in the middle and add slightly beaten egg and yolk and softened butter cut into pieces. 

Mix together, at this point turn mixture onto a slightly floured surface and work the mixture to form a soft dough (if dough is very dry then add an extra tablespoon of soft butter). 

Wrap in plastic and refrigerate for 30 minutes. Remove from fridge and knead the dough a couple of times to soften it up again on a lightly floured surface. Roll out to 1/8″ thickness.

Transfer to prepared pie plate, I used a 8" pie dish (20 cm). Trim the dish of any extra dough. Prick the dough with the tongs of a fork, then spread the pastry shell with the jam**.  With the extra dough make strips to create a lattice finish. Brush top lightly with milk and bake in pre heated oven at 350° (180°) for 25-30 minutes or until golden.  Let cool then slice, enjoy!

**Any type of jam can be used, but I find raspberry, strawberry, blueberry, apricot, peach or a wild fruit mixture work the best.
Notes
*I also make the dough using a food processor, whisk the ingredients together in the food processor cup, then add the egg, yolk and butter and pulse until almost combined, moved to a lightly floured surface and knead gently to completely combine. Wrap and refrigerate.
With any extra dough, I made squares and I placed 1 teaspoon of jam in the middle, folded it over, pinched the sides closed and baked in the oven for about 20 minutes at 350° (180°)).
Nutrition
Calories:
288
kcal
Carbohydrates:
46
g
Protein:
3
g
Fat:
9
g
Saturated Fat:
6
g
Cholesterol:
40
mg
Sodium:
96
mg
Potassium:
72
mg
Sugar:
22
g
Vitamin A:
305
IU
Vitamin C:
2.2
mg
Calcium:
23
mg
Iron:
1.4
mg
Updated from March 2014.