Fresh Apricot Double Layer Cream Dessert, if you are looking for a dessert that is not only refreshing but also delicious, then this is it.  A base of sliced fresh Apricots with a cheesecake filling and a creamy Apricot filling to make this Double Layer Cream Dessert a perfect Summertime Treat.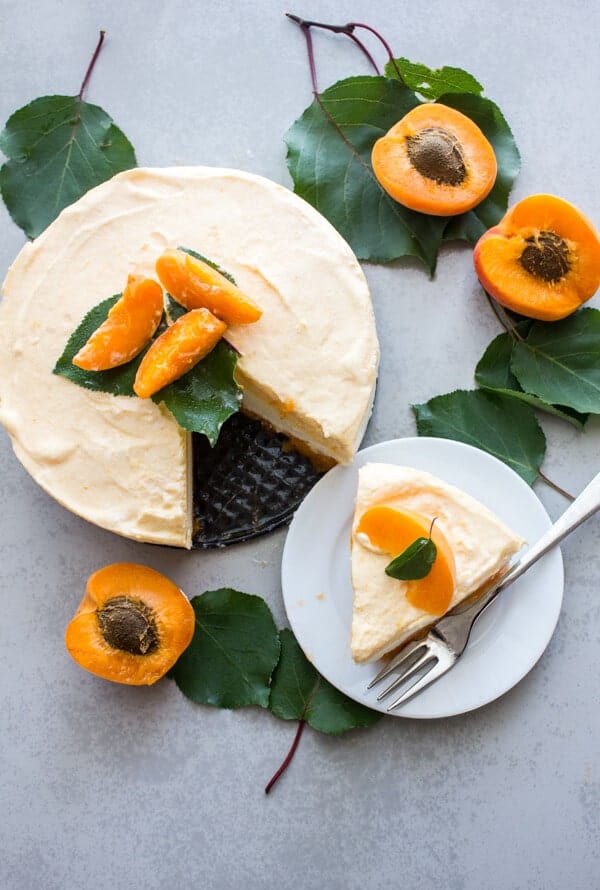 Hello Apricots!  Our tree was so full of apricots this year, we had people lined up to pick them.  A few bags to a friend, whose wife makes Jam, my sister-in-law who was making a Crostata.  And yes I had to make a dessert also.
That tree was so full of apricots the poor thing couldn't hold itself up.  These were beautiful, clean organic fruit.  To tell the truth I'm not an apricot lover.
If the tree had been a Peach tree it would have been  a whole different feeling.  But this Double Layer Cream Dessert opened my eyes!
I knew I wanted to make something simple, light and no bake.  I ended up making two versions of this Apricot Cream Dessert.  One I made and just refrigerated and the other I froze.  Why you ask?
Well photos have to be shot and the first apricot dessert, the top layer was more of a topping than a layer, so after I froze it, I then had two firm layers.
But the big question is how did it taste?  The first Fresh Apricot Double Cream Layer Dessert was served at a get together with friends.
Of course before I serve anything that I have just made, I taste it.  In my mind I thought "oh my gosh this is amazing".  But unfortunately it didn't firm up how I imagined.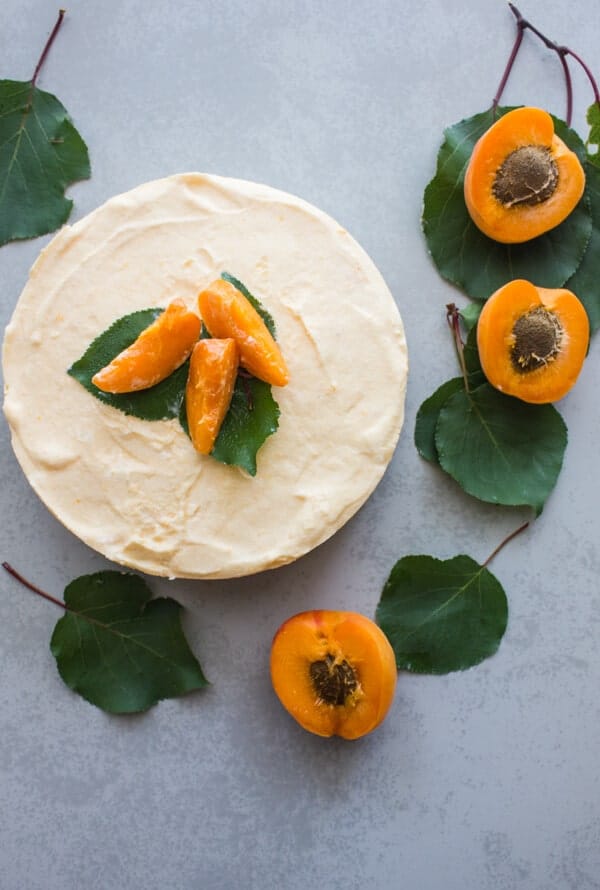 Sometimes when I serve these desserts I feel like I am on Master Chef and I'm waiting for Chef Ramsay to taste it, put down his fork give me the evil eye and start screaming. And yes the Italian is Chef Ramsay! But no, this was definitely a hit.
My youngest daughter who prefers Peaches like her Mom, described it perfectly, "é cosi piacevole, so pleasant and refreshing".  And it was, and everyone agreed, in fact it was gone in a night.  Which left my husband asking "can you make that again"?
The second attempt we enjoyed also, but I would probably freeze it only until firm and then serve, an hour or so in the freezer would do.  
Fresh Apricot Double Layer Cream Dessert
Instead of making a cookie crust base, I used sliced apricots, I topped it with a creamy cream cheese filling and for the top layer,  I blended apricots and whipped cream.
I'm hoping our Peach trees will follow in the Apricots shoes and I will re-do this recipe with Peaches. Because I am sure if you don't like Apricots then Peaches would work just as well in this Summertime Desert.  Enjoy!
Fresh Apricot Double Layer Cream Dessert
Fresh Apricot Double Layer Cream Dessert, an easy fresh apricot dessert recipe, a healthy refreshing summer treat.
Ingredients
BOTTOM LAYER
3

apricots peeled and sliced

not too thin
MIDDLE LAYER
3/4

cup

whole/whipping cream

6

ounces

cream cheese

1/2

cup

powdered/icing sugar

1/2

teaspoon

vanilla
TOP LAYER
2

apricots peeled and chopped

1/4

cup

sugar

1/4

teaspoon

cinnamon

3/4

cups

whole/whipping cream
Instructions
Place beaters and a glass bowl in the freezer for at least 20 minutes.
BOTTOM LAYER
Place sliced apricots on bottom of a 7-8 inch springform cake pan.
MIDDLE LAYER
Whip cream until stiff (I whipped 1 1/4 cups together and then just used half in each layeset aside, in a medium bowl beat cream cheese, icing sugar and vanilla until smooth, fold into whipped cream (half the mixture if you beat it altogether). Pour over the apricot layer, refrigerate.
TOP LAYER
In a small pot add chopped apricots, sugar and cinnamon bring to a boil and then simmer for approximately 10-15 minutes, let cool completely and then fold into the whipped cream (the other half). Pour on top of the 2nd Layer and either refrigerate for 5 hours or even overnight or freeze until firm, approximately 1-2 hours. Slice and serve. Enjoy!
Nutrition