Peach Filled Italian Crostata Bars made with a tasty filling using fresh or canned Peaches. They make the perfect snack or even a perfect dessert,  top them with a scoop of Vanilla Ice Cream to make them extra special.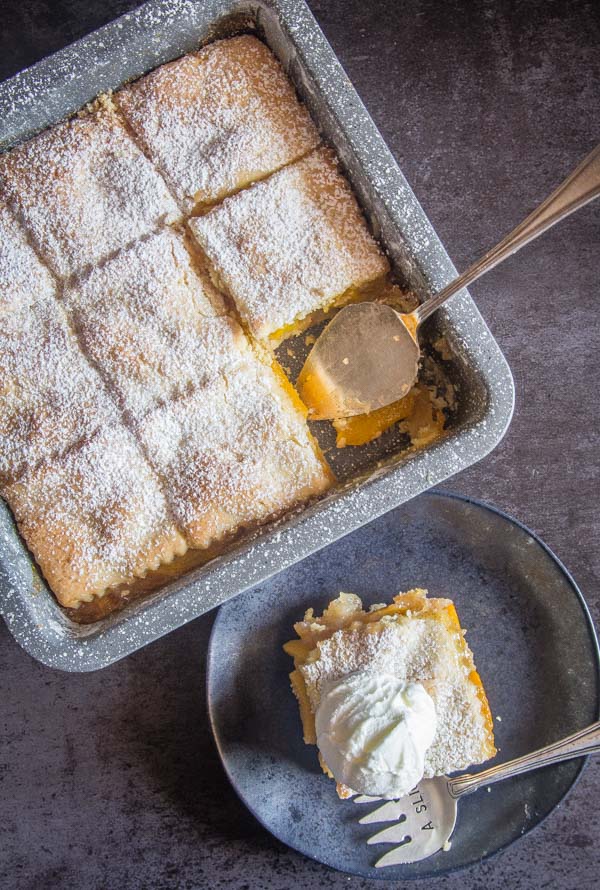 Remember I said I was going to give you a perfect dessert to go with that delicious No Churn Vanilla Ice Cream? Well this is it. If there are two fruits in the world that go really well together with Vanilla Ice Cream they have got to be Apples and Peaches. Don't you agree?
My love of a Crostata started out strong and it has continued. I love this Italian Pastry, I use it even to make a North American Pie, it is rich and buttery and perfect filled with fruit or even used for Cut-Out Cookies.
Every Italian woman has her own Pastry Dough (Pasta Frolla) that has usually been passed down from mother to daughter, although there isn't that much of difference between one dough and another.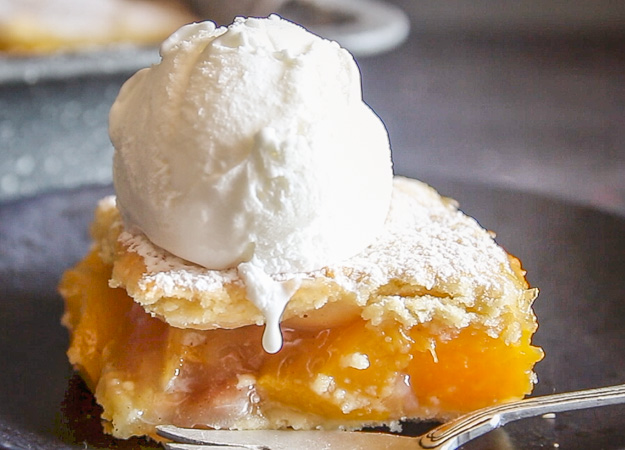 I have found some to be flakier or even more of a cookie base than others. This recipe was given to me by a good friend's mother and it is the only one I use and have been using for years.
It is enough dough for a 2 pie crust and a little left over (depending on the size of your pie plate) for a few Cookies. And who doesn't love a few cookies?
The Easiest Way to Make Peach Bars
Make the dough fast and easy by using a Food Processor it takes only about 5 minutes, l
Then let the dough sit in the fridge for 30 minutes,
Remove the dough from the fridge and it's ready to be rolled out and filled.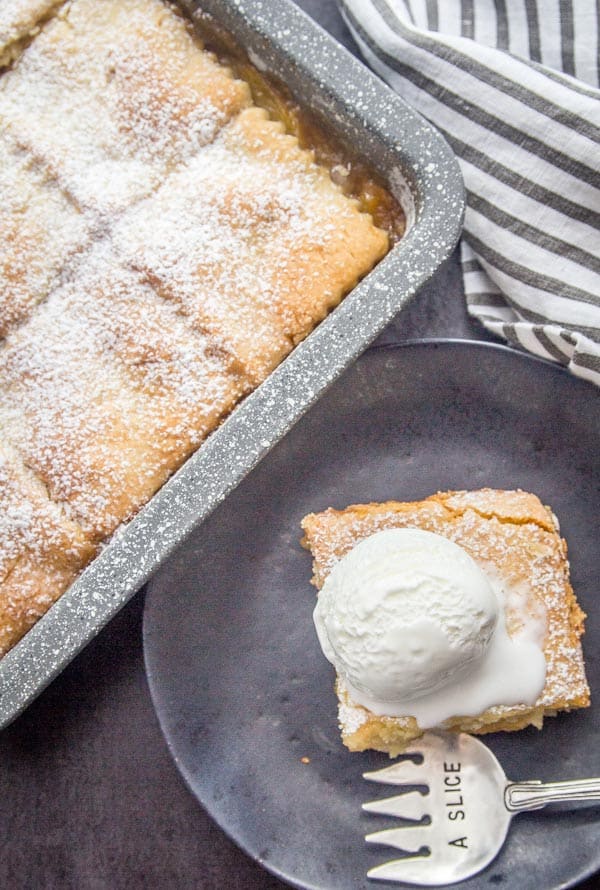 How to Make them
Place the first layer on the prepared cake pan then spread a couple of tablespoons of Peach Jam on top.
Then top the dough with the Sliced Peach Mixture.
Cover the peach mixture with the second layer of dough.
Make three cuts on the dough with a sharp knife,
This lets the steam escape while baking, that way your dough doesn't become soggy. Nothing worse than soggy dough!
Bake in a pre-heated oven for about 30 minutes.
Let cool or serve warm.
These Fresh Peach Bars are delicious either served plain or I love to serve it with a scoop or two of ice cream for dessert. Dessert is served. Enjoy!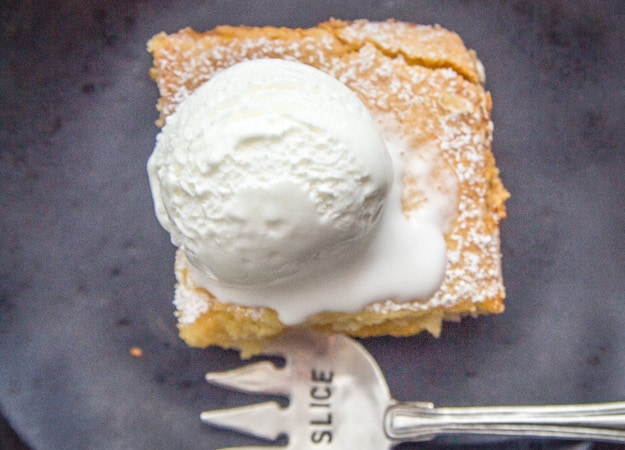 More Delicious Peach Recipes.
Easy Italian Fresh Peach Crumb Cake
If you are looking for a different way to make a crostata, then why not try these bars!? Let me know how they turn out. Enjoy!
Italian Crostata Bars with Peach Filling
Italian Crostata Bars, a delicious Pie Bar Recipe Idea, a tasty peach filling make these rustic Italian Pastry Bars the best.
Ingredients
CROSTATA PASTRY DOUGH
1

pinch

salt

1 3/4

cups

flour

(222 grams)

1/2

cup

sugar

(100 grams)

1

teaspoon

baking powder

1

large

egg (room temperature)

1

large

egg yolk (room temperature)

1/2

cup

+ 2 tablespoons butter (room temperature)

(131 grams)
PEACH FILLING
2-3

tablespoons

peach jam

2 1/2

cups

Peaches sliced thin or chopped (approximately 4 fresh or 1 large can (drained) peaches pit removed and peeled)

1/4

teaspoon

cinnamon

1/2

teaspoon

vanilla

1

tablespoon

lemon juice

2

tablespoons

flour

1/4

cup

sugar

(50 grams)
Instructions
CROSTATA PASTRY DOUGH
In a large bowl whisk together salt, flour, sugar and baking powder, make a well in the centre and add egg, egg yolk and butter (cubed), mix together (you can also use a food processor, pulse until dough just starts to come together), remove dough to a flat surface and knead until it becomes a soft dough, wrap in plastic and refrigerate for 30 minutes.

Pre-heat oven to 350° (180° celsius), lightly grease and flour an 8 inch (20 cm) square cake pan.

In a medium bowl mix together, sliced peaches, cinnamon,vanilla,lemon juice, flour and sugar, gently combine.

Remove dough from fridge, roll out half the dough to fit into pre-pared cake pan, spread with peach jam, cover with sliced peach mixture.

Roll out other half of dough and fit to cover the peaches, using a sharp knife remove excess dough, (use extra dough to make cut out cookies), cut 3 2-3 inch cuts on the top of dough using the sharp end of a knife. Brush top of dough with a little milk and sprinkle with sugar, bake for approximately 30 minutes or until golden. Let cool or eat warm, cut into squares and serve with Vanilla Ice Cream if desired. Enjoy!
Nutrition
Calories:
238
kcal
Carbohydrates:
36
g
Protein:
3
g
Fat:
8
g
Saturated Fat:
5
g
Cholesterol:
50
mg
Sodium:
172
mg
Potassium:
107
mg
Fiber:
1
g
Sugar:
16
g
Vitamin A:
380
IU
Vitamin C:
2.9
mg
Calcium:
19
mg
Iron:
1.4
mg
Updated from June 23, 2017.