Individual Frozen Creamy Chocolate Mini Pies, a delicious no-bake creamy dessert recipe. This will become your summer favorite.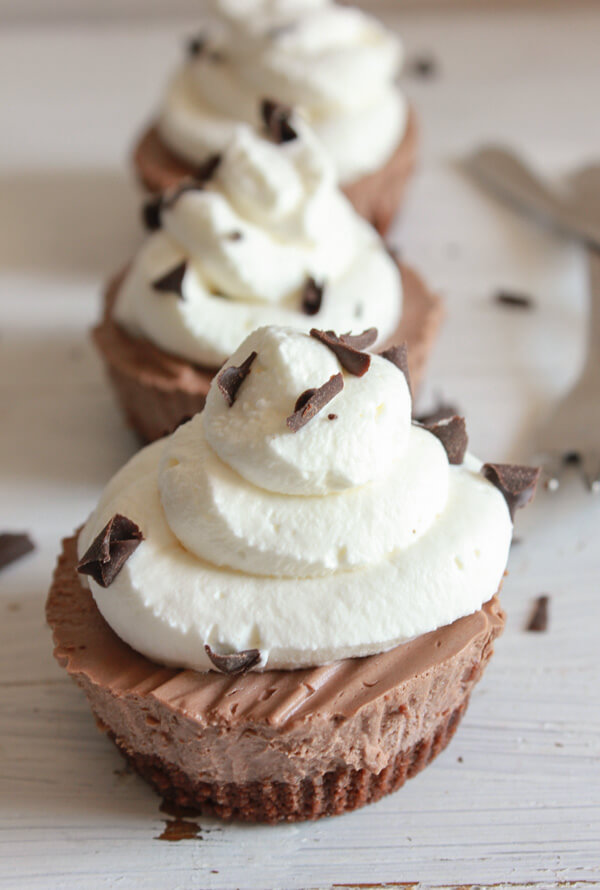 What does your perfect meal consist of, how many of you can't wait to get to dessert? My favourite meal hands down would have to be lasagna and any kind of chocolate dessert, the more chocolate the better. Maybe a chocolate dessert with a chocolate liqueur and a big piece of chocolate to follow!!
I'm sure if I told you that this is a light dessert and if I told you that these Frozen Creamy Chocolate Mini Pies have almost zero calories, you probably wouldn't believe me, and you would be absolutely correct! I think my eldest daughter got it right, when I exclaimed "it's so light", she responded " yeah fake light".
Since making my fair share of Tiramisu, I have gotten quite attached to using Mascarpone. It is a lovely soft cheese (technically it is not considered a cheese).
It is has a very satiny texture, not too sweet and very creamy. The perfect ingredient for these Creamy Chocolate Mini Pies. Now I know why Italians love to use it in their amazing desserts.
I knew they needed even more chocolate (and so I added it). I made a crumb chocolate wafer base, got my filling going, chocolate chips, cream, sugar and of course mascarpone. Filled them up and into the freezer they went.
Individual Frozen Creamy Chocolate Mini Pies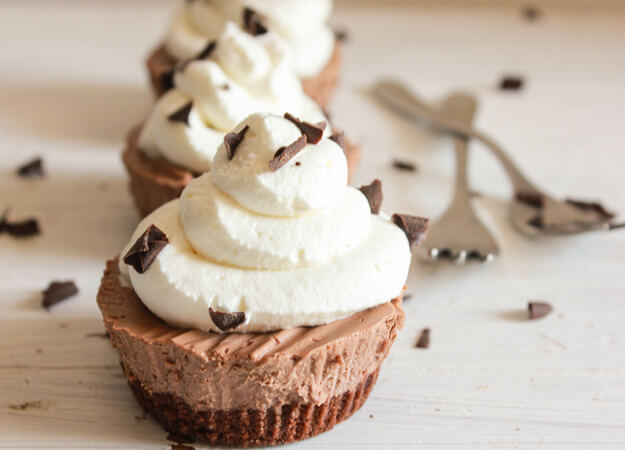 I ended up having a little cream filling left over so I just made the next best thing, Popsicles.
I am going to tell you they are good for your health, mental health that is. Some days you really need a blast of chocolate. And these are a nice cool blast. Enjoy!
Individual Frozen Creamy Chocolate Mini Pies
Individual Frozen Creamy Chocolate Mini Pies, a perfect summer no bake dessert, smooth creamy and chocolaty pie, kids and adults will love it.
Ingredients
FOR THE BASE

1 1/4

cups

chocolate wafer crumbs

(112 grams)

1/4

cup

butter (melted)

(52 grams)

12

cups

paper cupcake

FOR THE FILLING

1/2

cup

sugar

(100 grams)

1/2

cup

water

(120 grams)

1

cup

mini semi sweet chocolate chips

(175 grams)

1

cup

heavy/whole/whipping cream (30% or more fat content)

(250 grams)

1/2

cup

mascarpone

(125 grams)
Instructions
FOR THE BASE
In a medium bowl mix together cookie crumbs and melted butter, divide between the 12 paper cupcake lined muffin tin. Pat down flat with a shot glass or spoon. Place in freezer.

While the base is in the freezer, prepare the filling.

In a small pot add sugar and water, bring to a boil and continue at a slow boil for approximately 2 minutes. Remove from heat.

In a blender add the chocolate chips and hot boiled sugar mixture. Blend for approximately 2 minutes, pour into a bowl and let cool.

In a medium bowl beat together cream and mascarpone until very thick, fold in cooled mixture until smooth. Divide evenly on the 12 cookie base mini pies. (I had enough filling left over to make 4 Popsicles).

Cover with plastic wrap (make sure the plastic touches the top of the chocolate mixture).

Freeze for at least 8 hours or over night. Remove from cupcake wrappers before serving.

Top with whipped cream and chocolate flakes. Enjoy

**Prep time plus 8 hours to overnight for freezing.
Nutrition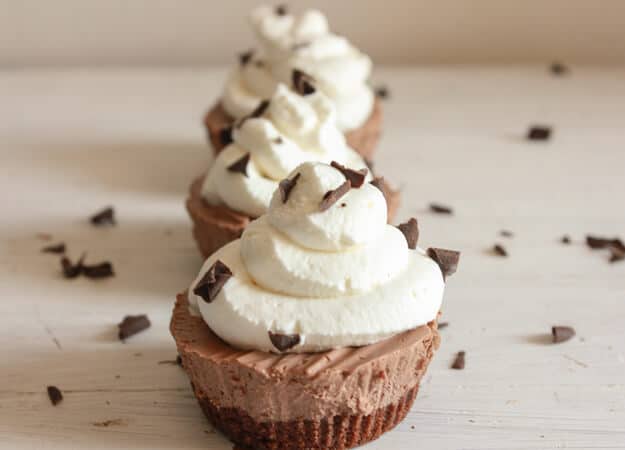 "The greatest tragedies were written by the Greeks and Shakespeare … neither knew chocolate." Sandra Boynton