Italian Crockpot Two Bean Chili Soup, a delicious healthy slow cooker recipe. The perfect comfort food dinner.
It has taken me forever, but I finally found a crock pot/slow cooker. I can remember my sister making a delicious beef stew with hers and loving the idea that you just fill it up and it does all the work.
I have a chili recipe that I have been making for years. A recipe from a friend of my Mom's. I decided to give it a little Italian flare and it has become one of many of our Favourite Soups.
I used cannellini beans and Borlotti beans, I added a chopped onion, carrots and celery, a can of chopped San Marzano tomatoes (or chop your own), two tablespoons of Worcestershire sauce ,  and some wonderful hot pepper flakes. I also added more liquid, a couple of cups of water and then I let it cook on low for 5-6 hours. The aroma was amazing.
I have to say one of my favourite comfort foods is soup, I adore soup, and this Italian Crockpot Two Bean Chili Soup is one of our favourites.
Italian Crockpot Two Bean Chili Soup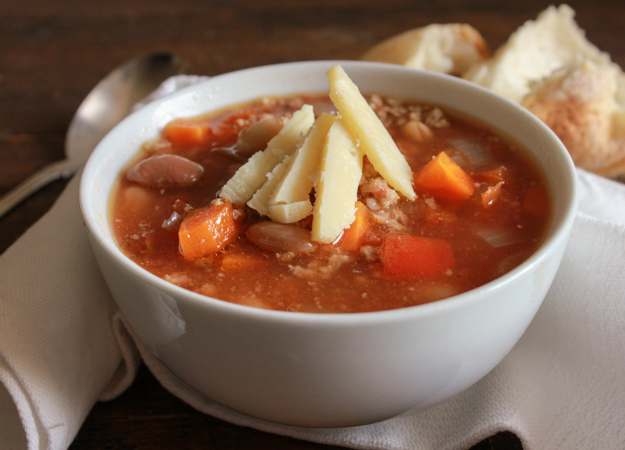 This Crockpot Two Bean Chili Soup is best served hot, topped with your favourite shredded cheese and a slice or two of Italian crusty bread, and supper is served. Buon Appetito!
Italian Crockpot Two Bean Chili Soup
**For the Cannellini and Borlotti beans if you prefer you can always use dried beans, but remember to do an overnight soak and drain and rinse. If you use dried add both beans to pot from the beginning of cooking time.
Ingredients
1

pound

lean ground beef

450 grams

1 1/2

tablespoons

olive oil

21 grams

2

tablespoons

Worcestershire sauce

30 ml

1

onion chopped

1

can chopped tomatoes or San Marzano or chop yourself

400 grams

1

can Cannellini beans ** or 2/3 cup dried

400,

2

cups

frozen borlotti beans ** or 2/3 cup dried

300 grams

hot pepper flakes to taste

1/4

teaspoon

salt

1.4 grams

1

carrot chopped

1

celery stalk chopped

2

cloves

garlic chopped

2 1/4

cups

water

528 grams
Instructions
In a small frying pan add olive oil, chopped onion and garlic, sauté on medium until onion becomes transparent.

In a medium to large pot boil ground beef until browned, drain well.

Transfer all the small frying pan ingredients (including drippings) and drained ground beef to crock pot, then add Worcestershire sauce, tomatoes, frozen borlotti beans, hot pepper flakes, salt, chopped carrot, celery, and water. Cover and cook on low heat for 5-6 hours, in the last 30 minutes add can of Cannellini beans (also taste for salt). Serve hot, topped with favourite cheese and some crusty bread. Enjoy!
Nutrition