Italian Pistachio Biscotti
Pistachio biscotti are crunchy, nutty cookies perfect for dunking in coffee or tea. This recipe is made the Italian way – simple and delicious. Make them for you or to share with family and friends. They keep well at room temperature and are great for gifts.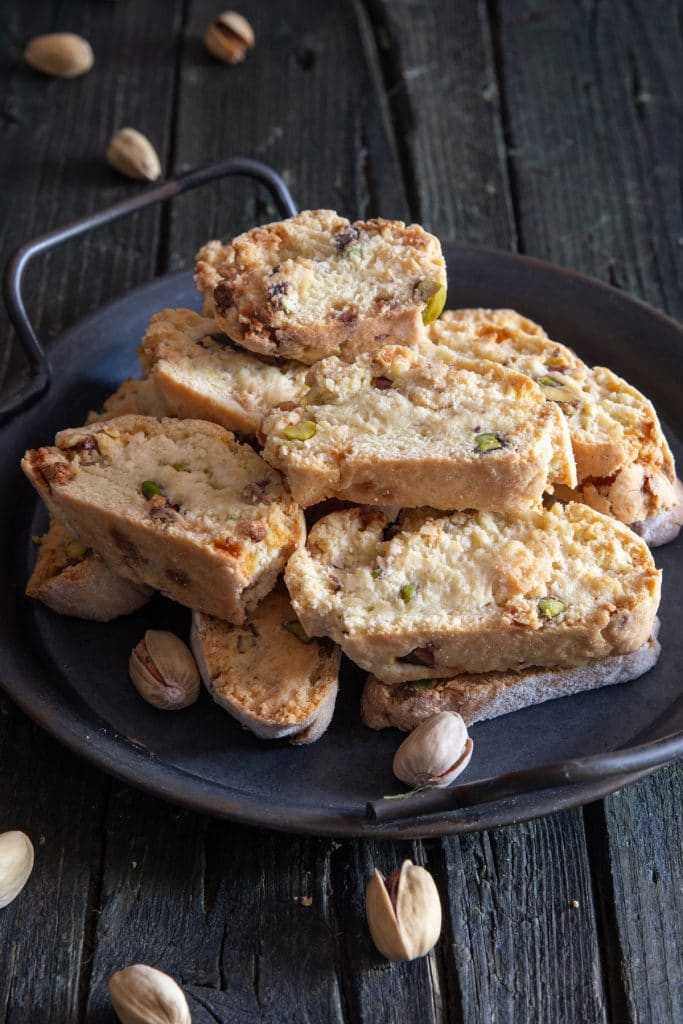 Biscotti is a general Italian word for cookies, but for many people around the world, it means oblong, crunchy cookies that are twice-baked. Every region of Italy has its own special biscotti and there are countless ways to make it.
This pistachio biscotti recipe is one of my personal favorites. They're nutty and not too sweet. The perfect cookie.
This is an easy recipe. You only need one bowl and some basic baking ingredients. The dough is easy to mix and then you shape it into a log. You will bake it twice – the first bake cooks the dough so you can slice it.
Then you bake the slices again so they dry out and turn crunchy. The texture makes them great for gifting because they keep for several weeks at room temperature.
And, if you can believe it, they're not just for dipping into your hot coffee. Many Italians enjoy their biscotti with wine, so feel free to enjoy these cookies morning, noon, and night.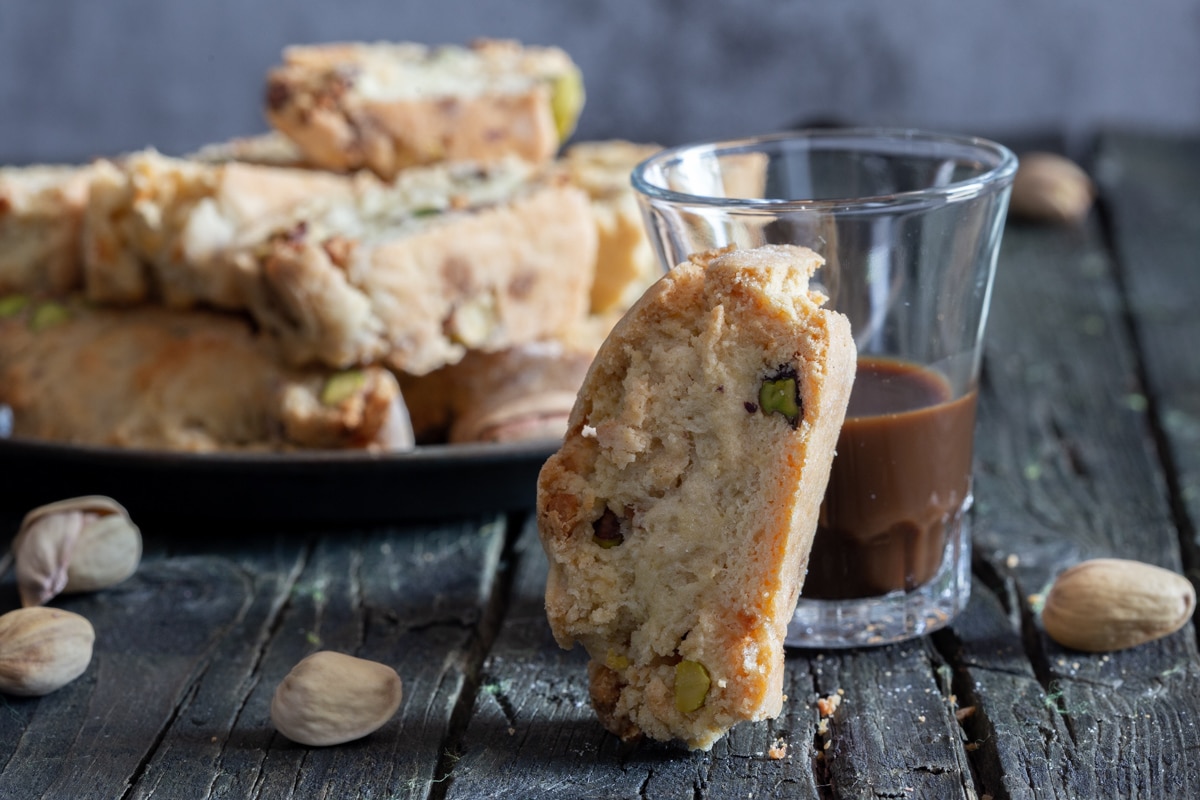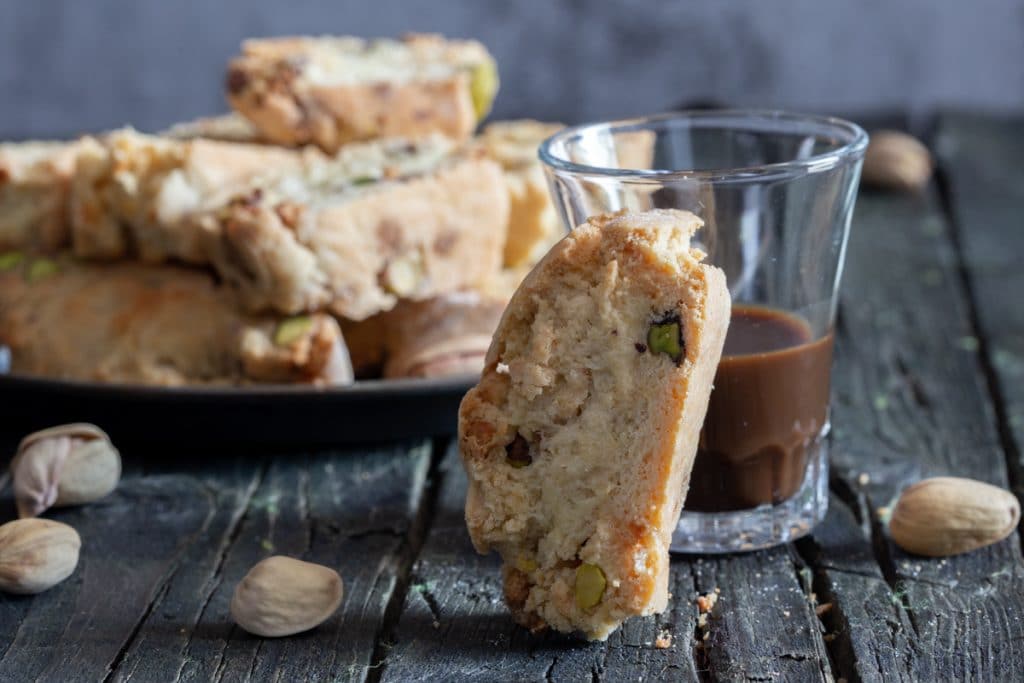 Ingredients
All-purpose flour
Large egg
Vanilla
Granulated sugar
Pinch of salt
Softened salted butter
Baking powder
Chopped pistachios – raw unsalted pistachios
Other Mix-Ins
Sometimes I add orange zest to this recipe for a different flavor.
You can also reduce the nuts by half and substitute white chocolate chips, dried cranberries, or chopped dried cherries for the other half.
The amounts for these ingredients are in the recipe card in case you want to try these variations.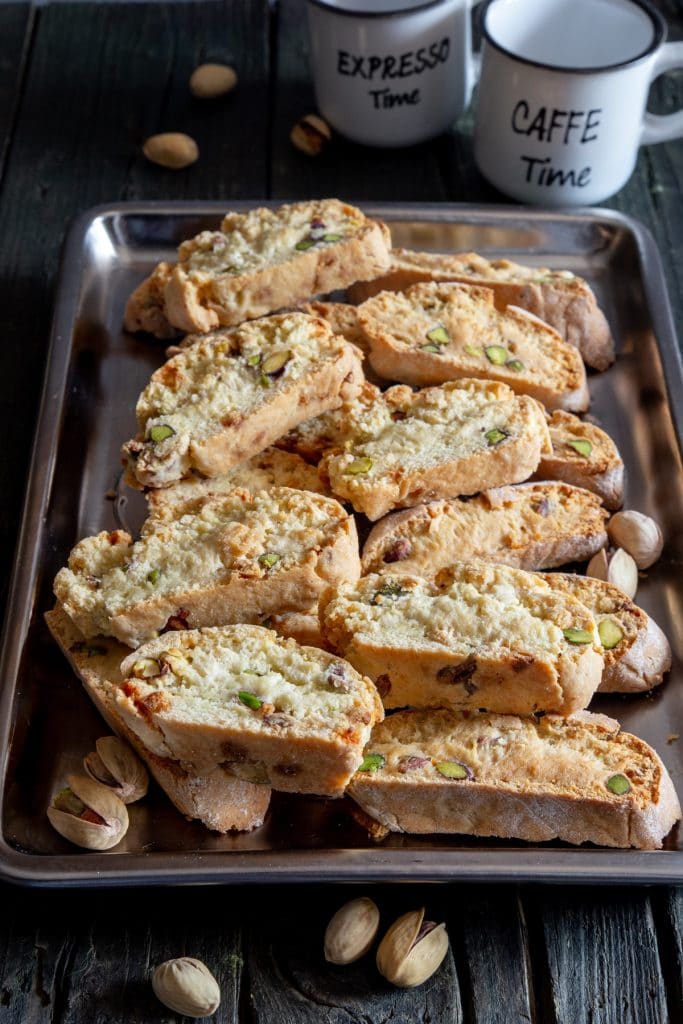 Instructions
Whisk the flour, salt, and baking powder in a medium bowl. Make a well in the center of the dry ingredients and place the sugar, butter, egg, and vanilla in it.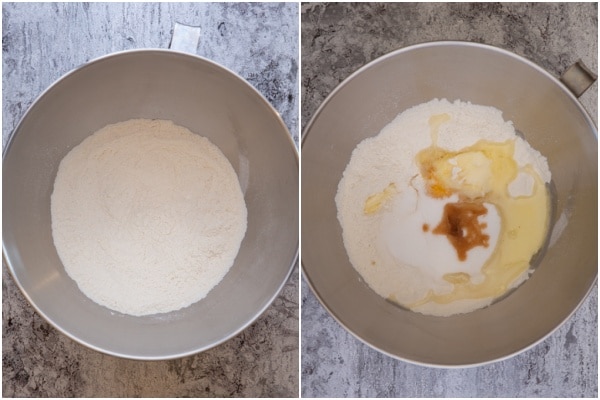 Use an electric mixer to stir the ingredients just until the mixture is combined. You can use a handheld mixer or a stand mixer fitted with a paddle attachment. Mix in the chopped pistachios.
If your dough is dry, add up to two tablespoons of milk one at a time.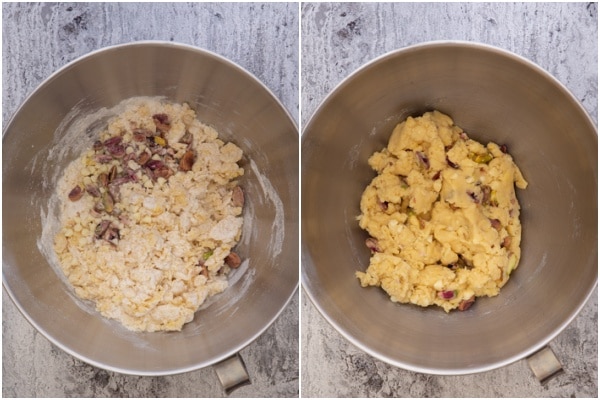 Place the dough on a large cutting board and shape it into a log approximately 2 1/2″ (6 cm) wide. Place it on a baking sheet lined with parchment paper and bake it in a 350°F (180°) oven for about 20 minutes.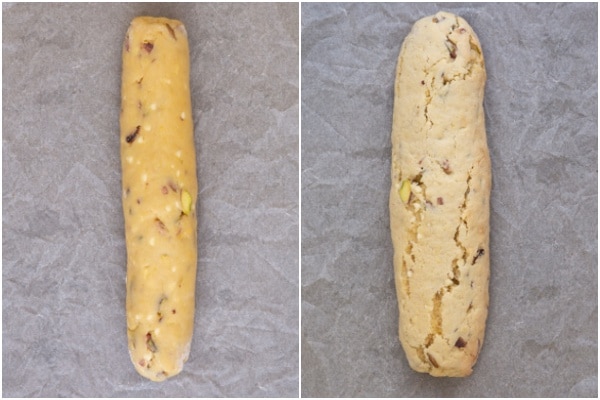 Take the pan out of the oven and cool the log for two minutes. Slice it into thin slices no wider than 1/4″ thick. A serrated knife makes this easy to do.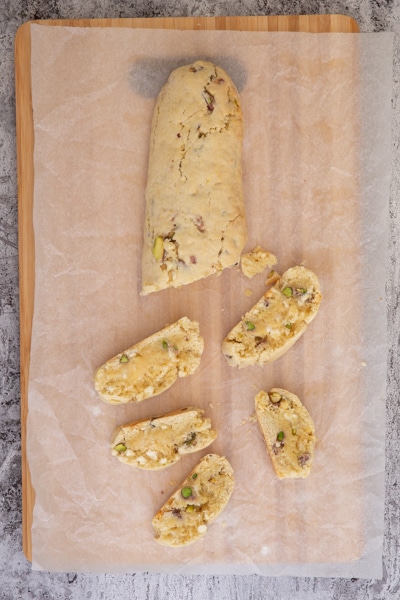 Place slices back onto the prepared baking sheet with the cut sides up and bake them for 15 minutes. Cool them on the pan for 10 minutes before placing them on wire racks to cool completely.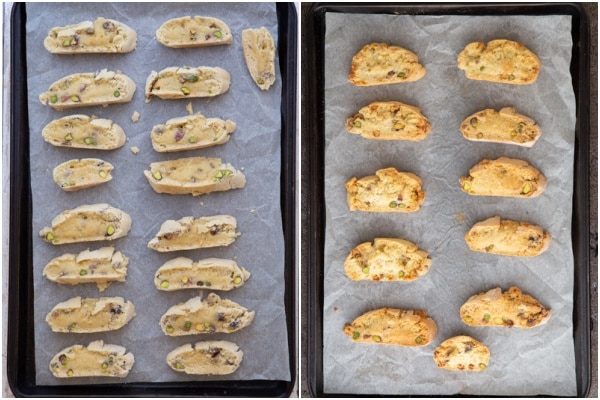 How to Store Homemade Biscotti
Once the pistachio biscotti are completely cooled, store them in an airtight container at room temperature. They will keep well for up to two weeks at room temperature.
Crunchy, lightly sweet, and nutty with the flavor of pistachios – these biscotti are an easy treat to make and share. I hope you give them a try soon – enjoy!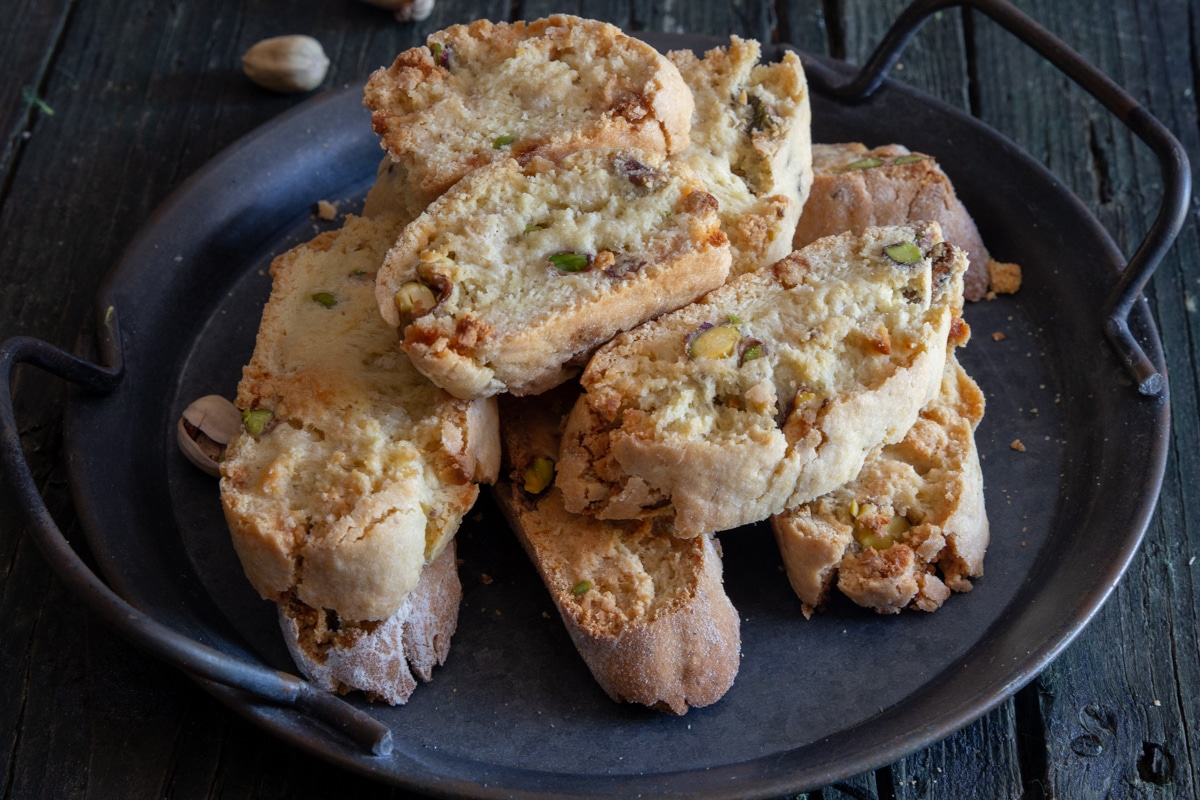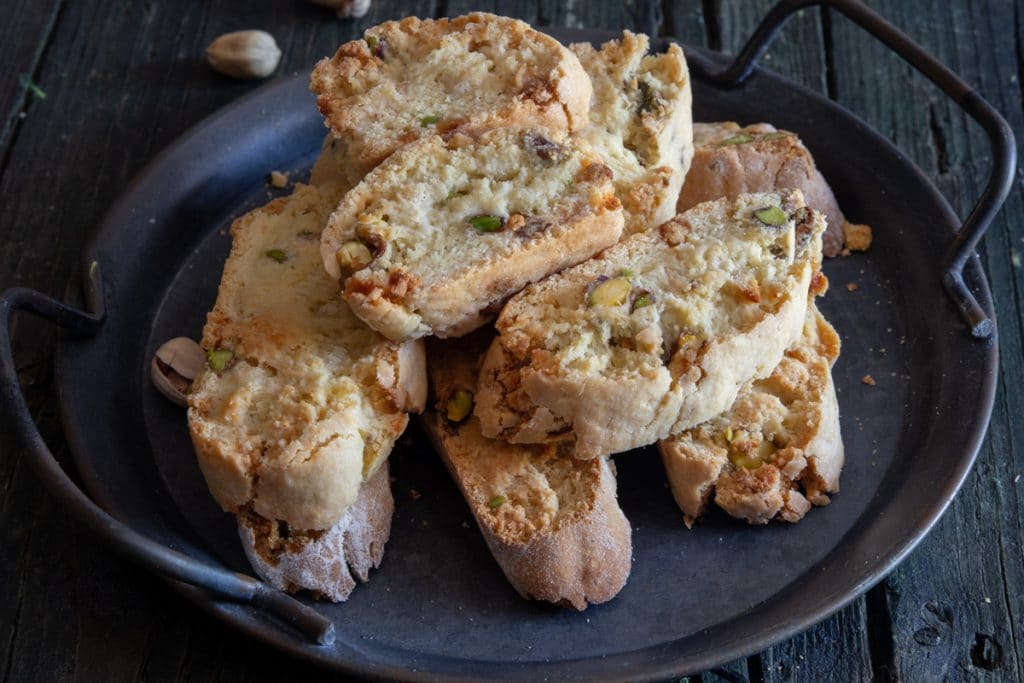 More Cookie Recipes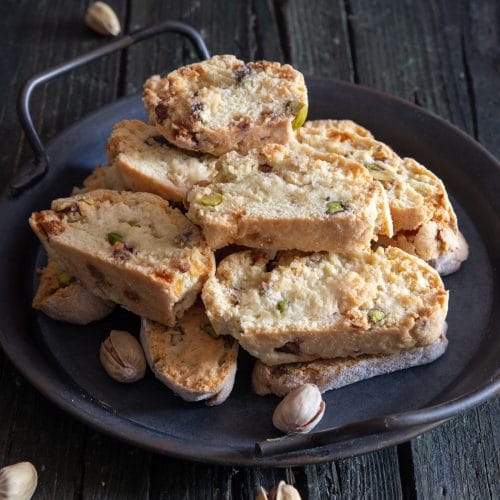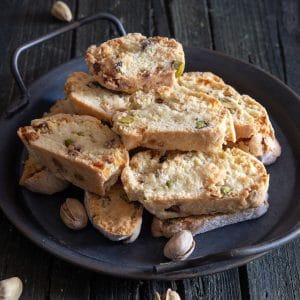 Italian Pistachio Biscotti
Pistachio biscotti are crunchy, nutty cookies perfect for dunking in coffee or tea. This recipe is made the Italian way, simple & delicious.
Ingredients
1½

cups

+ 3 tablespoons all purpose flour

(210 grams total)

1

large

egg

½

teaspoon

vanilla

¼

cup

+2 tablespoons granulated sugar

(75 grams total)

1

pinch

salt

3

tablespoons

butter (soft)*

½

teaspoon

baking powder

½

cup

chopped pistachios** (raw & unsalted)

zest

½ an orange (optional)
*If you use unsalted butter then add ¼ teaspoon of salt.
**or ¼ cup chopped pistachios and ¼ cup white chocolate chips.
Instructions
Pre-heat oven to 350F (180C). Line a cookie sheet with parchment paper.

In a mixing bowl whisk together the flour, salt and baking powder, make a well in the middle and add the sugar, butter, egg, zest (if using) and vanilla. Mix with the flat beaters until almost combined, then add the pistachios (or pistachio/chocolate chip mixture). If too dry than add 1-2 tablespoons of milk, a tablespoon at a time.

Move the dough to a flat surface and form into a log, about 2 ½ inches (6 cm) wide. Place it on the prepared cookie sheet and bake for approximately 20 minutes, remove from the oven, let sit 5-10 minutes then slice into thin slices (¼ -½ inch, I did some of each)place the slices cut side up back on the cookie sheet and bake again for 15 minutes. Let cool 10 minutes on the cookie sheet then move to a wire rack to cool completely. Enjoy!
Notes
If you wish you can substitute the sugar with honey, 1 for 1 substitution, just add 2 tablespoons extra of flour.
I made one recipe with just pistachios and zest and one with no zest but 1/2 pistachios and 1/2 white chocolate chips. We preferred the one without the zest.  Although both were very tasty.
Nutrition
Calories:
107
kcal
|
Carbohydrates:
14
g
|
Protein:
3
g
|
Fat:
5
g
|
Saturated Fat:
1
g
|
Polyunsaturated Fat:
1
g
|
Monounsaturated Fat:
2
g
|
Trans Fat:
1
g
|
Cholesterol:
12
mg
|
Sodium:
34
mg
|
Potassium:
74
mg
|
Fiber:
1
g
|
Sugar:
4
g
|
Vitamin A:
129
IU
|
Vitamin C:
1
mg
|
Calcium:
15
mg
|
Iron:
1
mg
Did You Make This Recipe?
Please leave a comment below or pin it to your Pinterest account!