A simple Yeast Bread recipe. Not only are these Homemade Double Cheese Buns topped with Cheese but the dough is also kneaded with more cheese, which makes these Cheese Buns soft and delicious. The perfect sandwich or dinner roll addition.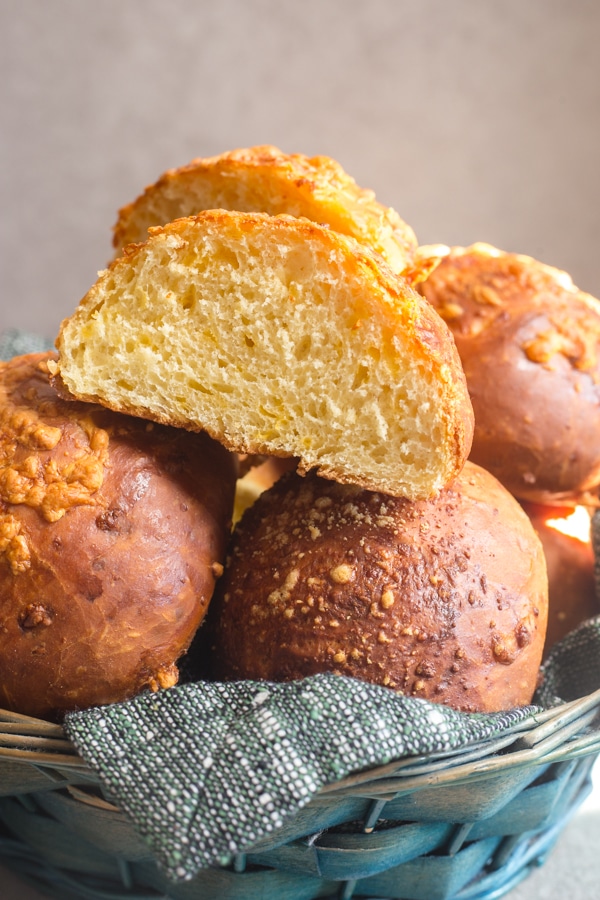 When I first came to Italy I have to admit I really missed Cheese Buns and Bagels. But in the last 10 years I have loved making yeast breads, and both Bagels and Cheese Buns have found a place on our Dinner table.
When I worked in Toronto, I would sometimes buy Cheese Buns, I loved what a delicious sandwich bun they make.
Ask me why it took me over 20 years to decide to make These Cheese Buns with double cheese now? and I'll answer you with:
I have no idea. I really like making my own Pizza Dough and my No Knead Bread are always a hit in my house. But anyway I did make them and they are way better than I remember. Because some of the cheese is worked into the dough which makes helps make these the softest buns. Nothing tough about these gems.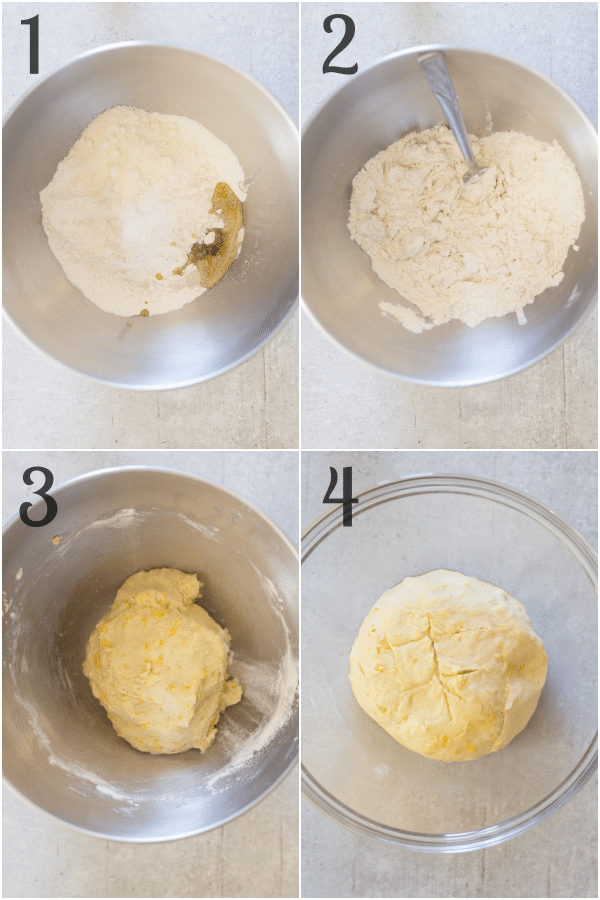 I think yeast dough has gotten a bad reputation, it really isn't so difficult! Actually I find it very relaxing. It is something you never need to rush, even if you let the dough sit for an hour or two extra like I did today, no problem it'll wait. Try doing that with cake batter!
And the truth is there is nothing quite like fresh Yeast Bread from the oven.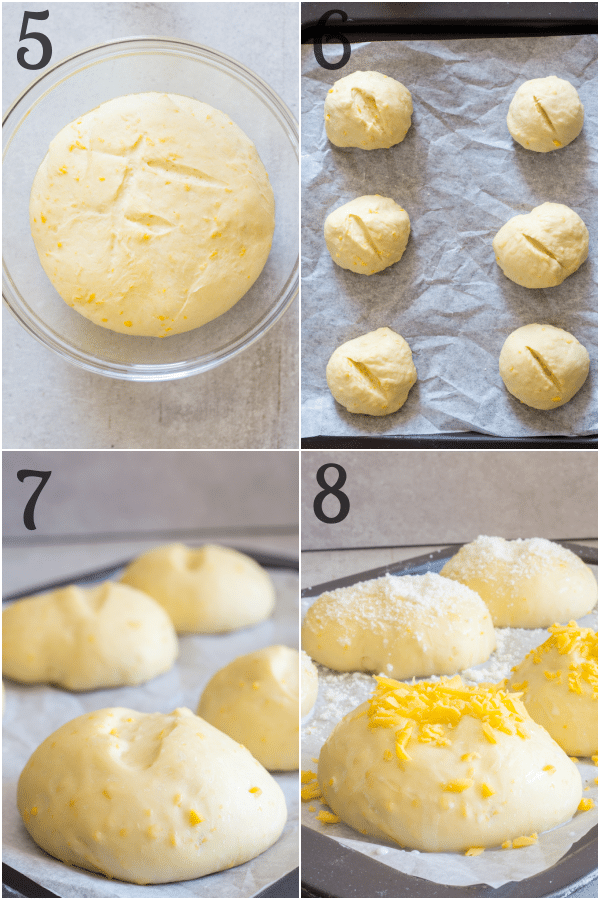 What Cheese to use
When I make these Cheese  Buns, I usually use an Italian Provolone, the medium/mild cheese not  the spicy kind (although that might not be such a bad idea!), and to be honest it is a fantastic cheese to cook with, you should give it a try.
If you can't find Provolone then a medium cheddar is a good substitute and of course I couldn't leave out my all-time-favourite Parmesan cheese.
You could probably also use Swiss, or a creamy Italian such as Fontal or even a firm Mozzarella, or why not just experiment with your favourites?
I have to say this has to be one of the easiest doughs to pull together, These Homemade Double Cheese  Buns may call for a few extra ingredients but it is basically mixed together in one bowl.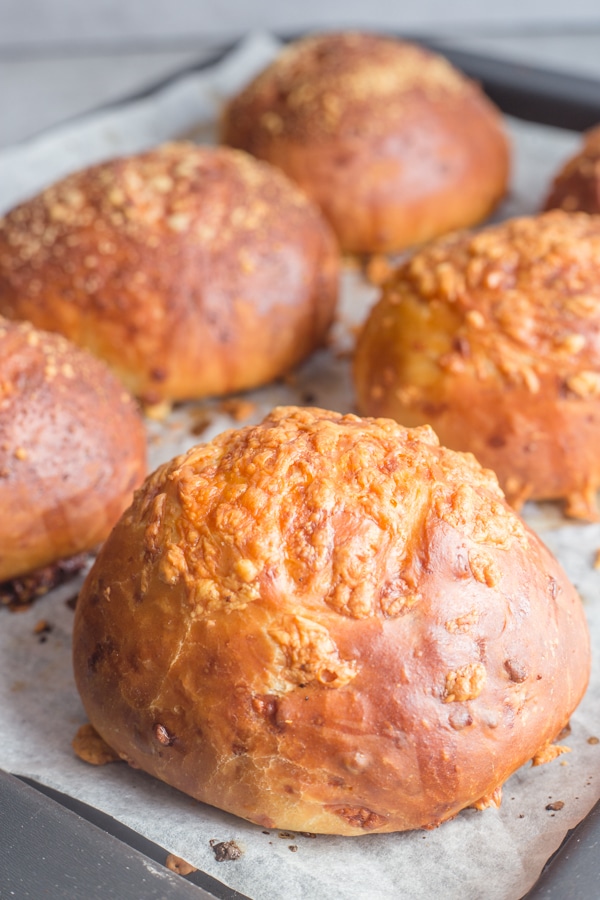 Helpful Hints on Making the Best Yeast Bread
Make sure your yeast is fresh, in a small bowl add 1/4 cup of warm water then add 1 teaspoon of sugar and 1  1/2 teaspoons of yeast. Wait 10 minutes. If the mixture bubbles, then the yeast is still good.
Make sure your water is warm, not hot and not cold. Cold water won't activate the yeast and hot water will kill it.
The perfect temperature for the water is 110-115F (43-46C).
If you hear a hollow sound when by tapping on the bottom of the bun then you will know the bread is done.
Believe me you need to make these and there will be no going back to store-bought cheese buns. Enjoy!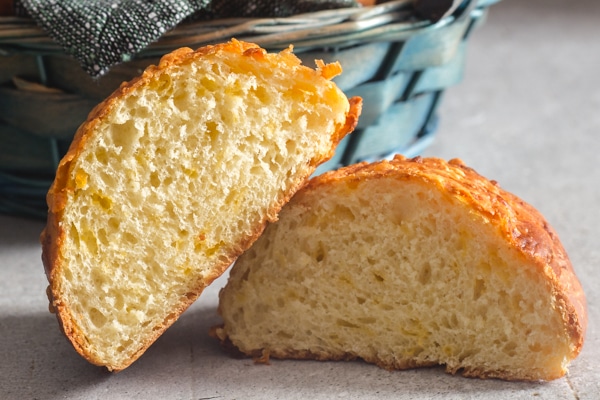 More Delicious Bun Recipes
Homemade Olive Oil Bread Rolls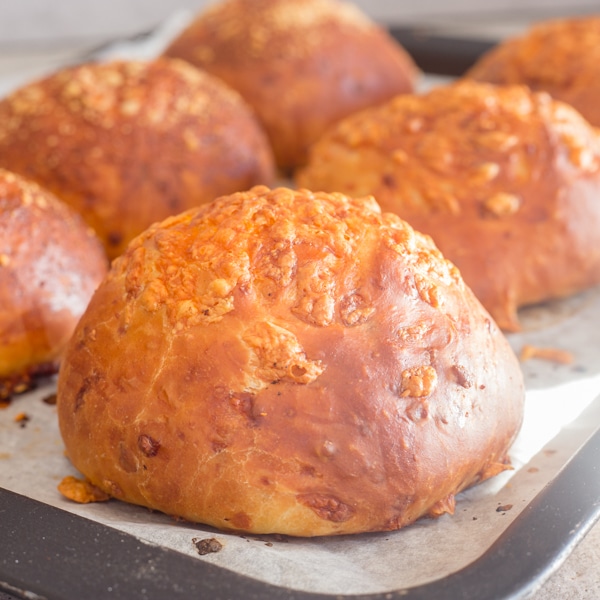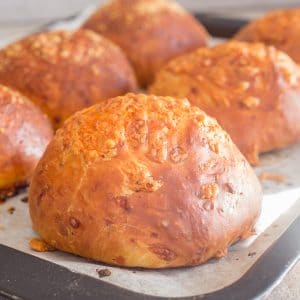 Homemade Cheese Buns with Double Cheese
The Best Homemade Double Cheese Buns, easy and perfect anytime, loaded with Provolone/Cheddar and Parmesan cheeses. No more store bought.
Ingredients
2

cups

+ 1 tablespoon flour

(268 grams)

1/4

teaspoon

salt

1

teaspoon

sugar

1

tablespoon

olive oil

1/2

cup

freshly grated Parmesan cheese (divided)

(50 grams)

1 1/2

teaspoons

active dry yeast

1/2

cup

+ 2 tablespoons warm water* (not hot) divided

(148 grams)

1

egg beaten

1/2

cup

grated mild Provolone cheese or Medium Cheddar Cheese

(50 grams)
*Ideal temperature is 110-115 F (43-46C)
TOPPING
1/4 - 1/2

cup

shredded Parmesan, Cheddar etc

(25-50 grams)
Instructions
In the bowl of a stand up mixer mix add the flour, salt, sugar, olive oil, 3 tablespoons Parmesan cheese (20 grams) and yeast then add a 1/4 cup of water (58 grams) then start to mix with a fork.

Then add the beaten egg, remaining Parmesan cheese and Provolone and remaining water. Combine with a fork just until the dough starts to come together. Then add the dough hook attachment and knead for approximately 5 minutes or until smooth and elastic. (see below for hand kneading instructions). Remove dough to a lightly floured flat surface.

Form the dough into a ball, place in lightly oiled medium-sized bowl (make a couple of slashes on top with a knife). Cover well (I use a folded tablecloth) and let rise in a draft free area for 1-2 hours or doubled in bulk. (mine actually sat for 3 hours).

Remove the dough from bowl and on a lightly floured flat surface knead dough a couple of minutes, shape into 6 bun shapes, score with a knife and place on a lightly oiled parchment paper lined cookie sheet, cover and let rise for 1 hour.

Pre-heat oven to 400° (200° celsius).

Brush buns with milk and sprinkle with additional Parmesan cheese or grated Provolone. Bake for approximately 30 minutes. Let cool or eat warm. Enjoy!
KNEADING BY HAND
Place 1 tablespoon of flour on flat surface, place the dough, start to knead, add 2 more tablespoons of flour, one at a time while continuing to knead. Knead until smooth and elastic.
Nutrition
Calories:
265
kcal
Carbohydrates:
34
g
Protein:
11
g
Fat:
8
g
Saturated Fat:
4
g
Cholesterol:
42
mg
Sodium:
301
mg
Potassium:
100
mg
Fiber:
1
g
Vitamin A:
200
IU
Calcium:
177
mg
Iron:
2.3
mg
Updated from May 22, 2015.