Vanilla Baked Donuts are so easy to make, the addition of Greek Yogurt makes these donuts soft and moist. Perfect plain or just as delicious with an easy Chocolate topping.
Either way these Chocolate Dipped Vanilla Cake Donuts are a tasty breakfast, snack or dessert recipe.
Vanilla Baked Donuts
Donuts! I thought donuts especially Baked Donuts would be a great way to celebrate my second blog anniversary, yes how time flies.
I also hoped you noticed An Italian in my Kitchen has a bit of a new look, what do you think? Do you like it? And well, it is almost Valentine's Day, so what the heck, donuts for everyone.
Ever since I first made cake donuts, Mocha Cake Donuts to be exact, I have been obsessed with them.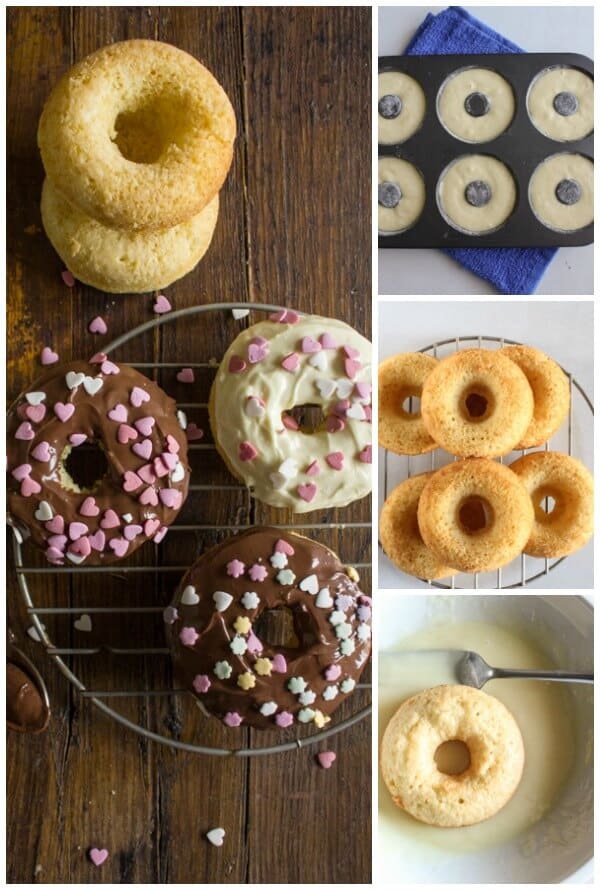 It doesn't help that the Italian eggs me on by letting me know that yes, my cake donuts are exactly what he was looking for, soft and absolutely yummy!
Or should I say, perfect for morning café-latte-dunking. My poor Vanilla Cake Donuts.
What makes Baked Donuts so soft?
The addition of milk and greek yogurt are what helps to make these donuts soft.
How long to bake Vanilla Donuts?
These donuts take no time to make, 20 minutes and you are eating donuts. Yummy soft, moist, baked Vanilla Cake Donuts.
Dipping them in melted white chocolate makes them just a little bit decadent or as the Nutella Queen said "Nutella"!!!
More Delicious Baked Donuts
Baked Apple Butter Cake Donuts with Maple Frosting
Zucchini Cake Donuts with Light Cream Cheese Frosting
Lemon Glazed Blueberry Baked Donuts
Vanilla Cake Donuts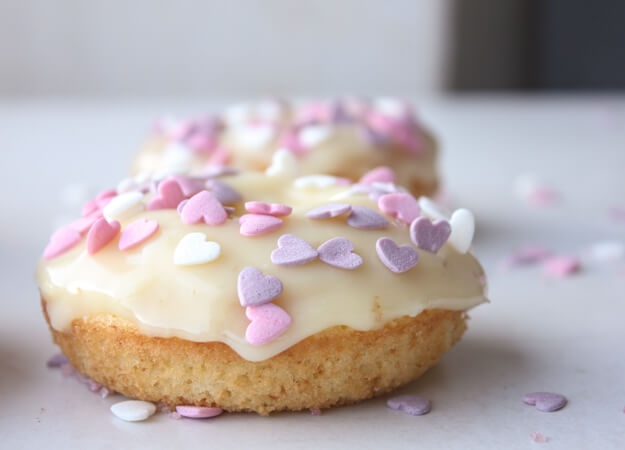 How to Temper Chocolate for Dipping
In a deep dish over a pot of boiling water (make sure the water does not touch the bottom of the dish). Add 1/2 of the chopped chocolate that you are using.
Heat until temperature reaches 122 F (50C), remove from the heat and add the remaining chopped chocolate, stir continuously until temperature reaches 89F (32C).
Your chocolate is now tempered and ready to use.
But if you don't like white chocolate or Nutella you can always substitute with melted dark or milk chocolate.
These Vanilla Cake Donuts are an easy and delicious Valentine's day treat or any day treat for that matter. Enjoy!
Chocolate Dipped Vanilla Baked Donuts
Easy Dipped Vanilla Cake Donuts, a fast easy delicious recipe. Dipping in some Chocolate or Nutella makes them extra yummy. The whole family will love these.
Ingredients
FOR THE DONUTS

1

cup

flour

3/4

teaspoon

baking powder

1/4

teaspoon

baking soda

pinch salt

1/3

cup

sugar

3

tablespoons

butter melted

let cool

1

egg

1/2

teaspoon

vanilla

3

tablespoons

greek yogurt

1/4

cup

+ 1 tablespoon milk

I use 2%

TOPPING

Melted white dark or milk chocolate, Tempering Chocolate**

Nutella place a bowl over boiling water and heat until reaches a thinner constituency

place a bowl over boiling water and heat until reaches a thinner constituency
Instructions
Pre-heat oven to 350° (180° celsius), grease and flour a 6 size donut pan.

In a small pot melt butter and let cool.

In a medium/large bowl whisk together flour,baking powder, baking soda, salt, and sugar.

In a medium bowl whisk together until combined, cooled melted butter, egg, vanilla, greek yogurt and milk.

Add wet ingredients to dry ingredients and mix just until smooth.

Pour batter into a pastry bag and fill the donut pan 3/4 full. Bake approximately 10 minutes. Let cool completely before dipping. (I use a frosting knife to help spread the chocolate or Nutella evenly over the donut), Top with sprinkles if desired. Enjoy
Nutrition
Calories:
191
kcal
Carbohydrates:
28
g
Protein:
4
g
Fat:
6
g
Saturated Fat:
4
g
Cholesterol:
43
mg
Sodium:
114
mg
Potassium:
106
mg
Sugar:
11
g
Vitamin A:
230
IU
Calcium:
50
mg
Iron:
1.1
mg
Republished from February 10, 2016.