Easy Baked Caprese Strudel made with fresh tomatoes, mozzarella and spices, so good, your new summer appetizer or main dish.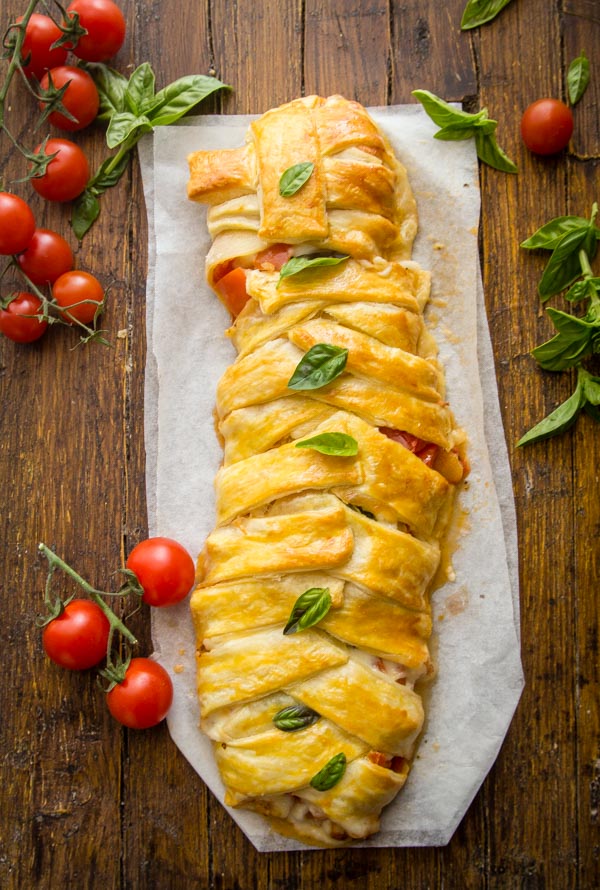 Here we are in an Italian Heat Wave and I'm still turning on the oven! Crazy I know, but this Caprese Strudel is so worth it.
A few weeks ago when I made my Hot Caprese Pasta, I mentioned to the Italian that I loved a warm Caprese, with melty cheese.
"I should do something else with this combination" and thanks to him and I guess an Italians' love for Puff Pastry, his idea was "Make a Strudel". So a Strudel it is.
The first thing I did was cook the onions and some chopped garlic in a little oil until transparent, then I added the tomatoes and spices and let that simmer for a bit.
I used a store bought Puff Pastry but my fast and easy Homemade Puff Pastry would work too, if you are feeling motivated.
Filled it with the Hot Caprese Filling and some shredded firm Mozzarella, folded the strips over, I then brushed it with an egg wash and baked it until golden.
Easy Baked Caprese Strudel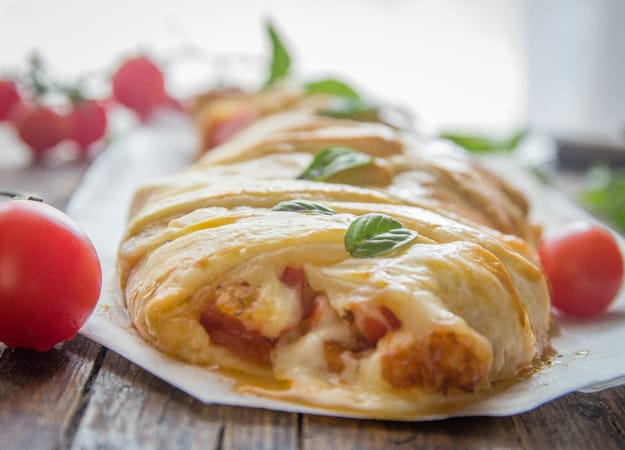 I let it sit for about 5 minutes while feeling some warm breath on my neck "Ma is it ready yet"?
I can't even tell you if it's good cold because this Caprese Strudel never had time to get cold not even room temperature. Buon Appetito!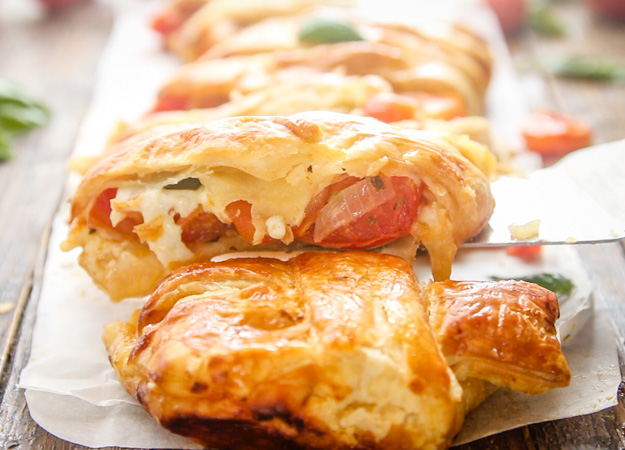 Some more delicious Strudel Recipes you may enjoy!
Homemade Cinnamon Apple Strudel
Strawberry Cream Cheese Strudel
Easy Baked Caprese Strudel
Easy Baked Caprese Strudel, an easy fresh vegetable summer appetizer or main dish, Italian recipe. Made with tomatoes, mozzarella & spices.
Ingredients
1

roll

Puff Pastry (if frozen, thaw)

1/2

onion chopped

1-2

cloves

garlic chopped

2

tablespoons

olive oil

2-3

medium to large ripe tomatoes chopped (seeded)

1

teaspoon

oregano

1/4-1/2

teaspoon

salt

1/2

teaspoon

basil

10

fresh

basil leaves

1/2

cup

firm mozzarella shredded (more if desired)

(56 grams)

1

beaten egg
Instructions
Pre-heat oven to 375°F (190°C), lightly grease a cookie sheet.

In a medium frying pan on medium heat, add oil, onion and garlic cook until onion is transparent then and tomatoes, salt, oregano and dried basil, simmer until soft and lightly browned. Remove from heat.

Roll puff pastry a couple of time with a rolling pin.

Spread the tomato mixture evenly down the middle, top with shredded cheese and some fresh basil leaves.

Make slits in the sides of the dough until you reach the filling (see video). Criss cross cut slits over mixture. Place on prepared cookie sheet.

In a small bowl beat together 1 egg and 1 tablespoon of water, brush top of pastry with mixture. Bake for approximately 20 - 25 minutes (until pastry is golden and baked). Let sit 5 minutes before cutting, top with fresh basil leaves, cut and serve. Enjoy!
Nutrition
Calories:
56
kcal
|
Carbohydrates:
1
g
|
Protein:
2
g
|
Fat:
4
g
|
Saturated Fat:
1
g
|
Cholesterol:
20
mg
|
Sodium:
101
mg
|
Potassium:
76
mg
|
Vitamin A:
320
IU
|
Vitamin C:
4
mg
|
Calcium:
39
mg
|
Iron:
0.3
mg