Thin Chocolate Cookie Layered Dessert, left over pie dough becomes the best fast and easy creamy dessert.
Last month we shared Hot Drinks, and I shared my recipe for Mulled Wine, this month we are sharing Chocolate Recipes, because isn't February all about chocolate?
And who doesn't like or need a little chocolate in their life?
Last week I shared a really tasty Chocolate Vanilla Panna Cotta Tart, which I made with one of our favourite Chocolate Pie dough recipes.
Since I had some dough left over I thought, "I could make cookies", but why stop there? So I decided to make them really really thin. To make it easier on yourself make sure you flour the surface and the rolling pin enough so that the dough doesn't stick.
And roll out the dough a little at a time, cut them out with your favourite cookie cutters and bake them. Since they are so thin they don't take very long to bake.
Thin Chocolate Cookie Layered Dessert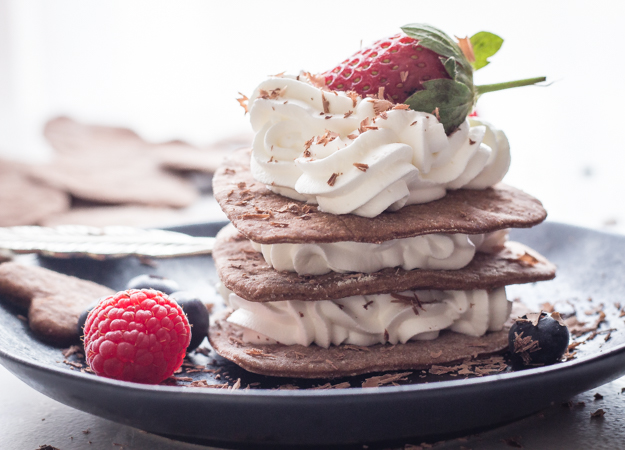 I let them cool completely then I filled them with a little stabilized cream and sliced fresh fruit. I found some strawberries, raspberries and blue berries and of course I used a few kiwis to make my husband happy.
These thin chocolate cookies made the perfect Cookie Layered Dessert and they were even pretty yummy on their own. So next time you have some left over dough, it might just make a delicious dessert. Enjoy!
Thin Chocolate Cookie Layered Dessert
Thin Chocolate Cookie Layered Dessert, left over pie dough becomes a fast & easy delicious dessert. Filled with whipped cream & fresh fruit.
Follow me on Youtube!
Watch the videos and don't forget to subscribe on Youtube!
Ingredients
FOR THE STABILIZED WHIP CREAM
1

teaspoon

gelatin

4

teaspoons

cold water

1

cup

whole or whipping cream

2

tablespoons

icing sugar
FOR THE CHOCOLATE PIE DOUGH
Instructions
Pre-heat oven to 350°F (180°C) Line one or two cookie sheets with Parchment paper.

FOR THE CHOCOLATE PIE DOUGH (click)

Roll dough out (a small amount at a time) on a floured flat surface, flour the rolling pin also. roll out very thin and cut with cookie cutters, place on cookie sheets and bake for approximately 5 minutes. Let cool completely, best to fill just before serving.
FOR THE STABILIZED WHIP CREAM
In a small pot combine gelatin and cold water, let stand for approximately 10 minutes or until thick, place over low heat, stirring constantly just until gelatin dissolves. Remove from heat and let cool (but not set).

In a medium bowl whip cream and icing sugar until soft peaks form, continue beating and add gelatin, whip on high until stiff.
PUTTING IT TOGETHER
Place one cookie on a plate tome with some whipped cream, fresh fruit, another cookie and repeat, place another cookie on top add whipped cream sprinkle with grated chocolate and fruit. Serve immediately. Enjoy!
Nutrition