Creamy Hot Chocolate With Whipped Cream Frozen Floats are the perfect Fall or Winter comfy Drink. A delicious Chocolate and Cream Recipe. And don't forget the Whipped Cream Floats.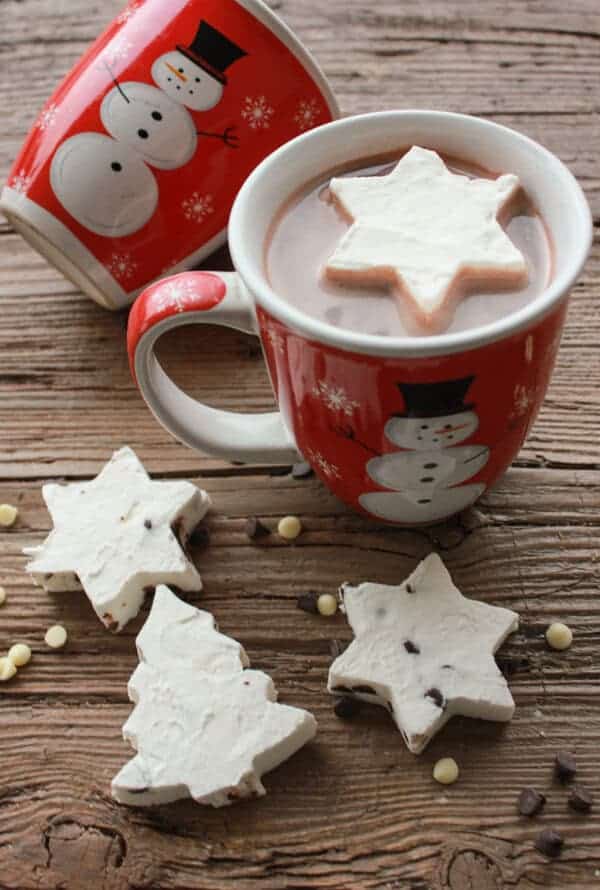 In the Fall I love steamy hot drinks, from Coffee to Tea to Hot Chocolate. This Creamy Hot Chocolate has become a Christmas tradition in our home.
Usually we will sit around on December 8th, which is the traditional day in Italy to put up and decorate your Christmas Tree and drink our steaming mugs of Creamy Hot Chocolate and eat some Christmas Cookies.
Unfortunately this year my eldest daughter won't be here to decorate the tree (sad face). But I will send her a steaming mug of Creamy Hot Chocolate With Whipped Cream Frozen Floats via Internet.
We used to top up our hot chocolate with a big dollop of fake cream from a can. The last few years I would whip the real stuff and it was delicious.
This year I decided I wanted to do something a little different. I remembered what my daughter from What Erika Wears made this summer, a modern version of Strawberries and Cream. So I thought I would do a Christmas version.
Creamy Hot Chocolate with Whipped Cream Frozen Floats
I whipped the cream until very stiff (watch it doesn't become butter), then I folded in some chocolate chips, I did half dark chocolate and half mint chips, spread it quite thick on a foil lined cake pan and I froze it for at least an hour or two.
Once you remove it from the freezer, if it is really solid then let it sit for a couple of minutes then start cutting it out with your cookie cutters. Place the cutouts back in the freezer until ready for enjoying with your Hot Chocolate. Enjoy!
Creamy Hot Chocolate
Ingredients
½

cup

+ 1 tablespoon unsweetened cocoa

(56 grams total)

½

cup

sugar

pinch salt

5

cups

milk (I used 2%) divided

1

cup

cream

½

teaspoon

vanilla
Instructions
In a medium saucepan whisk together the cocoa, sugar and salt, stir in a ¼ cup of milk to make a paste, whisk together until smooth, add remaining milk and cream.

Over medium low heat, whisking occasionally until tiny bubbles appear around the edge, remove from heat and add vanilla, whisking until smooth. Pour into mugs and top with mini marshmallows or whipped cream. Enjoy!
Nutrition
Calories:
480
kcal
Carbohydrates:
35
g
Protein:
9
g
Fat:
35
g
Saturated Fat:
22
g
Cholesterol:
124
mg
Sodium:
128
mg
Potassium:
459
mg
Fiber:
2
g
Sugar:
29
g
Vitamin A:
1365
IU
Vitamin C:
0.9
mg
Calcium:
308
mg
Iron:
1.1
mg