Easy Mulled Wine is the perfect combination of red wine, sliced apple, orange and delicious spices. All simmered together for the perfect cold weather drink.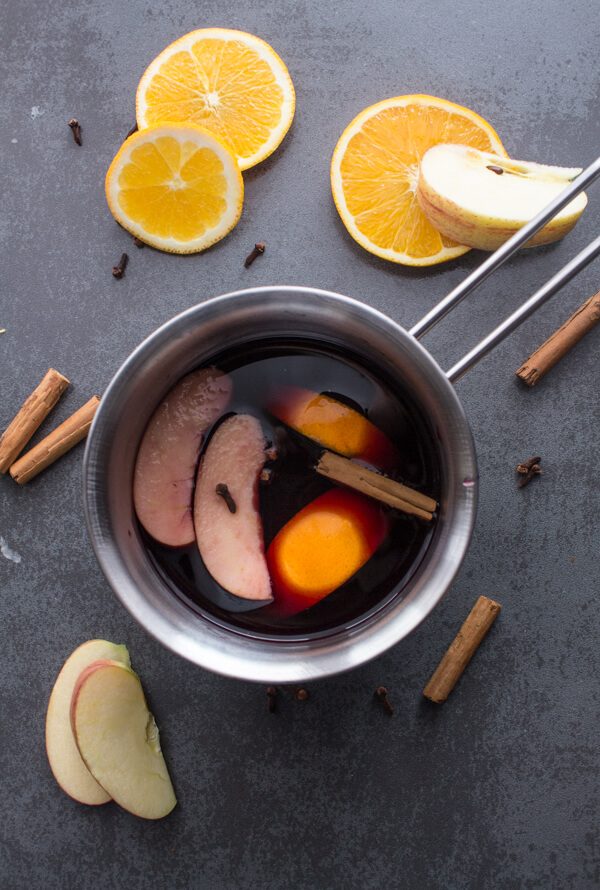 Yes we are back again for our monthly Tasty Creations! Last month I shared a delicious Chocolate Sugar Cookie Recipe perfect for Christmas and this month as we head straight into Winter we thought a nice hot drink would be perfect!
So this month I am sharing with you An Easy Mulled Wine Recipe.
I remember when I came to meet my husband's family many years ago, a week before we were to return to Canada I got the worst cold ever.
The weather was lousy, always raining, my in-law's house at the time was badly heated and I was always cold. So needless to say I was sick as hell.
So what was my mother-in-law's answer to this? Well she brought out her beat up old pot that was used just for her Homemade Mulled Wine and she made me a big mug full.
Actually she made a big pot full because of course everyone wanted a cup. She told me when she was 8 her father died, he was very young, and since she was the only girl of 7 brothers she would be the one to assist her mother in the care of the males, (what a surprise!)
Easy Mulled Wine Recipe
She never went to school, she pretty well lost her childhood, instead she learned to make pasta, wash clothes by hand, look after the farm animals and what ever else she would need to do.
But she never complained about this, she was very proud of her life and what she did and up until a while ago she continued that life for her husband and her kids. No matter how much you would tell her to stop and take a rest, she never would.
As she pulled out the pot and filled it with some homemade red wine, a dried fig or two, half an apple and orange, and of course some honey, she told me because they were so poor and they could not afford medicine they would pretty make their own medicine from herbs and spices and fresh fruit.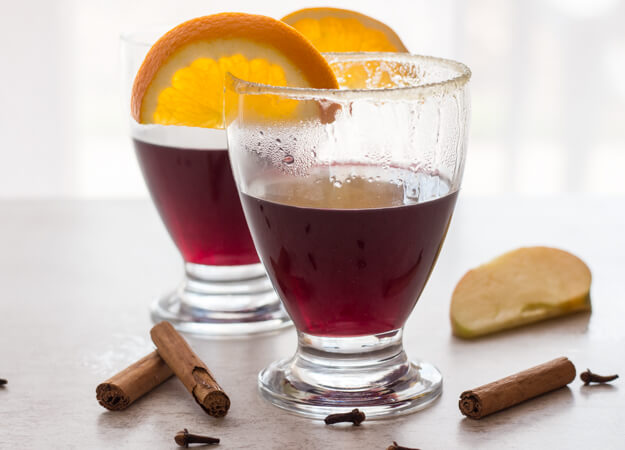 Her mother showed her how to cure a cold with Mulled Wine, I am not sure how much it cured my cold, but because of the warmth, strength and spiciness I am sure it made me feel better and sleep well.
So next time when you feel the start of a cold, instead of reaching for a pill or two brew up some Easy Mulled Wine. Enjoy!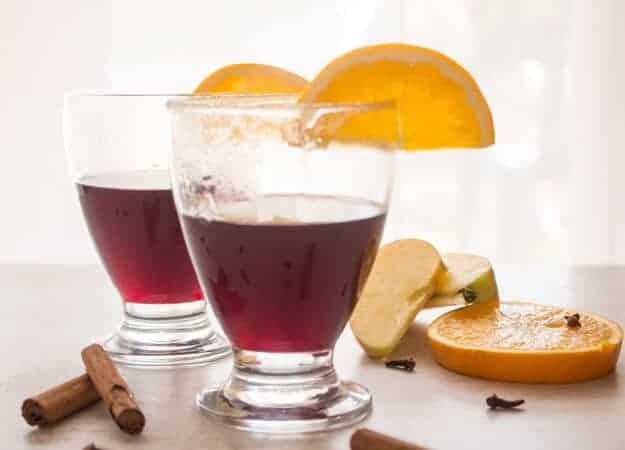 Easy Mulled Wine Recipe
Easy Mulled Wine Recipe, red wine simmered with slices of orange, apple, cinnamon, cloves, fig and honey. A delicious simple feel better drink.
Ingredients
1 1/2

cups

full bodied red wine

375 ml

1 -2

dried figs

2

apple slices

2

orange slices

1-2

cinnamon sticks

2-3

cloves

2

teaspoons

honey (more or less to taste)

14 grams
Instructions
In a small pot add all ingredients, heat on low for approximately 15-20 minutes (do not boil). Pour through sieve, add an orange slice to glass and Enjoy!
Nutrition