This Easy Tiramisu Recipe for Kids is simple easy and so delicious.  Made with an ingredient that kids and adults will love.  Creamy and so yummy this is the perfect Easy Kid Friendly Tiramisu.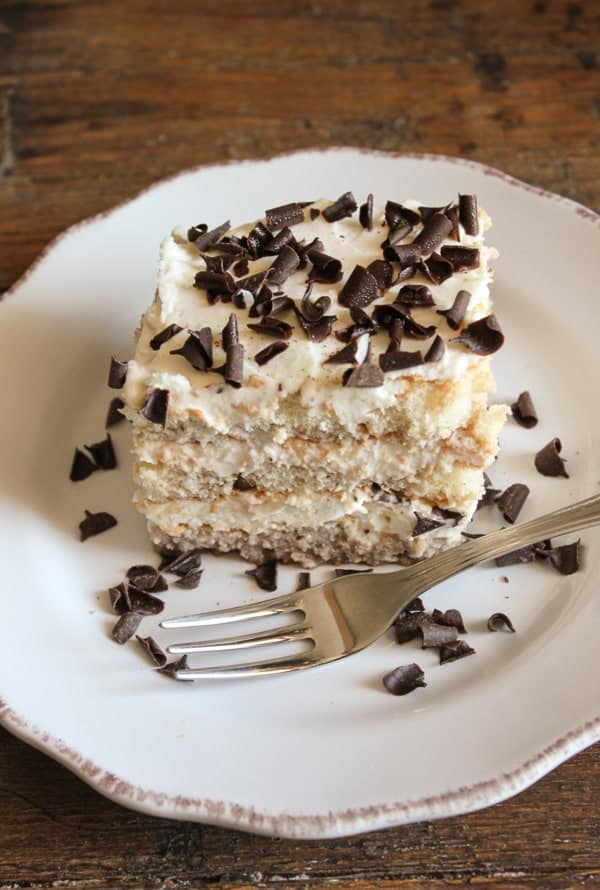 My questions are, can you really eat too much Tiramisu?  How many variations of Tiramisu are there out there?  Well, no and a lot.  I have made a few myself, from Easy Tiramisu to Strawberry tiramisu.
There is probably a Tiramisu Recipe for everyone.  Including this Easy Tiramisu Recipe for kids.
Tiramisu which in English is translated to mean Pick me up. A reference to the espresso coffee which is used in the original Tiramisu Recipe.  Personally I think this dessert is so amazing anyway it is created that it is a pick-me-up with or without the espresso!
The first time I tried this was a birthday party for my nephew.  My sister-in-law made the classic Tiramisu and another very delicate Tiramisu made with what I think is almost every kid's favorite, chocolate milk.
I make this Easy Tiramisu Recipe for kids even a little more kid friendly by not adding any eggs.  Just some creamy mascarpone and whole cream.  It's even better when you make it a three-layer-dessert.
Instead of dunking the Lady Fingers in strong coffee I dunk them in chocolate milk.  You can either make your own chocolate milk or purchase it pre-made.
Whip the cream and the mascarpone together until thickened, spread it on top of the lady finger base, sprinkle with chocolate flakes and continue with another two layers and of course don't forget the chocolate flakes.
Easy Tiramisu Recipe for Kids
In my opinion one of the best if not the best no-bake desserts.  Make it in the morning or the night before and refrigerate until the next day.  Perfection.
Never mind the kids this Easy Tiramisu recipe,  just might become everyone's favorite.  Enjoy!
As an Amazon Associate I earn from qualifying purchases.
Easy Tiramisu Recipe for Kids
The perfect Tiramisu Recipe for kids, no coffee or eggs.
Ingredients
21

lady finger cookies

1

cup

chocolate milk

250 grams

1

cup

mascarpone

250 grams

1

cup

whipping cream

240 ml

1 1/2

tablespoons

sugar

18 3/4 grams

1/4-1/2

cup

chocolate flakes or chips

25-50 grams
Instructions
In a medium bowl add mascarpone, whipping cream and sugar. Whip until thick.

In a medium bowl add chocolate milk, dunk

Lady Fingers

one at a time and add in a single layer in baking dish 7 1/2 x 6 x 2 1/4 inches (20 x 15 x 6 centimeters), 7 cookies to each layer. Spread with 1/3 of the cream mixture, sprinkle with chocolate flakes and continue with remaining 2 layers. Sprinkle top layer with chocolate flakes just before serving. Refrigerate at least 3-4 hours or better still over-night. Enjoy!
Nutrition