Lemon Tiramisu Cake, a homemade Angel Food Cake filled and frosted with a creamy Mascarpone Lemon mixture. No eggs needed!
I think you all know how much I love Lemons and I am happy to say so does the Italian. These past two or three weeks he has been very happy about what has been coming out of the oven or off the stove.
From Butter Tarts to now,  This Made from Scratch Lemon Tiramisu Cake
Instead of making a Tiramisu with either Lady Fingers or a typical Italian Sponge Cake, I decided to make it with a lighter Angel Food Cake. Yes homemade and no it isn't nearly has hard as you may think.
If you want, a store bought Angel Food Cake would work too and then it becomes No Bake also!
But what about this filling, it is a creamy Lemon Tiramisu filling besides being absolutely delicious, it's egg free.
I have actually made an Angel Food Cake a few times, but this time I thought I would do a Canada meets Italy Dessert, and yes the Italian and half Italian noticed.
"Tiramisu is made with sponge cake Ma" "Si, ha ragione (she's right)". "Yes I know experts, but sometimes you just have to change things up". "Be quiet and try it" .
Together now, "oh this is good".
So there you go, you don't always have to go by the book. Enjoy!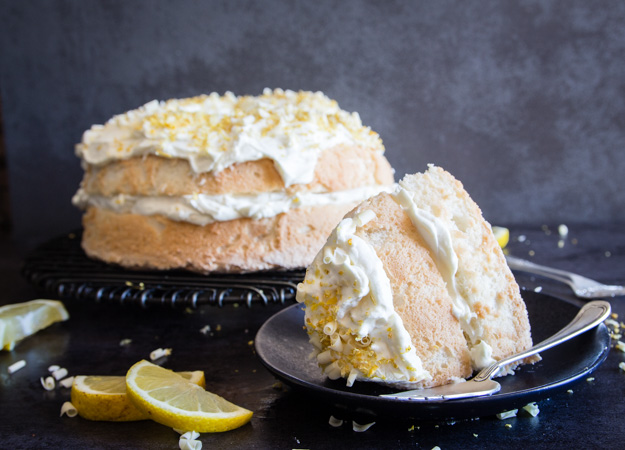 More Delicious Lemon Desserts
Toasted Coconut Lemon Ice Cream
Italian Fresh Cream Lemon Cake
Lemon Tiramisu Cake
Lemon Tiramisu Cake, white chocolate, whipped cream and mascarpone make this no egg Tiramisu Cake Recipe perfectly delicious.
Ingredients
ANGEL FOOD CAKE
1

cup

all purpose / plain flour

(120 grams)

1/4

teaspoon

salt

(1.4 grams)

1 1/4

cups

sugar (divided)

(281 grams)

8

egg whites (room temperature)

1/2

teaspoon

lemon juice

(2.36 grams)

1

teaspoon

vanilla

(5 ml)
LEMON SYRUP
1

cup

water

(250 grams)

1/2

cup

sugar

(100 grams)

juice of 2 lemons
LEMON TIRAMISU FILLING
1

cup

mascarpone (remove from fridge 30 minutes before using)

(250 grams)

1

cup

whole cream

(240 grams)

2

tablespoons

icing / powdered sugar

zest of 3 lemons (finely grated)
Instructions
ANGEL FOOD CAKE
Pre-heat oven to 350° F (180° C) Ungreased 9 inch (23 centimeter) tube pan.

Sift together flour, salt and 1/4 cup sugar 3 times.

In a large bowl beat egg whites, lemon juice and vanilla on medium speed until soft peaks form, gradually add the 1 cup sugar (a little at a time), continue beating until stiff peaks form (don't over beat).

Fold in flour (quarter cup at a time), gently fold until combined (do not over fold). Spoon into ungreased 9 inch tube pan. Gently cut through batter with a metal knife to eliminate air bubbles.

Bake for approximately 40-45 minutes, or until toothpick comes out clean. Cool in pan upside down. Remove from pan and slice in half through the middle. Drizzle bottom half with lemon syrup and top with half Tiramisu filling, repeat with top half. Sprinkle with white chocolate flakes and dried Lemon zest**. Refrigerate 4 hours or better still over night. Enjoy!
LEMON SYRUP
In a small pot mix together water, sugar and lemon juice, heat on a slow boil until sugar has completely dissolved and mixture has thickened slightly, approximately 10-15 minutes. Remove from heat and let cool completely.
LEMON TIRAMISU FILLING
Gently mix together mascarpone and lemon zest, add cream and sugar and beat until thick.
DRIED LEMON ZEST**
Grate 2 or 3 lemons, place zest on parchment paper and let dry over night.
Nutrition
Calories:
320
kcal
Carbohydrates:
39
g
Protein:
4
g
Fat:
15
g
Saturated Fat:
9
g
Cholesterol:
45
mg
Sodium:
101
mg
Potassium:
58
mg
Sugar:
30
g
Vitamin A:
555
IU
Vitamin C:
0.2
mg
Calcium:
42
mg
Iron:
0.5
mg