Frozen Yogurt Cake, a delicious healthy alternative to Ice Cream. Made with Creamy Greek Yogurt and dark chocolate chips. Chocolate Chip Frozen Yogurt Cake, the perfect Summertime Dessert.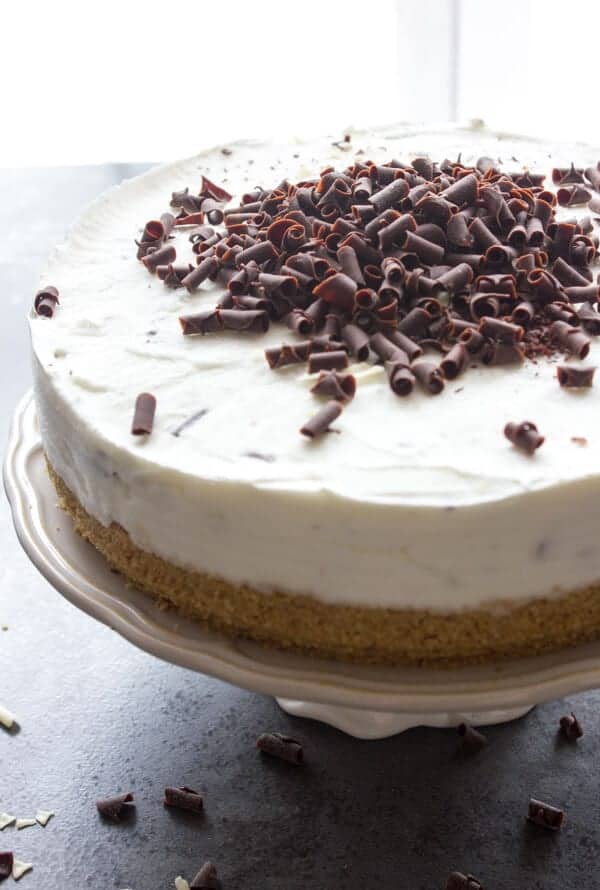 I am not a plain Yogurt lover, I do not like to eat yogurt straight out of the container, unlike the other members of my family who all love it. Although I really wish I did like it, it's one of those healthy grab out of the fridge kind of snacks.
Therefore it's a good thing I like to bake with it, it's amazing what you can make with some Greek yogurt. We all love this absolutely delicious,  fast and Easy Yogurt Cake, and this amazing No-Bake Berry Greek Yogurt Cake went over really well. And now I can freeze it and make this yummy Chocolate Chip Frozen Yogurt Cake.
Sometimes I will think (not very often though)! "Oh no enough with Ice Cream let's try something different craze" but I really really want the creaminess of ice cream, but not so much the calories, so I usually go for a frozen yogurt. I always loved a good Frozen Yogurt in Canada.
So I thought why not try making a Frozen Yogurt Cake, my husband loved the idea and my daughter decided that we needed to try a chocolate one. I have never seen chocolate yogurt in the grocery store here, but she assured me it was there.
So instead I decided on Chocolate Chip Greek Yogurt. I added a few more chocolate chips, just because, some cream and of course I made a graham cracker crust base.
To tell the truth you cannot buy graham crackers in Italy, so a great alternative is crushed Digestive Cookies, you may want to give that a try because believe me it is really good, I prefer it to a graham crust.
Chocolate Chip Frozen Yogurt Cake
Chocolate Chip Frozen Yogurt Cake, a healthy delicious no-bake Summer dessert recipe,made with a Graham Crust & Greek Yogurt.
Ingredients
COOKIE BASE
1 1/2

cups

graham cracker or Digestive cookie crumbs

180 grams

⅓

cup

butter melted

55 grams
YOGURT CAKE
1

cup

whole, heavy or whipping cream (at least 30% fat content)

200 ml

1

teaspoon

vanilla extract

2 1/2

tablespoons

powdered sugar

32 grams

1

cup

plain or chocolate chip Greek yogurt (whole fat)

250 grams

¼-⅓

cup

semi-sweet chocolate chips (regular or mini chocolate chips)

or more if you wish if you are using plain yogurt
EXTRAS
3-4

tablespoons

chocolate chips or chocolate curls
Instructions
COOKIE BASE
Mix graham cracker / cookie crumbs and melted butter, press down on the bottom of an 8 inch (20 cm) springform cake pan (or line a regular cake pan with plastic wrap or parchment paper). Place in refrigerator.
YOGURT CAKE
In a large bowl beat the cream and vanilla until soft peaks form, sift in the powdered sugar and beat until stiff peaks form, fold in the yogurt and mini chocolate chips,

Remove the cookie base from the fridge, spoon the yogurt mixture onto base, cover with plastic and freeze for approximately 3 - 4 hours or until firm. Let sit 10 minutes if very firm, sprinkle with chocolate chips or chocolate curls, cut and enjoy!

Remove the cake from the freezer, if it is too firm to cut, then let sit 5-10 minutes at room temperature, before serving, sprinkle the cake with chocolate chips or chocolate curls, cut and enjoy!
Nutrition
So if you are looking for a yummy Summer Dinner Dessert or an Afternoon get together and you want something other than an Ice Cream or a No-Bake Dessert I think you will find this easy Chocolate Chip Frozen Yogurt Cake the perfect choice. Enjoy!