Easy Salmon Burgers, fast and easy made with canned salmon, cracker crumbs, chopped celery and onions. Easy becomes delicious, especially when served with a little Greek Yogurt Dill Sauce.

I don't know if it is as hot where you are as it is here. I keep telling myself, "ok you can do this, only 4 more months to go." I have no idea why I so dislike the heat now, I used to love it.
Maybe because of all that snow and those below zero temperatures, I, like 36,000,000 other Canadians couldn't wait for the heat.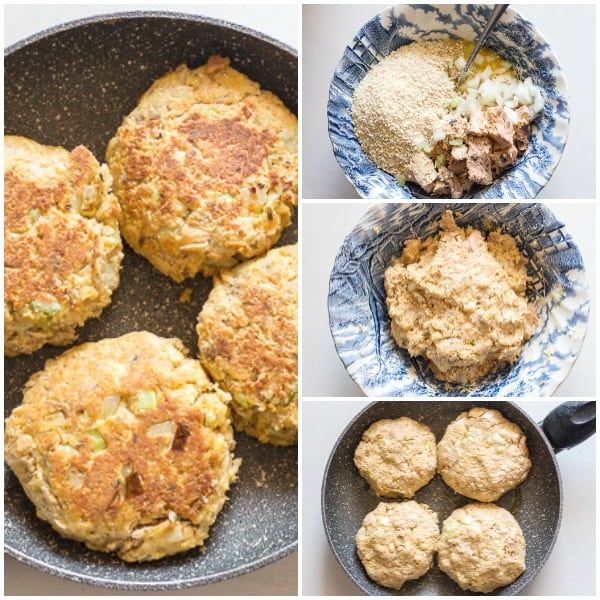 So when it is so hot or not so hot, but you want something fast and easy and sometimes a switch from those regular boring hamburgers. These Easy Salmon Burgers with this delicious Greek yogurt dill sauce could be the perfect choice.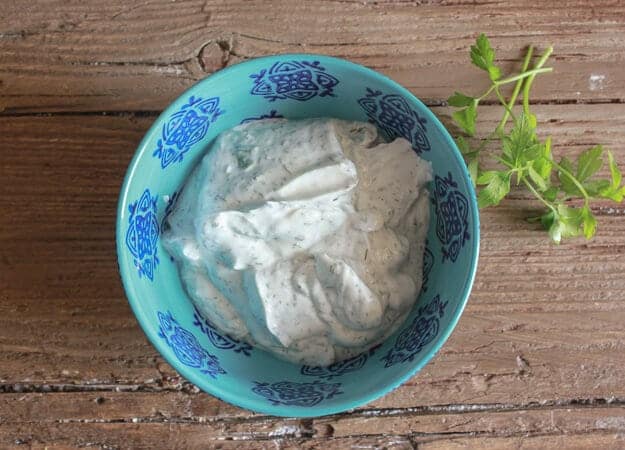 To tell the truth the Italian can't decide which he  likes better Salmon burgers or Tuna Burgers,  and he adored the Greek yogurt dill sauce.
I made these again for lunch today and when he bit into the Salmon Burger and said "Ottimo"!
 How to Make Salmon Burgers
In a medium bowl add 2 eggs and beat slightly.
Clean and flake the salmon, then add to the bowl.
Mix in a little less than one cup of cracker crumbs. I love using cracker crumbs rather than bread crumbs, I like the taste and that way there is no need for salt.
Add the chopped celery and onion,  mix it all together, and form into 4 – 6 patties.
Fry in a medium pan with a little olive oil until browned. So Good!


Easy Salmon Burgers
This was my Mom's recipe which she always used canned salmon for she also made an amazing Salmon Spread that we love. But finding canned salmon can be a little tricky here in Italy.
It took me 3 stores to find it this time. I hope I remember what store it was next time I need it! Funny how it is I can find Oreos easier than salmon!
I don't know who loves these salmon burgers more my family or George our cat? After I have cleaned and flaked the salmon, George gets the left-overs.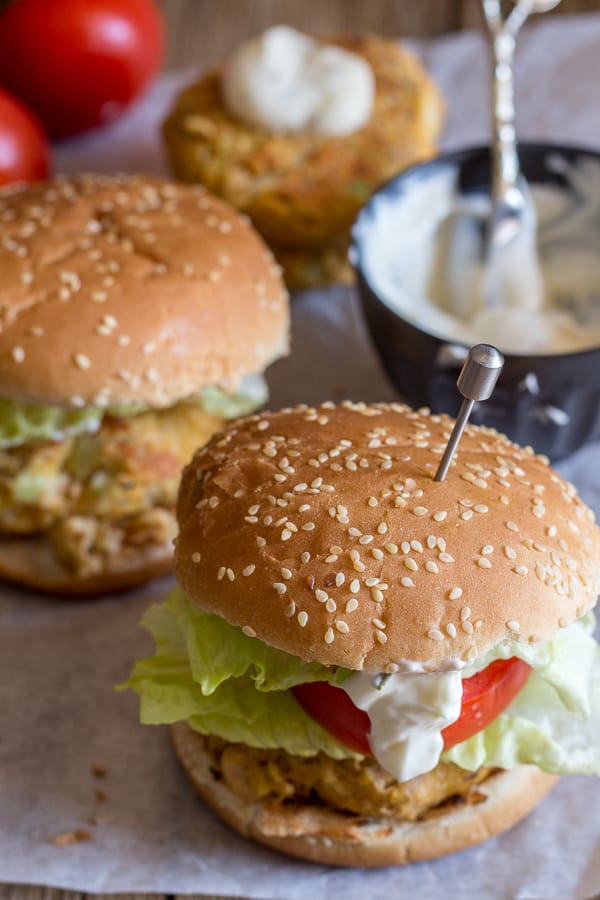 And boy does he guard his plate from the dogs. Funny how it is, those two dogs, Snoopy and Leone are deathly afraid of George. I laugh just thinking of those surprise attacks.
 More Recipes made with Salmon
Smoked Salmon and Rucola Appetizer
So whether you want to make these Salmon Burgers lighter without the bun or you decide Yup I want that bun, I hope you enjoy them! Oh and don't forget to toast the bun. Buon Appetito.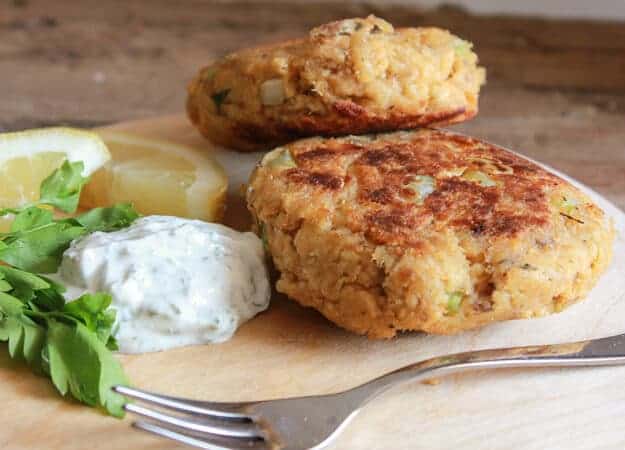 Easy Salmon Burgers
Salmon Burgers the perfect quick and easy lunch or dinner meal. Use canned salmon, serve with this delicious Greek Yogurt dill sauce.
Ingredients
FOR THE BURGERS

2

eggs

14

oz

of canned salmon

(drained cleaned and flaked), 453 grams

1

cup

cracker crumbs**

(saltine crackers)

1

stalk

celery

(chopped)

1/4

onion chopped

2

tablespoons

olive oil

GREEK YOGURT DILL SAUCE

2

shakes pepper

1 1/2

tablespoons

chopped fresh parsley

2

teaspoons

lemon juice

3/4

tablespoon

dried dill weed

3/4

cup

Greek yogurt
**I actually used just under a cup (maybe one or two tablespoons less), if it's very wet add more.
Instructions
GREEK YOGURT DILL SAUCE

In a small bowl using a whisk beat all of the ingredients together until combined. Cover with plastic wrap and refrigerate for at least an hour.

FOR THE BURGERS

In a large bowl, beat eggs slightly, add salmon, cracker crumbs, chopped celery and onion and combine well. Form 4-6 patties. (I made 4)

In a medium frying pan on medium-high heat, heat oil slightly, add patties and fry until browned on both sides (2-3 minutes each side). Serve immediately with chilled Greek yogurt dill sauce. Enjoy!
**If you want to make burgers, toast your buns first and serve with lettuce and tomato slices.
Nutrition
Calories:
333
kcal
Carbohydrates:
12
g
Protein:
30
g
Fat:
17
g
Saturated Fat:
3
g
Cholesterol:
166
mg
Sodium:
565
mg
Potassium:
486
mg
Sugar:
3
g
Vitamin A:
385
IU
Vitamin C:
4
mg
Calcium:
371
mg
Iron:
2.2
mg
Republished from June 10, 2015.