Italian Breakfast Cake, a delicious Ciambella made with Mascarpone and Chocolate Chips,  the perfect Breakfast, Snack or Dessert Cake.
I hate wasting food, as I am sure most of us do. I think living in Italy made me more conscious of that.
When I first came to Italy my in-laws had a couple of pigs and some chickens. So naturally any leftovers went to the pigs. Any old bread and wilted lettuce leaves went to the chickens.
Unfortunately no more pigs although my brother-in-law has chickens (nothing like fresh eggs, thank you brother-in-law)!
So when I saw the leftover Mascarpone in the fridge from my Lemon Tiramisu Cake, I new I had to make something. And that something was this Italian Breakfast Cake.
I can remember when we first got married and my mother-in-law made her Sponge Cake, well the Italian was super excited, "something I can dunk in my café latte in morning".
"Try it, it's delicious, ask my Mom for the recipe". Thinking it was something truly amazing, I took a piece and realized it was probably one of the driest cakes I have ever tried. That is probably the reason tiramisu was created. "We have to moisten the damn cake".
Yes Italians tend to like drier cakes and yes they even eat cake in the morning, sounds good to me.
For them the simple bundt cake known as a"Ciambella or Ciambellone" (Donut / Big Donut)sprinkled with Powdered sugar,  is the perfect addition to a café, espresso or even cafe latte.
Believe me in over 20 years I have tried a few drier than the Sahara-Desert-Italian-Cakes, hard to swallow when you only have a teeny weeny espresso.
But I have to say this Italian Breakfast Cake with Mascarpone and Chocolate Chips is not what I would consider  a dry Italian Cake.
My Italian Fresh Cream Lemon Cake is one my family's favourites and yes a little on the dry side. Although for us we don't consider it dry either.
So when I get comments saying "OMG it's so dry", my response should be … 1. You have no idea! and 2. Maybe a little, but it's Italian.
Happy Mother's Day, and why not share a slice and a cup of coffee with Mom. Enjoy!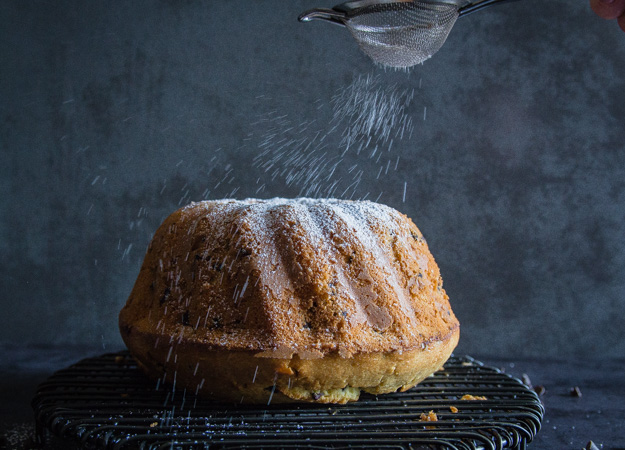 Other Delicious Breakfast Cakes You may enjoy.
Italian Glazed Mandarin Orange Almond Cake
Easy Marble Cake with Chocolate Ganache
Italian Breakfast Cake with Mascarpone and Chocolate Chips
Italian Breakfast Cake made with mascarpone and chocolate chips, the perfect Breakfast, Snack or Dessert Cake Recipe.
Ingredients
2 1/4

cups

+ 1 tablespoon flour

(300 grams)

1

cup

corn starch

(100 grams)

3

eggs (room temperature)

1

cup

sugar

(200 grams)

2/3

cup

+ 3 tablespoons mascarpone

(200 grams)

3/4

cup

+ 2 1/2 tablespoons milk

(200 grams)

2

teaspoons

baking powder

1/3

cup

butter melted (cooled)**

(70 grams)

1

teaspoon

vanilla

1/2

cup

mini dark chocolate chips

(100 grams)

1

pinch

salt
**If you using unsalted butter use 1/2 teaspoon of salt.
Instructions
Pre-heat oven to 340°F (175°C), grease and flour well a 10 inch (26 centimeter) bundt pan.

In a large bowl beat together eggs and sugar until pale and creamy, add mascarpone and combine, add vanilla, milk and melted butter and beat.

In a medium bowl whisk together flour, corn starch, baking powder and salt.

Fold flour mixture into wet mixture until combined well, fold in chocolate chips. Spoon into prepared bundt pan and bake for approximately 45-50 minutes or until tooth pick comes out clean and dry. Let cool completely, sprinkle with powdered sugar. Enjoy!
Nutrition
Calories:
359
kcal
Carbohydrates:
49
g
Protein:
5
g
Fat:
14
g
Saturated Fat:
9
g
Cholesterol:
68
mg
Sodium:
181
mg
Potassium:
175
mg
Fiber:
1
g
Sugar:
20
g
Vitamin A:
415
IU
Calcium:
98
mg
Iron:
1.5
mg
Recipe Adapted from Il Cucchiaio D'Argento