Italian Seafood Salad, an amazing appetizer that everyone will love, made with shrimp, mussels, calamari fresh veggies and some tasty olive oil. Serve with some Italian Crusty Bread to make this your new go to Appetizer.
If someone asked me what was my favourite antipasto/ appetizer was,  this Italian Seafood Salad would be it, hands down. Just ask my daughter, we always fight over the last bit in the bowl
Sometimes I think the perfect supper would be just 3 or 4 Amazing Appetizers with a side of wonderful Italian crusty bread.
Italian Seafood Salad would be on the table,  front and center and this is coming from a woman who is not exactly the greatest fish fan. But when I see this dish I am the first in line.
Filled with all the best seafood, shrimp, calamari and mussels, tossed with carrots, celery, olives fresh Italian parsley and olive oil.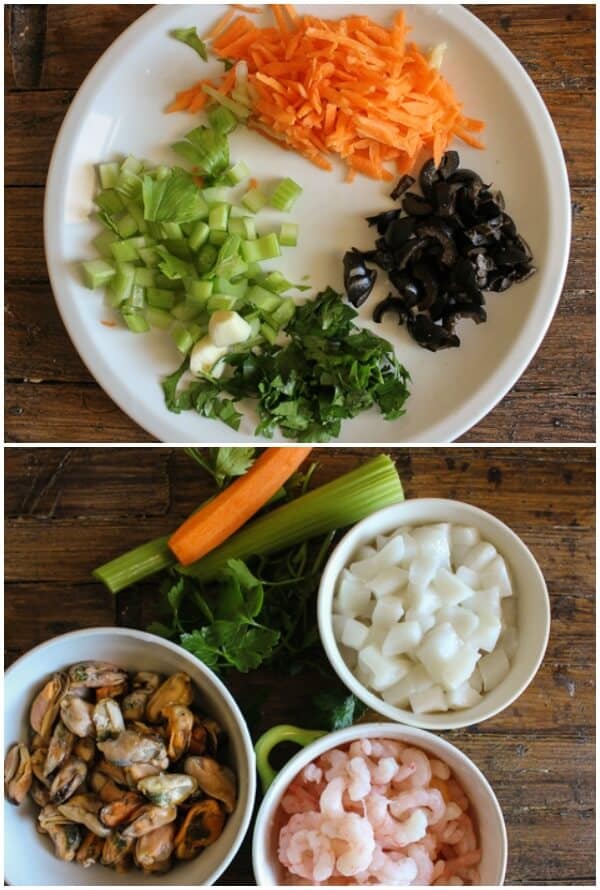 Just make sure you let it sit for a few hours  to get all those amazing tastes mingling. If you can wait long enough over-night would be even better, but we couldn't wait! We dove right in.
The Italian thought a pinch or two of hot pepper flakes and a dash, just before serving, of Balsamic vinegar were the perfect touches, and to tell the truth he was right! Sometimes he knows what he is talking about ;).
Italian Seafood Salad
I thought I would share this Italian Seafood Salad just before Easter as a lot of us will be serving a meatless Good Friday, with the emphasis on fish.
Most Italians will be sitting down to a Seafood appetizer,  a delicious Baked Trout , Roasted Potatoes, and of course you cannot forget a delicious Seafood Linguine.
So if you do plan on serving a few appetizers this would be a perfect choice and a delicious second choice would be Smoked Salmon or Grilled Peppers. Buon Appetito!
Italian Seafood Salad
Italian Seafood Salad, love seafood? Then this is the perfect seafood appetizer recipe for you! Fast, easy and so delicious.
Follow me on Youtube!
Watch the videos and don't forget to subscribe on Youtube!
Ingredients
1 1/4

cups

cleaned and cut calamari

250 grams, squid, I used fresh squid

1 1/2

cups

mussels (without the shell I used frozen mussels)

250 grams

1 3/4

cups

small shrimp cleaned (I used frozen shrimp)

200 grams

1

stalk celery chopped

1

carrot grated

5-6

black olives chopped

1/4

cup

Italian parsley chopped

8 grams

1/4

cup

olive oil

56 grams

juice from 1/2 lemon

JUST BEFORE SERVING

salt to taste

Balsamic Vinegar
Instructions
In a large pot of boiling water, boil for approximately 55-60 minutes the chopped calamari, remove to a separate medium-sized bowl with a slotted spoon, keeping the pot of boiling water add mussels and cook 10 minutes, remove to the same bowl with the calamari and add the shrimp to the boiling water and boil or 10 minutes, remove to the same bowl. Drain the fish in the medium-sized bowl a second time just to remove excess liquid and let cool.

Add chopped celery, grated carrot, chopped olives, chopped parsley , olive oil and lemon juice. Gently mix to combine well.

Refrigerate for at least 2-3 hours to combine flavours.

Before serving add extra olive oil (I added approximately 1/4 cup) add salt if necessary, and Balsamic vinegar if desired. (I added approximately 1/4 teaspoon salt and 1-2 tablespoons Balsamic Vinegar. Serve with crusty Italian bread. Enjoy!
Nutrition