Italian Seafood Linguine a delicious fast and easy Pasta dish. The perfect weeknight dinner dish. A fish lovers new favourite recipe.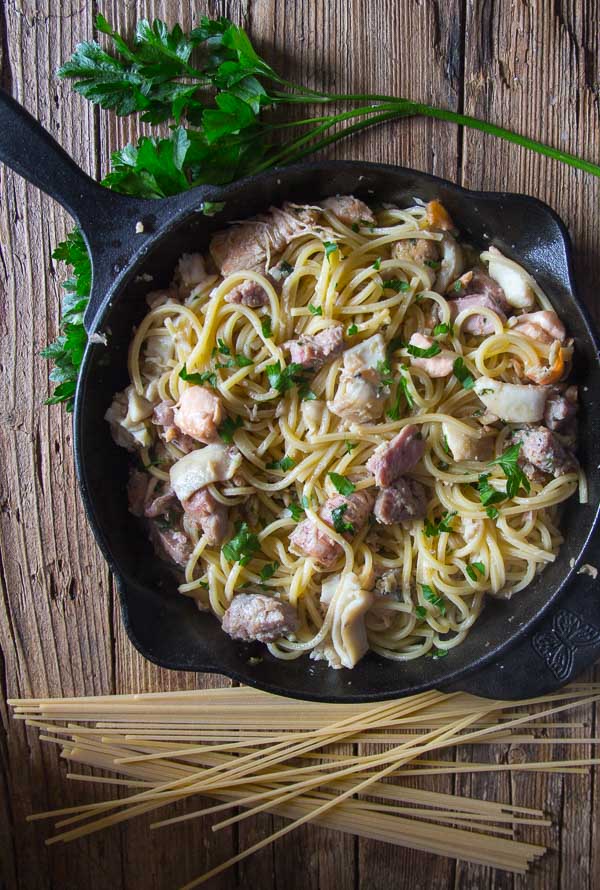 Seafood Linguine, one of our favourite pasta dishes. The perfect dish with friends or family.
If you have noticed I really don't have a lot of fish recipes, Grilled Salmon, Smoked Salmon Cream Sauce (that is a definite must try), Sautéed Shrimp and my Mom's Salmon Spread and a couple more.
So needless to say I am not the biggest fish fan, Italians love fish. But there are a few that are must shares, and this Seafood Linguine (or Spaghetti) is one of them.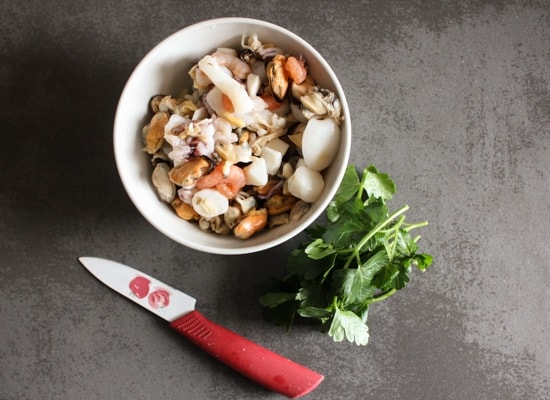 In the early days of my arrival in Italy I learned and tasted so many different pasta dishes my taste buds were jumping for joy every time they saw my mother-in-law put the big pot of water on to boil.
She made pasta with ingredients I would never even think to make. Spaghetti and Broccoletti (broccoli Rabe), Spaghetti e Alici (anchovies) to name but a couple and everything mouth-watering.
So when the plates of Seafood Linguine were served, I thought ok I will give it a try. And I have to tell you, Amazing!
Seafood Linguine
These are bite size pieces of fish. We use, some small shrimp, calamari (rings) cut into 3 pieces, mussels, clams, cut up pieces of haddock or cod (or a similar white fish) all tossed together in some olive oil with fresh parsley, simple and really fast.
While your seafood cooks, you can boil the linguine. Toss it all together and your Seafood Linguine is on the table in 20 minutes (if not sooner). Buon Appetito!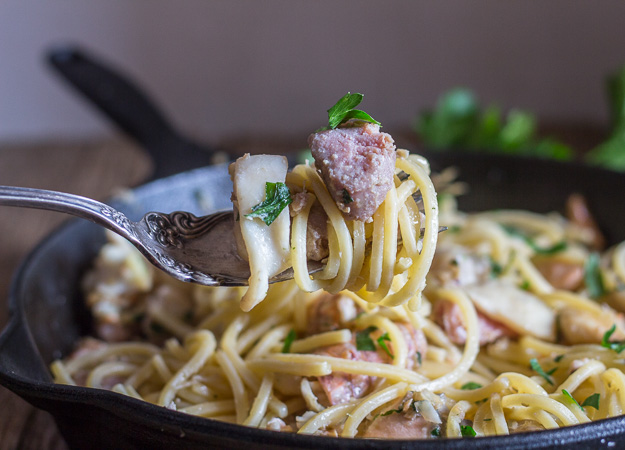 Italian Seafood Linguine
Seafood Linguine, an easy healthy Italian Pasta recipe, made with olive oil, fresh parsley and your favorite seafood.

Ingredients
2

cups

mixed seafood

(shrimp, clams, mussels, calamari rings, cod, haddock) calamari rings and haddock cut in small pieces)

1/4

cup

chopped fresh parsley

1/4

cup

olive oil

hot pepper flakes to taste

(if desired)

salt to taste

3

cups

cooked linguine or spaghetti

(dry pasta* not egg pasta)
Instructions
In a large pot of boiling salted water add linguine and cook al dent.

While pasta is cooking, in a large frying pan add olive oil, seafood, chopped parsley, hot pepper flakes and salt to taste. Cook on medium heat until fish is cooked.

Drain pasta (keeping 1/2 ladle of pasta water), add pasta to frying pan with pasta water, gently toss and cook for another 30-60 seconds, while tossing occasionally. Serve immediately, sprinkled with some chopped parsley. Enjoy!
Nutrition
Calories:
406
kcal
Carbohydrates:
33
g
Protein:
30
g
Fat:
16
g
Saturated Fat:
2
g
Cholesterol:
59
mg
Sodium:
64
mg
Potassium:
425
mg
Fiber:
2
g
Vitamin A:
315
IU
Vitamin C:
5
mg
Calcium:
25
mg
Iron:
2.4
mg
Republished from January 13, 2016.