If it's fall, it's time for pumpkin, and Pumpkin Fritters are a great way to use the fall squash. They are simple to make and so delicious hot and crispy from the pan. Serve them as an appetizer or side dish. You will love the flavors.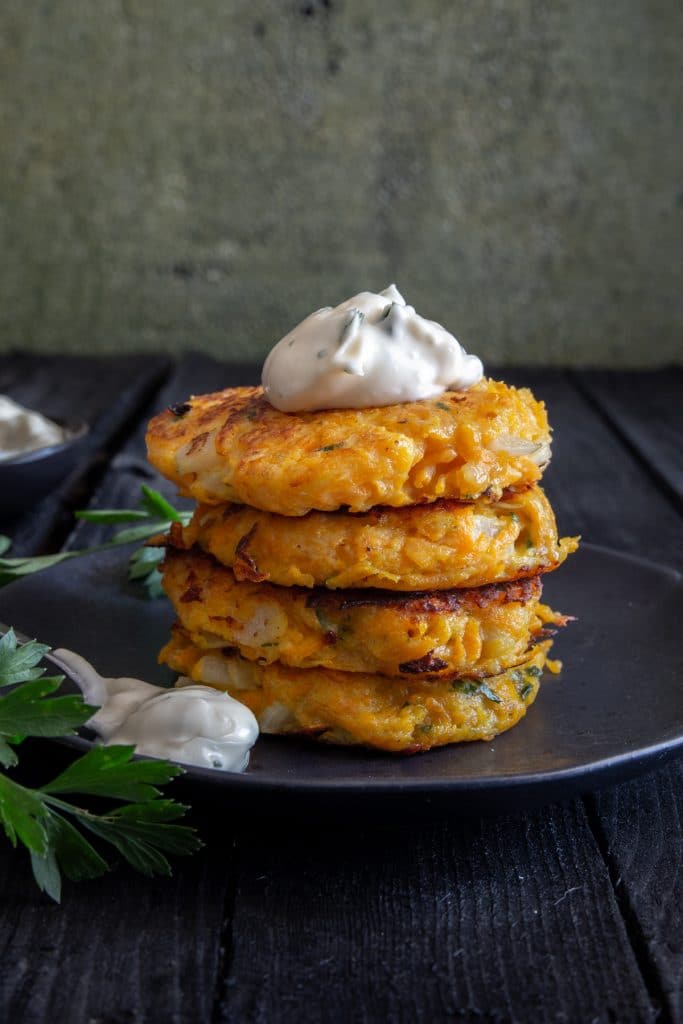 So many pumpkin recipes are sweet, but I love to use pumpkin to make savory dishes. The flavor is mild and pairs with many other flavors, so the possibilities are endless.
These pumpkin fritters are a great way to use, not just pumpkin, but any fall or winter squash. They're made just like potato fritters, but are a little lighter and flavored with Parmesan cheese and parsley. I like to add a little heat with some hot pepper flakes, too, but this is optional.
Not to mention, the color. It's perfect for the season.
Recipe Notes
What I love best about this recipe is that it's simple. You don't have to precook the pumpkin which saves so much time. Instead, all you do is grate it raw and then make the fritter patties.
Once you have your grated pumpkin, the prep time is quick. You just mix and then cook the patties.
You pan-fry them in just enough hot oil to turn them golden and crispy. I love to serve them with herbed mayonnaise on the side.
Because they are the best golden brown and hot from the pan, this recipe makes a small batch of fritters. Just enough for a side dish or appetizer for four to six people.
If you are serving more, you can easily double the recipe.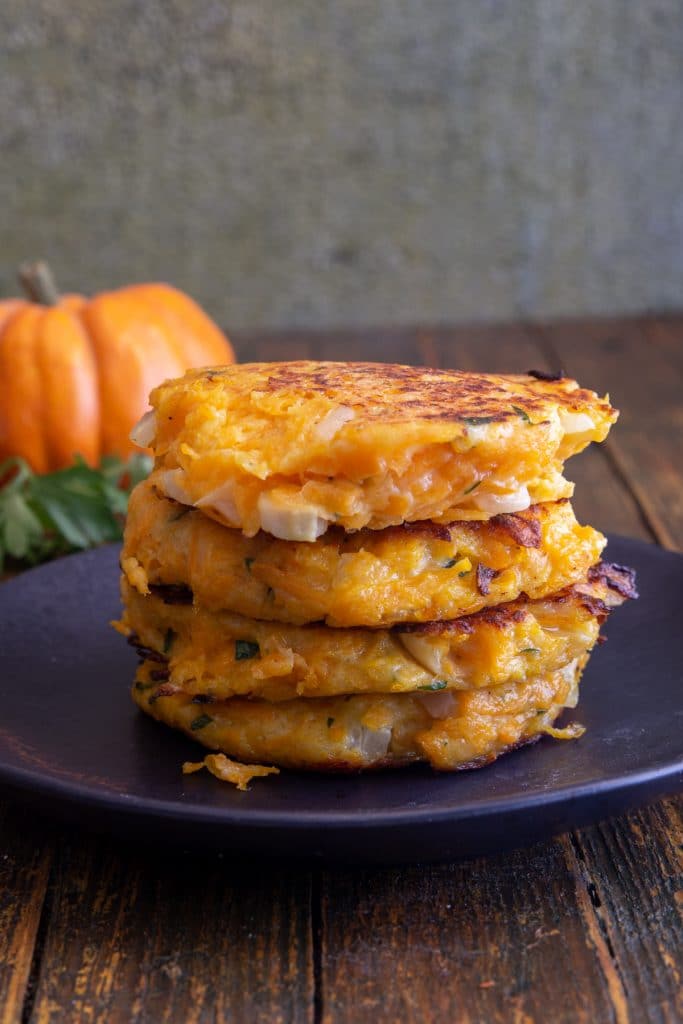 Ingredients
Grated squash
Chopped onion
Large egg
All-purpose flour
Freshly grated parmesan cheese
Salt
Hot pepper flakes – or you can use black pepper for less spice.
Parsley – fresh or dried parsley will work.
Olive oil – you can also use vegetable oil or canola oil if that's what you have on hand.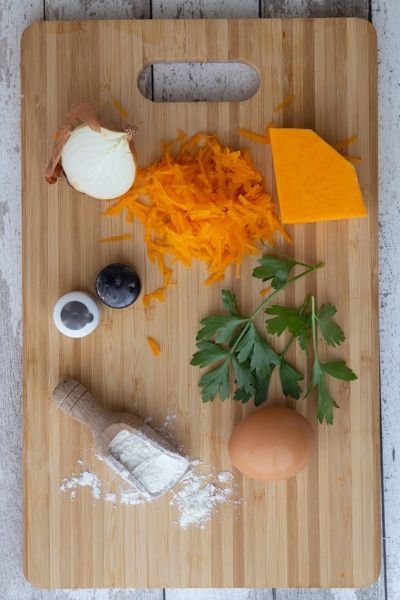 Recipe Instructions
Grate the pumpkin (just the flesh) with a box grater or you can use a food processor fitted with a grating disc. You will need two cups. If you use a squash with a lot of moisture be sure to squeeze out as much liquid as possible.
Combine the squash with onion, egg, cheese, flour, salt, pepper, and parsley in a large mixing bowl, stir it well.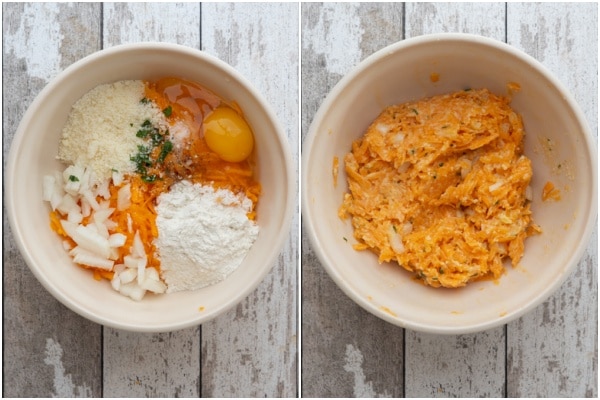 Form the pumpkin mixture into patties. I like to scoop it by spoonfuls and press each into a patty. You should have enough to make six fritters.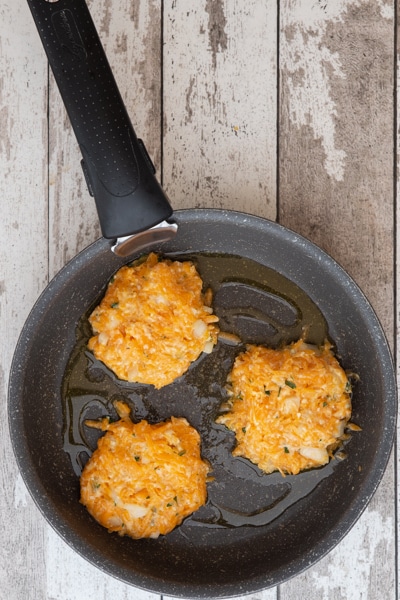 Heat the olive oil in a frying pan or large skillet over medium to medium-high heat. Place the patties in the hot pan and fry them until they are browned and crispy on both sides.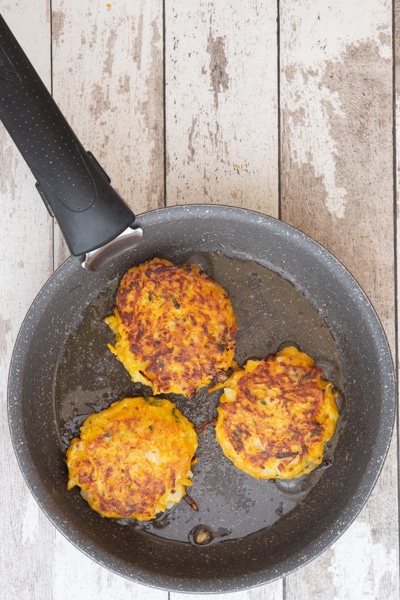 Transfer them using a slotted spoon or spatula from the pan to a plate lined with paper towels to drain and absorb any extra oil. Serve them right away while they are hot.
Substitutions
If you've never cooked with fresh pumpkins, look for sugar pumpkins or baking pumpkins at the grocery store. They are a lot smaller than the ones you carve and taste a lot better, too. I don't recommend using canned pumpkin puree for this recipe. It is too wet and will change the texture of your fritters.
For this recipe, you can use pumpkin or another type of fall and winter squash. Butternut squash works well and acorn squash would be delicious, too.
If you use fresh parsley, I recommend about one tablespoon chopped. If you substitute dried, use about one teaspoon.
You don't have to use parsley, any fresh or dried herb will work well so feel free to experiment.
If you love fall spices like nutmeg, cinnamon, allspice, and cloves feel free to a little to give them a different flavor. A pumpkin pie spice mix would also work. Just be careful not to add too much otherwise they will taste more like dessert.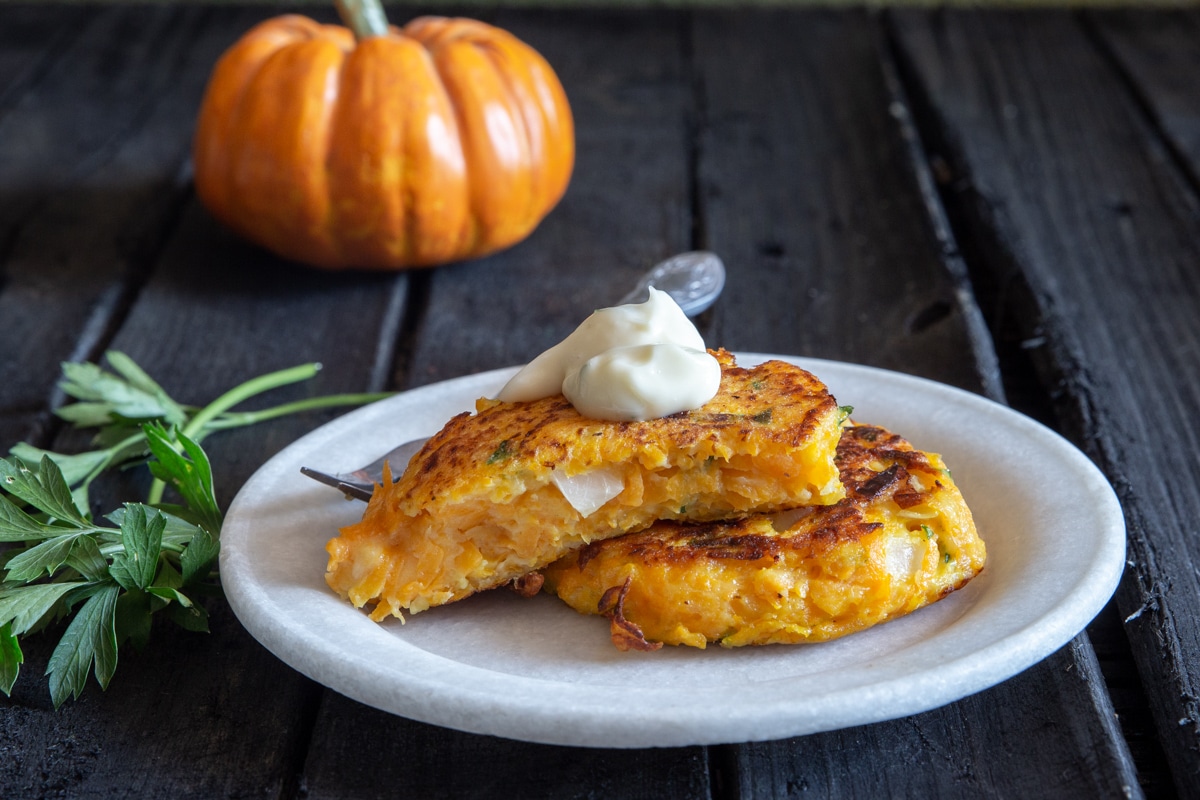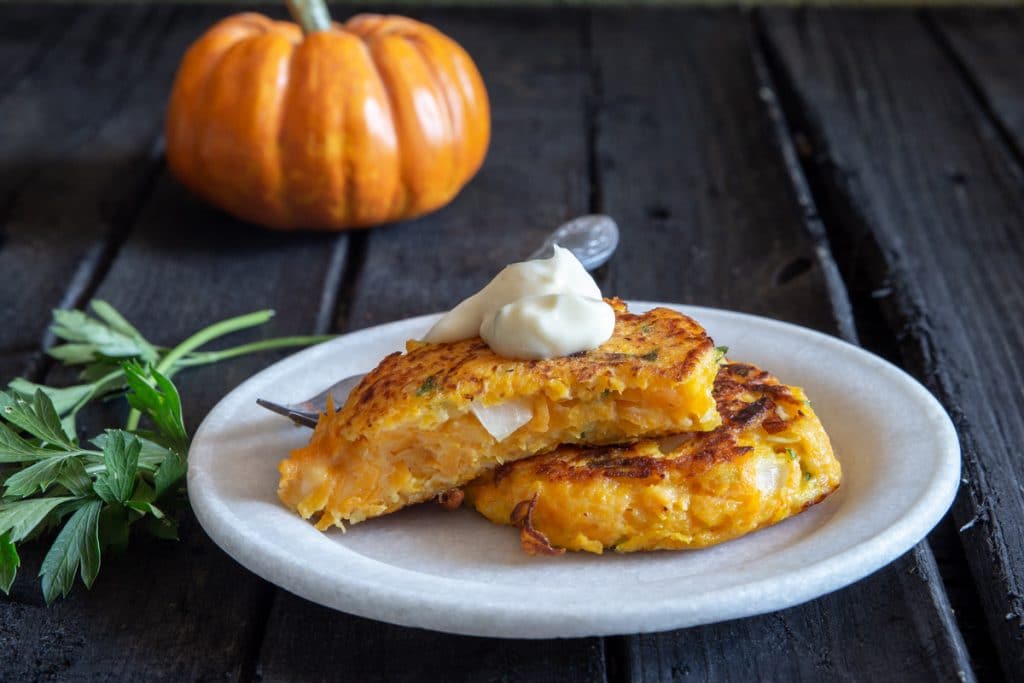 A Few Tips
Depending on the size of your pan, you may need to cook them in batches. You don't want to overcrowd the pan because this could cause the fritters to steam instead of fry. They won't be as crispy.
If you are making a bigger batch, you can keep the cooked pumpkin fritters in a warm oven while you fry the rest. Place a metal baking rack on a baking sheet and place the fritters on top. This will keep them warm and crispy until you are ready to serve them.
They really are best when they are first made, but if you have leftovers they will keep well in the refrigerator for a few days. Keep them in an airtight container.
The best way to warm them up is in a skillet over medium-low heat or in the oven. Heat them for a few minutes until they are warmed through and serve. They may not be as crispy as when they were first made, but they will be delicious.
These pumpkin fritters just look and taste like fall! If you're looking for creative ways to use fresh pumpkin in a recipe, this is the perfect one to try. Buon Appetito!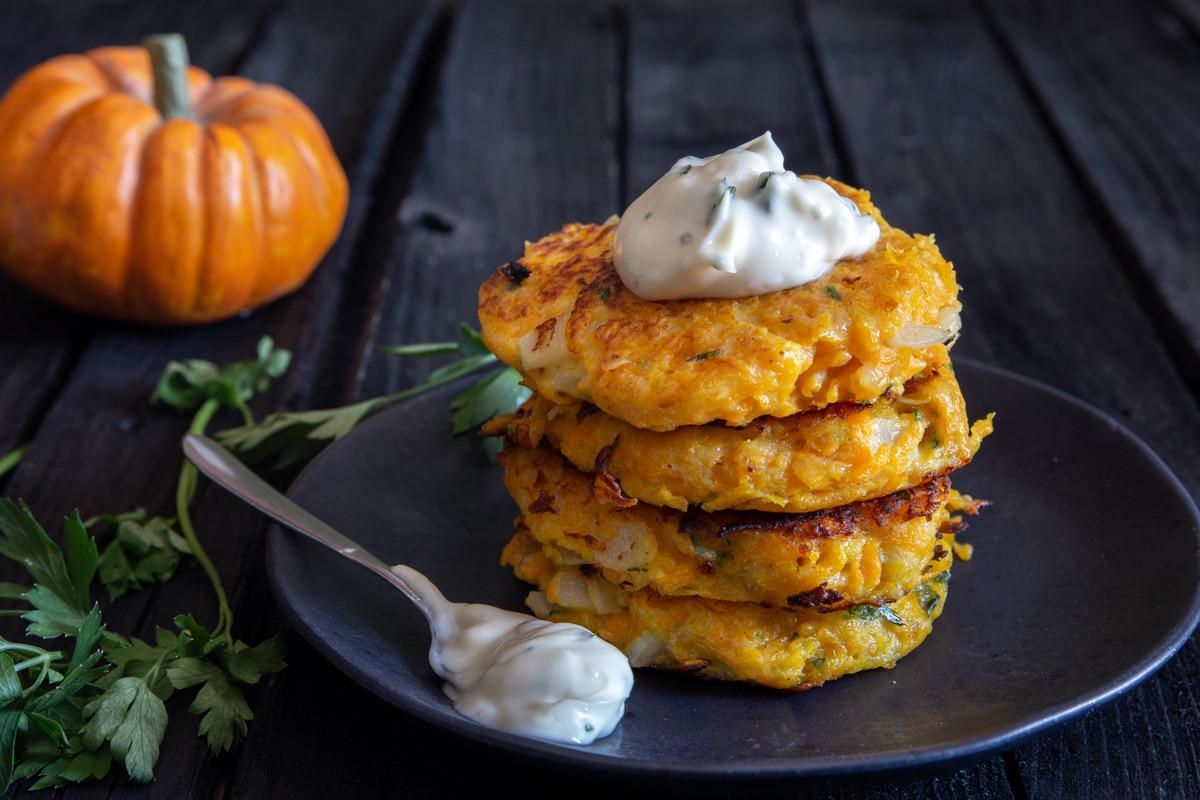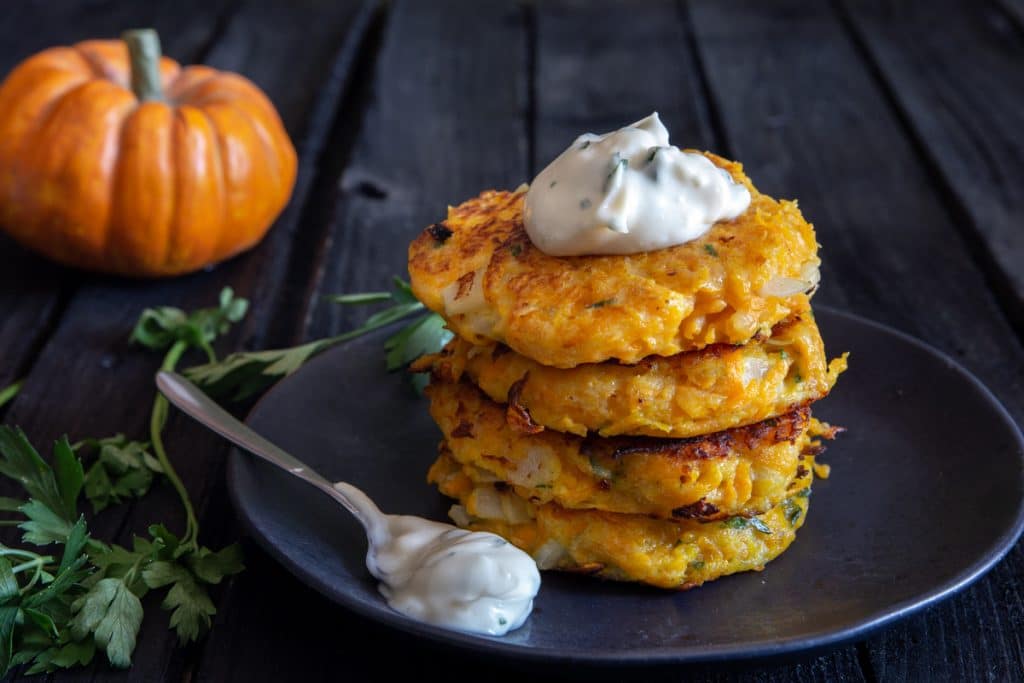 More Easy Fall Recipe Ideas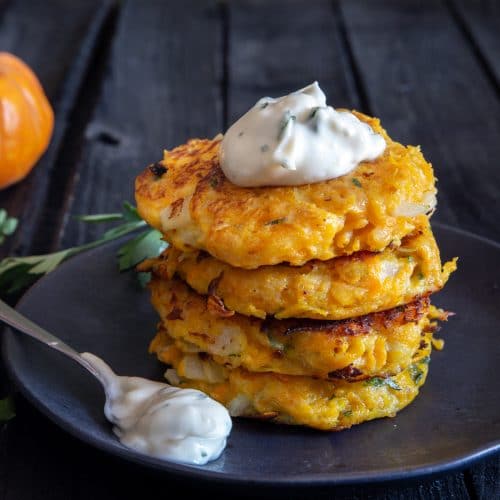 Pumpkin Fritters
Pumpkin fritters made with fresh pumpkin, Parmesan cheese, and herbs. These crispy fritters are pan-fried in a little oil until hot and crispy.
Ingredients
2

cups

grated squash (I used butternut squash)

½

onion (chopped)

1

large

egg

¼

cup

all purpose flour

¼

cup

freshly grated parmesan cheese

¼

teaspoon

salt (or to taste)

1-2

dashes

hot pepper flakes or black pepper

½-1

teaspoon

parsley (½-1 tablespoon fresh chopped)

1-2

tablespoons

olive oil
Instructions
Grate the raw pumpkin and pat dry, place it in a medium bowl, add the chopped onion, egg, parmesan cheese, flour, salt, pepper and parsley. Mix well, form in to patties or drop by spoonfuls and lightly flatten with the back of the spoon. (I made 6).

In a medium frying pan add the olive oil and fry the patties or spoonfuls 3 at a time, until browned on both sides. Move to a paper towel lined plate and serve immediately. Enjoy!
Notes
I like to use a drier squash such as butternut or acorn. If the squash has a lot of moisture be sure to squeeze it really well, to remove as much as possible.
In a small bowl combine 1/4-1/2 cup of mayonnaise with a tablespoon of chopped fresh parsley serve it along side the pumpkin fritters if you want.
Nutrition
Calories:
95
kcal
Carbohydrates:
11
g
Protein:
4
g
Fat:
4
g
Saturated Fat:
1
g
Polyunsaturated Fat:
1
g
Monounsaturated Fat:
2
g
Trans Fat:
1
g
Cholesterol:
35
mg
Sodium:
175
mg
Potassium:
202
mg
Fiber:
1
g
Sugar:
2
g
Vitamin A:
5043
IU
Vitamin C:
10
mg
Calcium:
77
mg
Iron:
1
mg