Apple Cheesecake, a tasty apple pie filling makes this a delicious Fall Cheesecake Dessert. A Maple Caramel Topping makes it perfect.

This is the latest cheesecake recipe I have made and I have to say it is the best yet!
It's sort of an Apple Pie meets Cheesecake. And I have to admit baked cheesecakes always seem to taste better.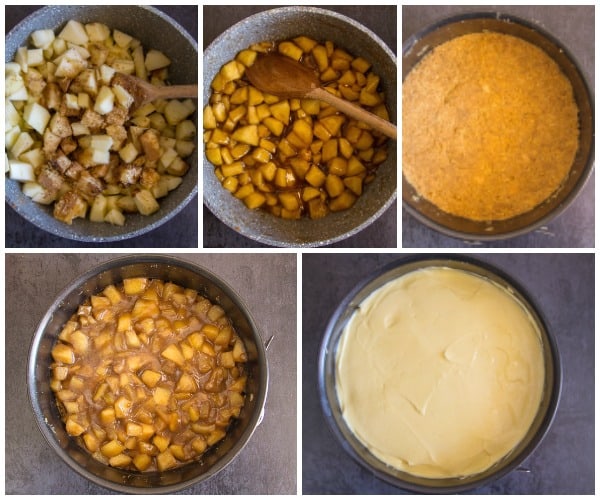 My eldest daughter had a flight to Rome and usually when she does she comes home for a visit, or as she says to eat!
But this time she came on the Canadian Thanksgiving weekend, so we celebrated our own Thanksgiving. Unfortunately no turkey for us as the Italian does not like poultry of any kind. I know I know, weird!
So we went with a Pot Roast, Peas, Mashed Potatoes and Gravy and Yorkshire Pudding. And of course Dessert had to be good!
And as far as I am concerned you can't get much better than Cheesecake. So I decided I was going to make a cheesecake with my favourite fruit, apples.
I have seen other Caramel Apple Cheesecakes recipes but most of them used a can of Apple Pie filling. For one, no such thing available here in Italy and two it's so easy to make your own and I believe so much tastier.
I actually used the apple filling from my Italian Apple Pie recipe and it worked perfectly. I also added some ground pecans in my cookie crust, because, well why not?
Maple Caramel Apple Cheesecake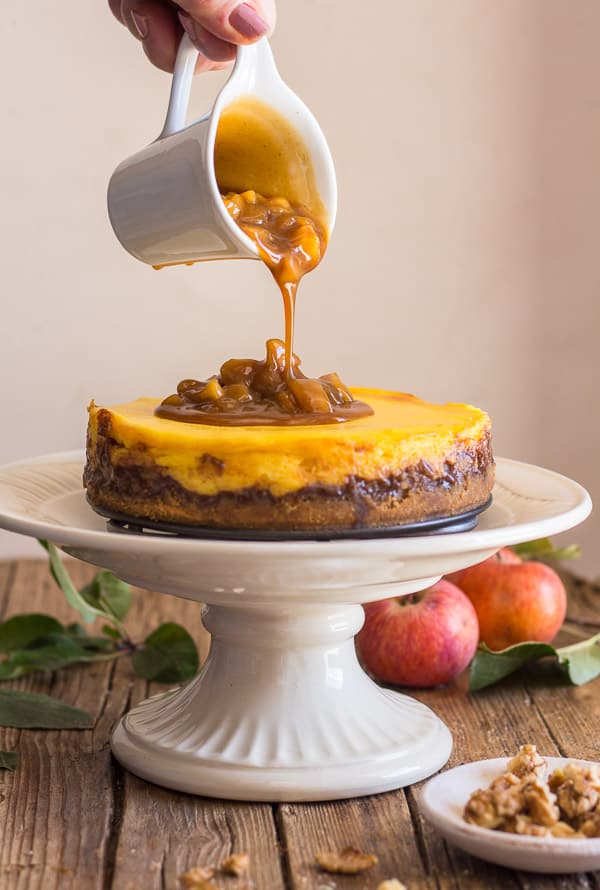 In the last few weeks I have been sharing a few pumpkin recipes …. but I knew it was time to move on. So hello Apples!
Some Pumpkin Recipes you may enjoy!
What you will need to make this Amazing Apple Cheesecake with a Maple Caramel Topping.
Springform Cake Pan – For most of my cakes I use a springform pan.
Pure Maple Syrup – I prefer real maple syrup instead of flavouring.
Hand Mixer – I love my Bosch hand mixer I use it for everything.
Caramel Sauce – Nothing like Caramel Sauce and Apples.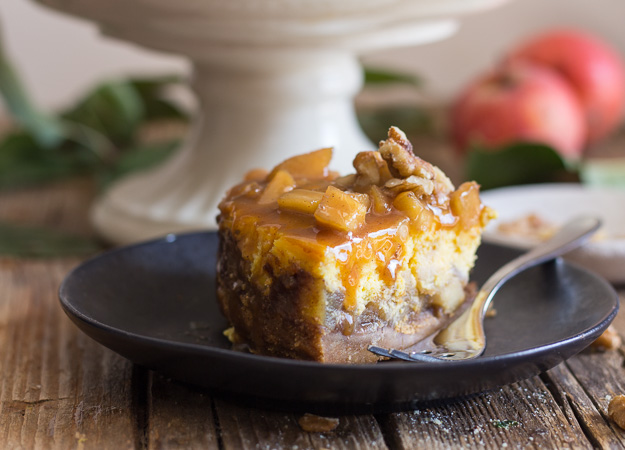 If you try no other dessert of mine this Fall Season I would love if you tried this Maple Caramel Apple Cheesecake and let me know if you loved it as much as we did. Enjoy!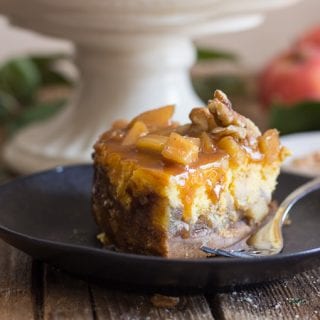 Maple Caramel Apple Cheesecake
Maple Caramel Apple Cheesecake, an easy homemade dessert recipe, a filling made with fresh apples, and a delicious pecan caramel topping.
Ingredients
COOKIE CRUST
1 1/2

cups

graham cracker crumbs

(or digest cookie crumbs which I prefer)

1/2

cup

ground pecans

1/4

cup

butter

(melted)
APPLE FILLING
3

apples

(chopped)

1 1/2

teaspoons

cinnamon

1/3

cup

+ 2 tablespoons butter

1/3

cup

brown sugar

(packed)

1 1/2

teaspoons

cornstarch
CHEESECAKE FILLING
12

ounces

cream cheese

(regular room temperature, remove from fridge 30 minutes before)

1/4

cup

+ 1 tablespoon granulated sugar

3/4

teaspoon

vanilla

1

egg

(large)
MAPLE CARAMEL SAUCE
1/4

cup

good quality caramel sauce

1

tablespoon

real maple syrup

broken pecans for sprinkling
Instructions
Pre-heat oven to 350°. Grease and flour a 7 inch spring form cake pan.
COOKIE CRUST
Mix together crumbs, ground pecans and butter and spread evenly on the bottom of prepared cake pan. Bake for 5 minutes.
APPLE FILLING
In medium pot add butter and melt over low heat, add brown sugar, chopped apples and cinnamon, stir to combine and continue cooking on low medium heat for approximately 10-15 minutes, stirring often, then add cornstarch, stir to combine and cook for approximately 3 minutes or until the mixture thickens, once it has thickened remove from heat and let cool. Then pour 3/4 of the mixture over the baked crust. (the other 1/4 set aside and refrigerate until needed).
CHEESECAKE FILLING
In a medium bowl whip the cream cheese until light and fluffy, then add the sugar, vanilla and eggs, and beat until smooth. Pour over the apple mixture. Bake in pre-heated oven for approximately 30-35 minutes**. Cool and refrigerate 3 hours before serving or even over night. Top with Maple Caramel Sauce before serving. Enjoy!
MAPLE CARAMEL SAUCE
In a small pot add the 1/4 apple filling, caramel sauce and maple syrup heat just until warm, stirring to combine. Pour over chilled Apple Cheesecake and sprinkle with broken pecans. Serve.
Nutrition
Calories:
508
kcal
Carbohydrates:
46
g
Protein:
5
g
Fat:
35
g
Saturated Fat:
17
g
Cholesterol:
102
mg
Sodium:
394
mg
Potassium:
218
mg
Fiber:
3
g
Sugar:
29
g
Vitamin A:
1060
IU
Vitamin C:
3.1
mg
Calcium:
88
mg
Iron:
1.3
mg
I am a participant in the Amazon Services LLC Associates Program, an affiliate advertising program designed to provide a means for me to earn fees by advertising and linking to Amazon.com.
Recipe adapted from – Paula Deen
.