Creamy Homemade Baked Cannoli. Cannoli, baked not fried, just as delicious but a little bit healthier. Filled with a creamy Ricotta Chocolate Chip Filling, Perfect!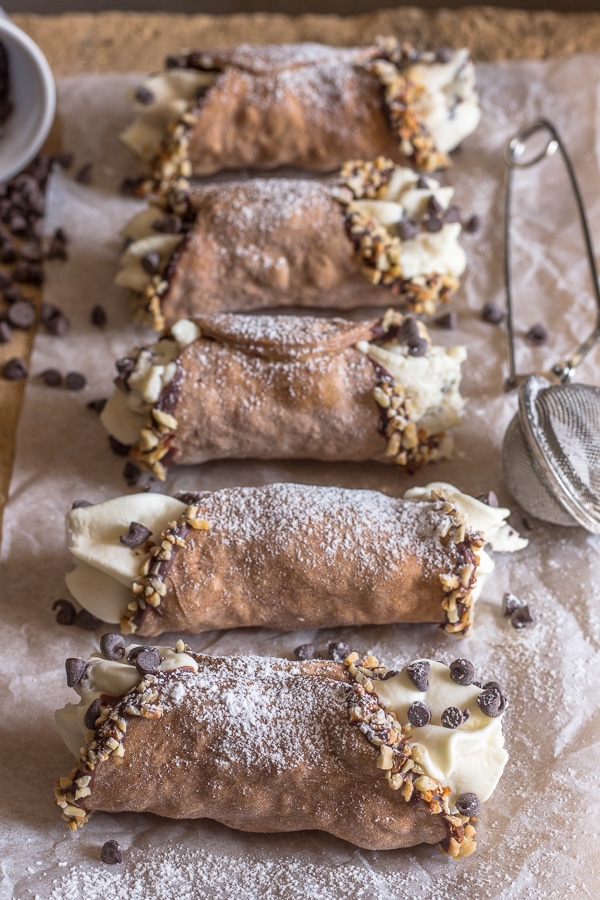 If you asked an Italian what their absolute favourite pastry is, without a doubt they would answer Cannoli!
Cannoli originated from the South of Italy, in Sicily. Typically they are made in a tube shape, from small to extra large and deep fried. The tubes are then filled with a sweetened Ricotta filling, sometimes filled with cut up candied fruit.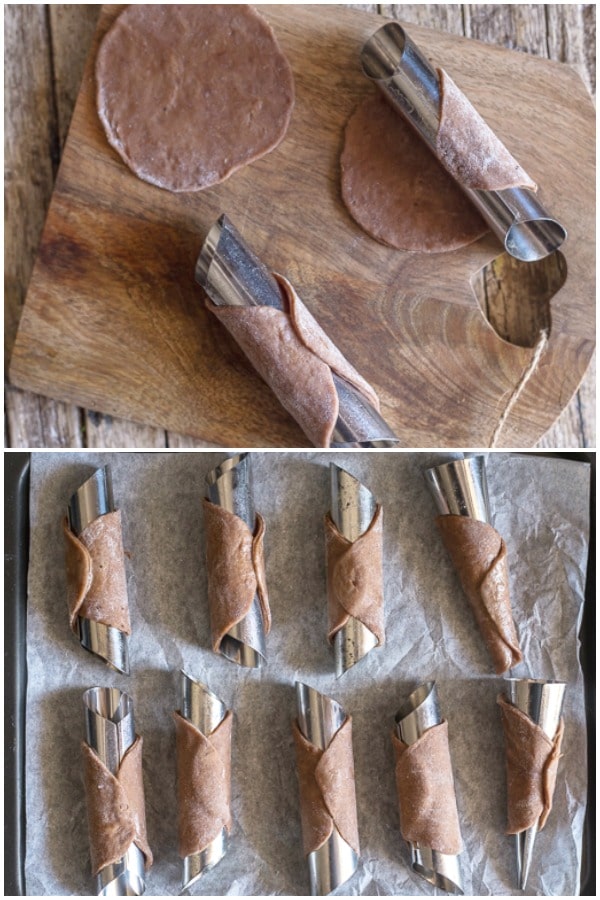 My daughter and her father have been asking me for ages to make Cannoli. So the other day I was at the Bakery buying bread and right in front of me was a huge tray of Cannoli. So I thought "ok what the heck, Cannoli it is"!
A recipe for the dough I had, but I really didn't want to fry them. Because let's face it, frying is such a mess! So I opted for baking. I also thought that even if you don't have the tubes needed for making the Classic Cannoli, you can also make your own by rolling up some foil into a similar shape! Or you could make mini tarts!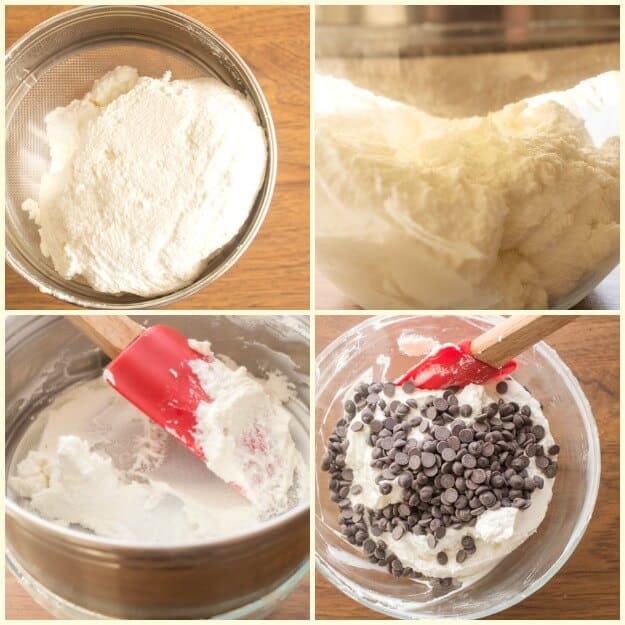 Ok so the dough was made and baked and dipped with melted chocolate and chopped nuts, so I figured the hard part was done. I was wrong!
I knew that you needed three ingredients for the filling, ricotta (I use cow's milk, the traditional is Goat's milk, but we (meaning me and my daughter) find it too strong), sugar and chocolate chips or candied fruit if you prefer.
I did some searching and discovered that if you want a creamy filling, you should beat the ricotta, (after you let it drain for a few hours), with the sugar and then fold in some whipped cream. And this is what I did and both the Italian and his daughter were not impressed.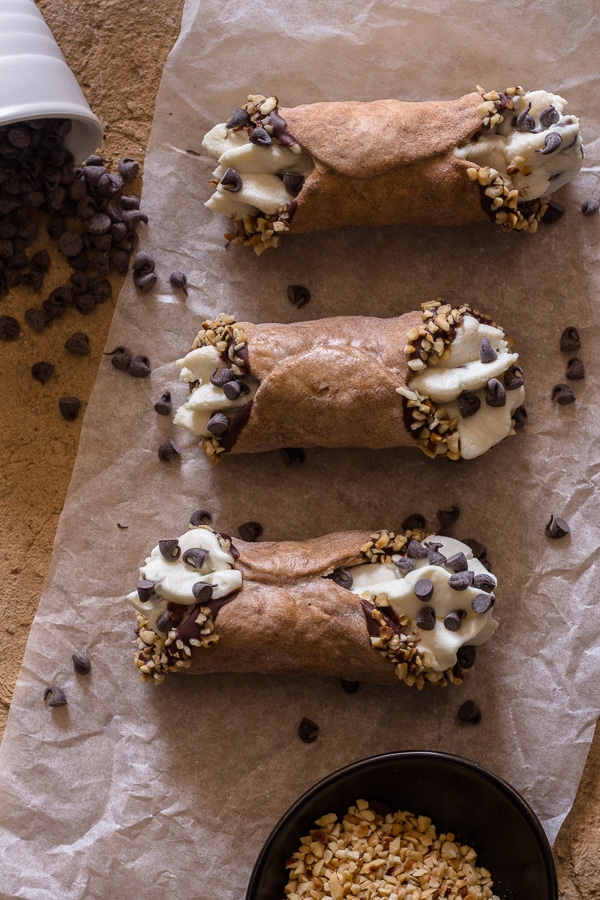 It tasted good, although the whipped cream flavour was too dominant, not a good thing, and it wasn't stiff enough!
Back to the drawing board!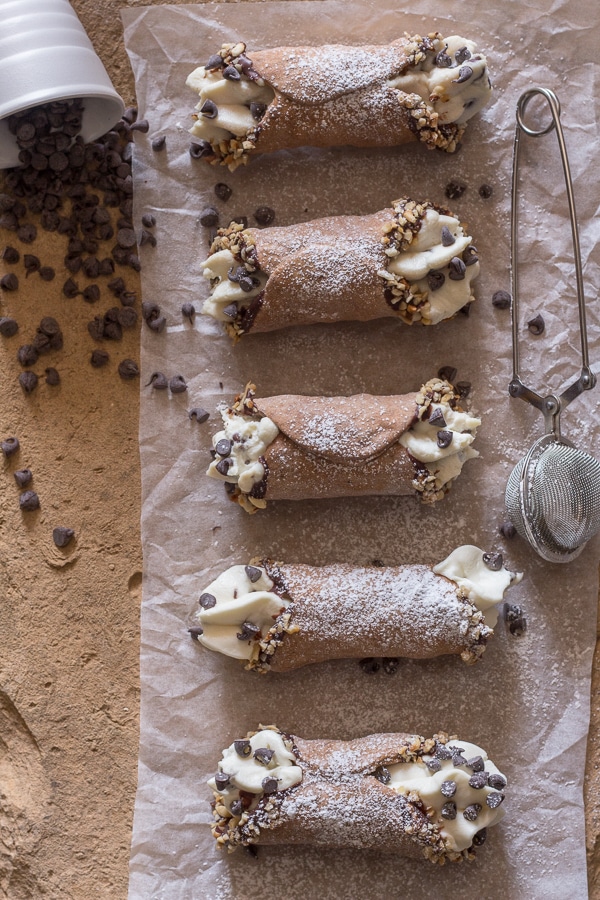 I did a couple of things different, for example, I let the ricotta drain for 24 hours instead of three, then using a spatula I pushed the ricotta through a sieve, just like she said, believe me it worked perfectly, the ricotta was so creamy. I also added less sugar.
I gently folded in the chocolate chips, filled up my pastry bag and filled the tarts. And they were enjoyed by all. I hope you enjoy them too! And since June 16th is National Cannoli Day why not make a few?!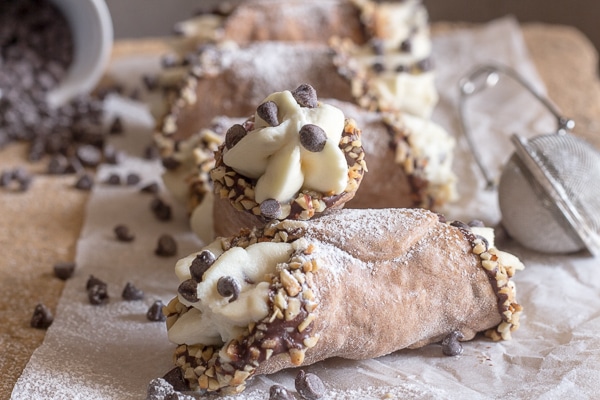 Other Typical Italian Sweets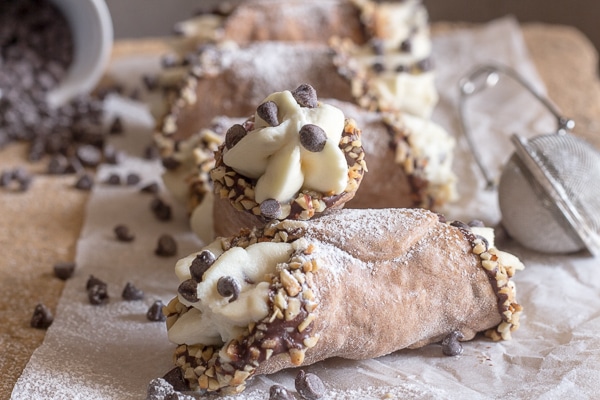 Creamy Homemade Baked Cannoli
Creamy Homemade Baked Cannoli, a delicious Italian Dessert Recipe, with a creamy Ricotta, chocolate chip filling. A Classic Italian.
Ingredients
PASTRY
1 1/3

cups

all purpose flour

2

tablespoons

sugar

1/2

tablespoon

cocoa

1/4

teaspoon

cinnamon

1

egg

2

tablespoons

dry white wine or Marsala

1 – 2

tablespoons

butter softened
CHOCOLATE COATING
4.4

ounces

dark chocolate (good quality)

(melted)

1/4-1/2

cup

chopped nuts
RICOTTA FILLING
3

cups

ricotta cheese

1/2

cup

sugar

1/4

cup

mini dark chocolate chips
Instructions
RICOTTA FILLING
Place Ricotta cheese in cheese cloth or in a sieve over a bowl and refrigerate for 24 hours. It has to drain as long as possible to remove excess moisture.

Remove from fridge and with a spatula over a clean bowl push the ricotta through the sieve (remove from cheesecloth and place in a sieve). This will make it nice and creamy, add sugar a little at a time and taste until desired sweetness (I used 1/2 cup of sugar you may want more or less). Fold in chocolate chips.

Place filling in a pastry bag with a large tip and fill tarts, make sure to fill tarts just before serving. You could also fill tarts using a spoon. Top with powdered/icing sugar or extra chips if desired. Enjoy!
PASTRY
In a medium bowl whisk together flour, sugar, cocoa and cinnamon, make a well in the middle and add butter (start with 1 tablespoon if too dry add the remaining tablespoon), egg and wine mixing with a fork. Bring it together to form a dough.  Wrap in plastic and refrigerate for 20 minutes.

Pre-heat oven to 350°, lightly grease and flour 15 cannoli tubes or even mini tarts.  Or make your own tubes with rolled up pieces of foil.

Roll dough out very thin** and cut with a round cookie cutter (medium size) to fill muffin tins, prick the bottom of the tarts with a fork a couple of times, then top each tart with a square of parchment paper and fill with dry beans.  

If using cannoli tubs, wrap the pastry so that it overlaps and seal by brushing with a little egg white (beat slightly).

Bake for approximately 15 minutes or until pastry is golden.  Let cool completely before coating or dipping with chocolate and nuts.
CHOCOLATE COATING
Break chocolate into pieces and melt (either microwave or place chocolate in a small bowl and place over a small pot of boiling water make sure water does not touch bowl with chocolate).

Let cool a little then coat each tart with chocolate. Set aside to harden.
**Dough must be rolled very thin. A little bit thinner than a quarter.
Nutrition
Calories:
249
kcal
Carbohydrates:
24
g
Protein:
8
g
Fat:
13
g
Saturated Fat:
7
g
Cholesterol:
38
mg
Sodium:
57
mg
Potassium:
157
mg
Fiber:
1
g
Sugar:
11
g
Vitamin A:
260
IU
Calcium:
122
mg
Iron:
1.9
mg
Updated from November 30, 2016