Big Chocolate Chip Cookie, the perfect cookie for a family or children get together. Fast, easy and so yummy.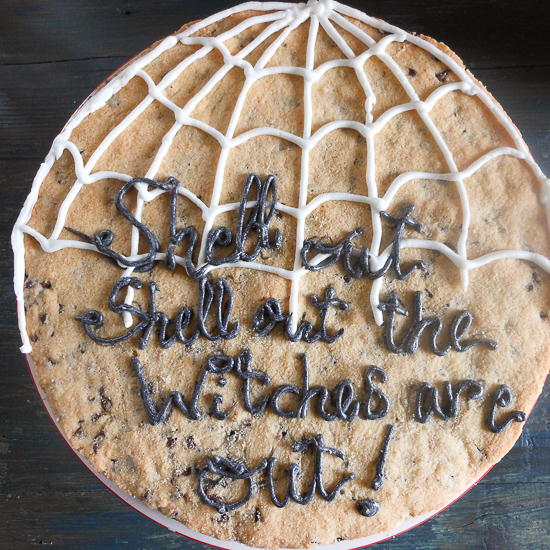 I've been living in Italy now for over 20 years and I have to tell you that there are a few holidays that I truly miss!
One of those is my ever favourite: Halloween. Halloween has only recently become popular here. So back when my kids were little, to share a part of my Canadian roots with them, I would make this delicious Big Chocolate Chip Cookie and decorate it for Halloween or even Christmas.
They would be so happy to share this yummy cookie with their classmates as they explained or tried to explain what exactly  Halloween was.
Now, no explaining is necessary because Halloween has become big here in Italy too, but this hasn't stopped me. I still make this big chocolate chip cookie, only now I do the baking and my eldest does the decorating.
So today I decided would be the perfect day to make this cookie.
As I removed this mouthwatering cookie from the oven, my youngest daughter exclaimed "I love this cookie, but why are you making it today?" I replied "I'm making it for Halloween", she shot me a look then her father got a look, then she looked at me again and she replied
"but Halloween isn't for another month!" "ahhhh my dear I am a food blogger now, lots of things are made in advance". This is when the eye rolling  came into play.
I don't think she minded all that much, because she got to eat one of her favourite cookies.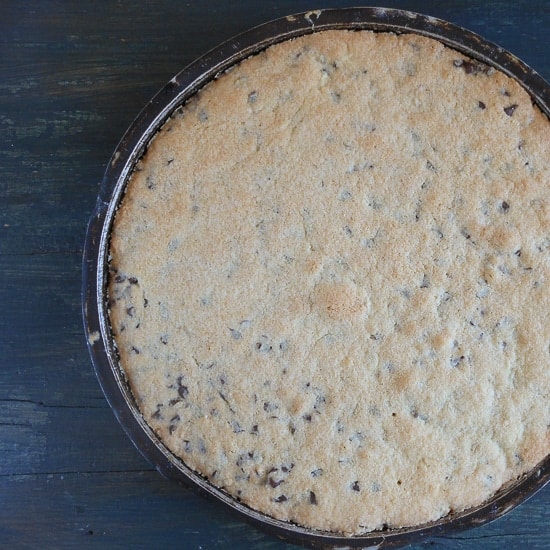 What is so wonderful about this cookie besides the taste is that it is so fast to put together, and it's filled with dark chocolate chips which makes it not too sweet, just perfect.
This big chocolate chip cookie would even make a cute gift, decorate as you please, Halloween, Christmas, Birthday or just let cool and eat as it is. Enjoy and have fun decorating!
Big Chocolate Chip Cookie
Big Chocolate Chip Cookie, the perfect cookie for a family or children get together. Fast, easy and so yummy.
Follow me on Youtube!
Watch the videos and don't forget to subscribe on Youtube!
Ingredients
3/4

cup

butter softened

175 grams

1 1/4

cups

sugar

250 grams

2

eggs

1

teaspoon

vanilla

5 ml

1/2

teaspoon

salt

2 grams

2 1/2

cups

flour

325 grams

1

cup

mini semi sweet chocolate chips

250 grams

ICING FOR DECORATING

6

tablespoons

butter softened

110 grams

2

cups

powdered sugar

250 grams

1 1/3

tablespoons

water

21 grams
Instructions
Pre-heat oven to 325° (160° celsius)

In a large bowl beat butter and sugar until fluffy, beat in eggs 1 at a time, add vanilla, stir in salt, then flour 1 cup at a time, then stir in chocolate chips.

Using your hands or a spatula press onto an ungreased 12 inch (30 centimeters) rimmed pizza pan or baking sheet, press to cover the whole pan.

Bake in a pre-heated oven for approximately 30-35 minutes or until golden and firm to the touch. Remove and let cool in pan on a wire rack. Leave cookie in pan to decorate.

FOR THE ICING

In a medium bowl beat butter at medium speed until smooth. Add 1 cup of powdered sugar, beat at medium until light and fluffy. Add water, beat on low until well blended, scraping down side of bowl once, then beat in the second cup of powdered sugar until mixture is creamy. Makes 1 cup.
Nutrition